CMMG Mk4 Banshee .22 LR Pistol Build
CMMG Mk4 Banshee .22 LR Pistol Build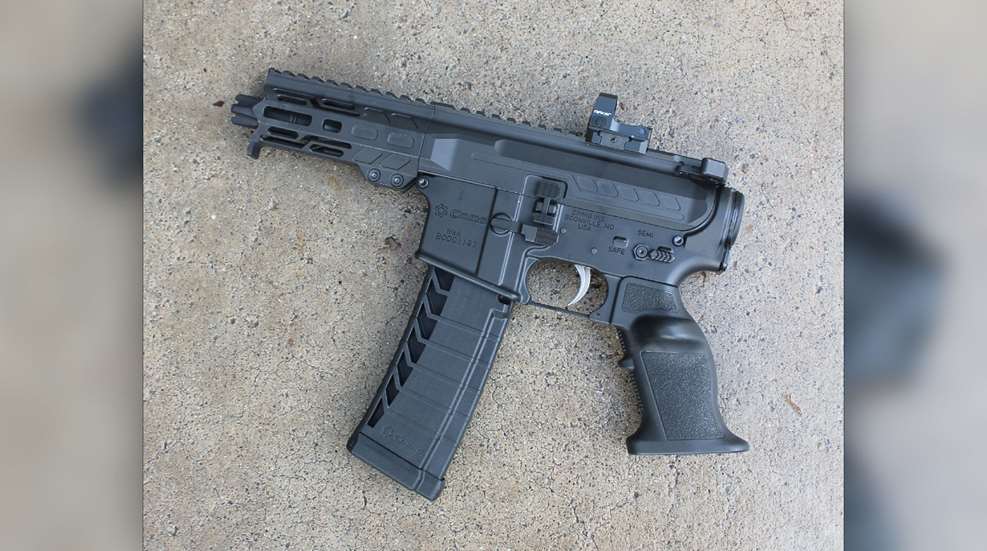 CMMG, Inc. is a manufacturer that strives for constant innovation and unique product designs that stand out in the crowded AR-platform marketplace. A few years ago, I had an opportunity to work with the company's factory-assembled Banshee .22 LR pistol. Now the company has recently given the platform a makeover, including component upgrades from its in-house Zeroed series, to bring this gun's features in line with other members of the Banshee series. Along with new cosmetics, the company has traded out the buffer-tube assembly in favor of an aluminum end cap, which makes the gun significantly more compact than previous models.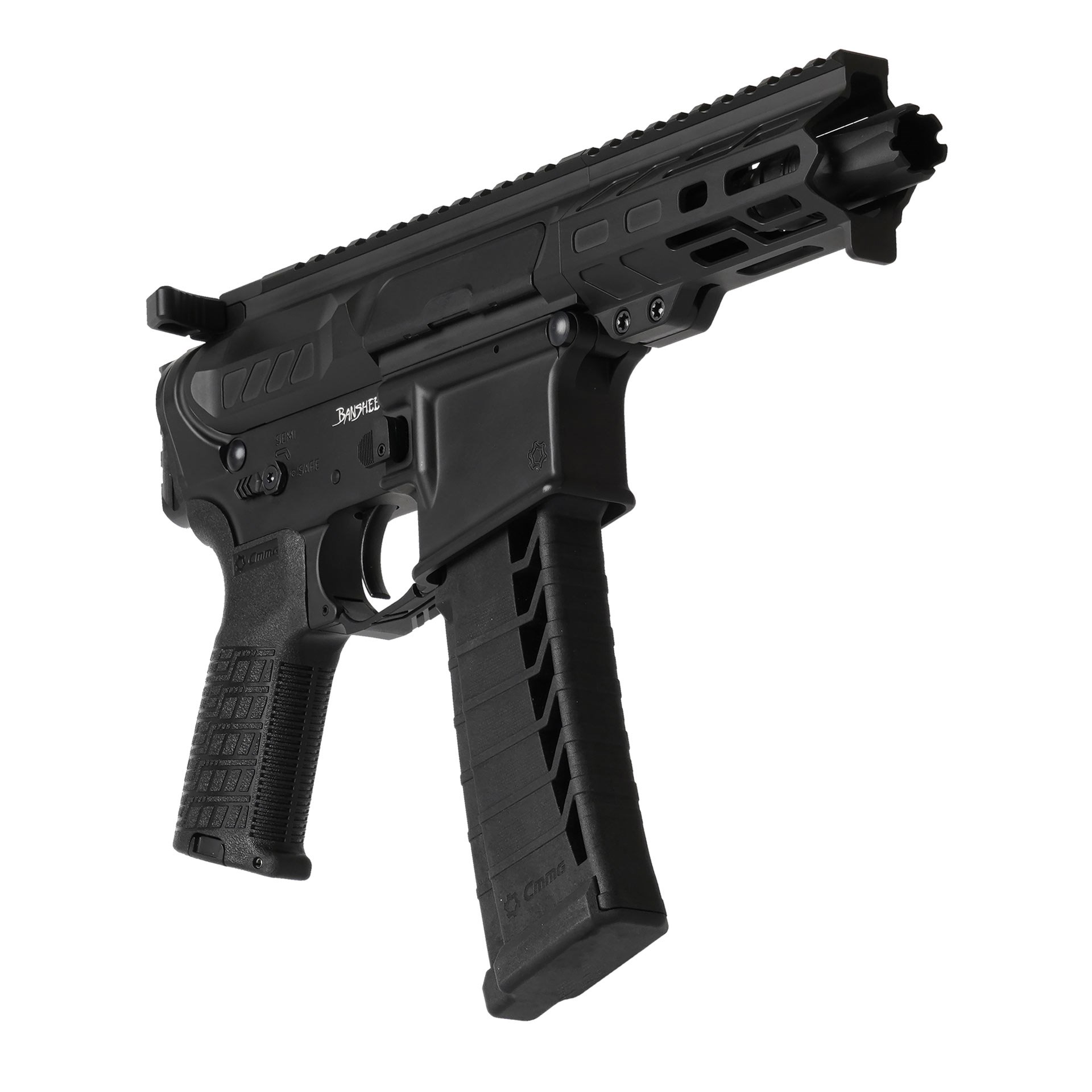 The current version of the Mk4 Banshee .22 LR is available as a fully tricked-out, factory-complete pistol, which currently retails for $1,350, or customers can purchase just a complete upper assembly that ships with one magazine. I opted for the upper and assembled a pistol lower using a mix of CMMG and other aftermarket components. Here's how it turned out:
The .22 LR Pistol Upper
Most of this .22 LR upper's features are lifted directly from the current Banshee pistol series, including a uniquely profiled flattop upper receiver milled from a billet of 6061-T6 aluminum and treated with a durable matte-black Cerakote finish. The forward-assist button has been omitted and the integral brass deflector extension replaced with a removable polymer deflector block. The previous two-part rimfire dustcover has been replaced with a one-piece polymer cover.

The Mk4 Banshee .22 LR milled billet upper is available with the customer's choice of a 4.5" or 9" barrel.
This upper is fitted with a modified version of the blowback-operated, spring-powered bolt assembly found in CMMG's rimfire conversion kits for AR-15s chambered in .223 Rem. or 5.56 NATO. This eliminates the need for a gas system, and the rimfire-type recoil spring is integrated into the bolt assembly. Because the action is wholly contained inside the upper receiver, this pistol upper can be fired using pistol lowers fitted with or without a buffer-tube assembly.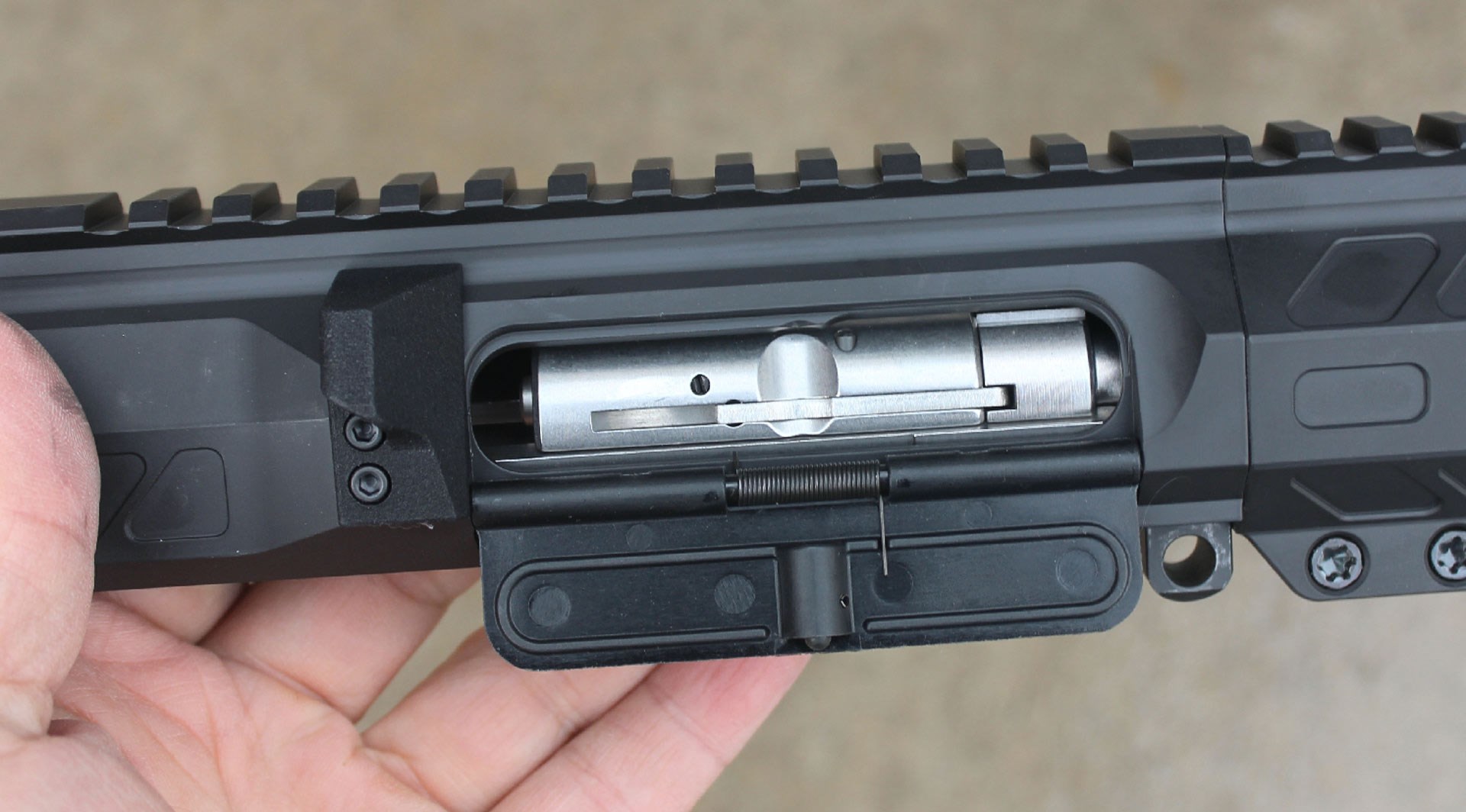 The blowback-operated bolt assembly is based on the company's popular .22 LR conversion kits for AR-15s chambered in .223 Rem/5.56 NATO.
The 4.5″-long, 4140-chromoly steel, .22 LR barrel has a 1:16″ rifling twist and a salt-bath-nitride finish. The muzzle is threaded 1/2×28 TPI and fitted with a Zeroed series scalloped flash hider. The EML4 aluminum handguard provides an optics rail, three M-Lok accessory slots (left, right and bottom), stylized venting cutouts and a forward hand stop to aid in keeping support-hand fingers away from the muzzle. The extended and skeletonized charging handle is designed for ambidextrous operation. Last, but not least, the upper was topped off with a Viridian Weapon Technologies RFX15 green-dot micro reflex sight for range work.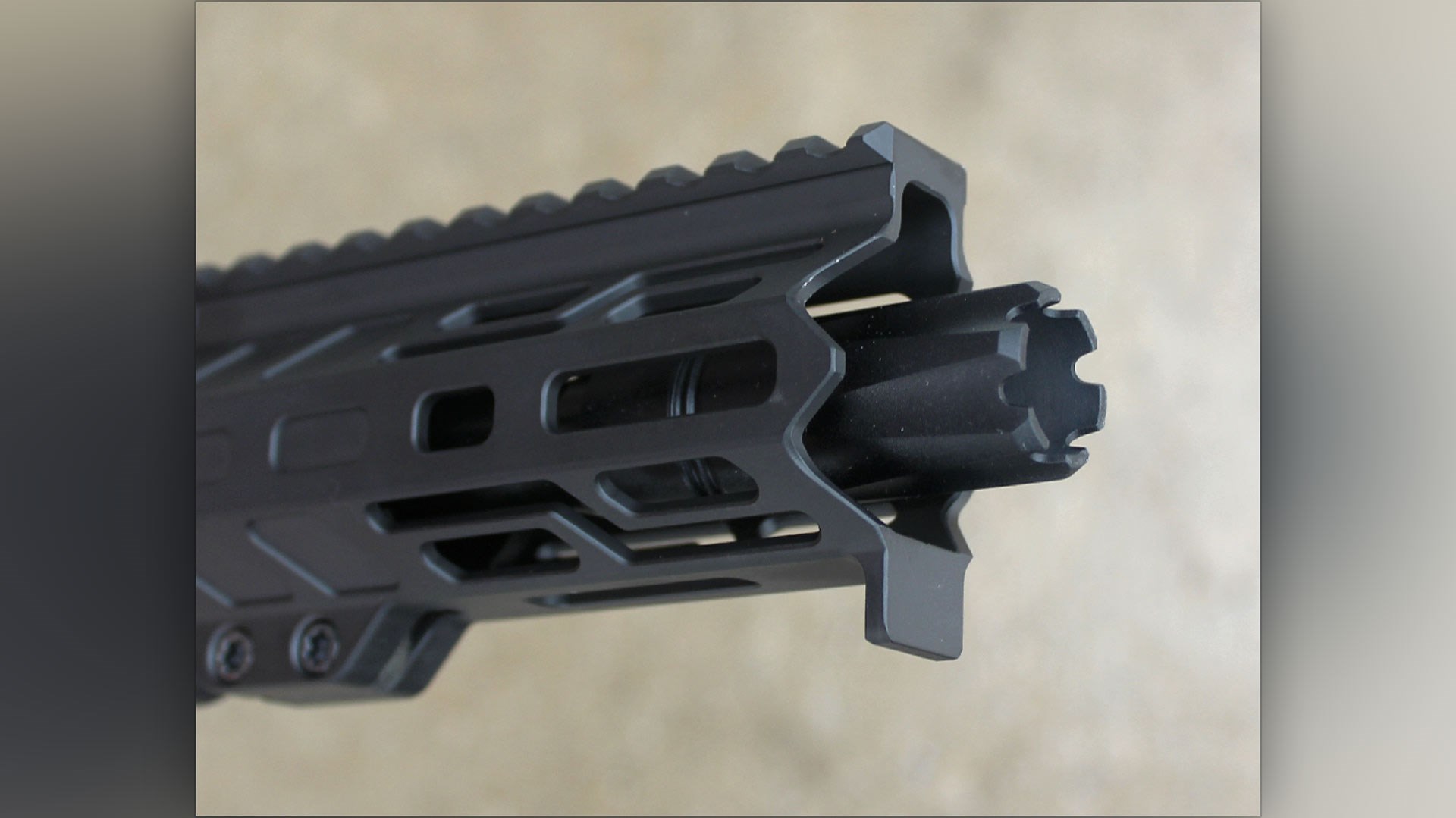 The scalloped leading edge gives this removable Zeroed series flash hider a unique profile.
Custom Mk4 Pistol Lower
When I lined up the Mk4 Banshee .22 LR upper assembly for evaluation, I already had several lower-receiver components on hand that I wanted to work with, which included a Rise Armament RA-535 trigger group, The Chubby Grip from Luth-AR, a mil-spec lower parts kit and an ambidextrous receiver end plate for left- or right-side sling attachment. At this point, all that I needed to complete the pistol was an appropriate lower receiver and an end cap. Because I was prepared to do the assembly myself, I managed to save about $135 off the cost of the gun as compared to the suggested retail price of a factory-assembled pistol. That's not exactly a fortune, but it is enough to cover more than 1,000 rounds of practice-grade .22 LR ammunition.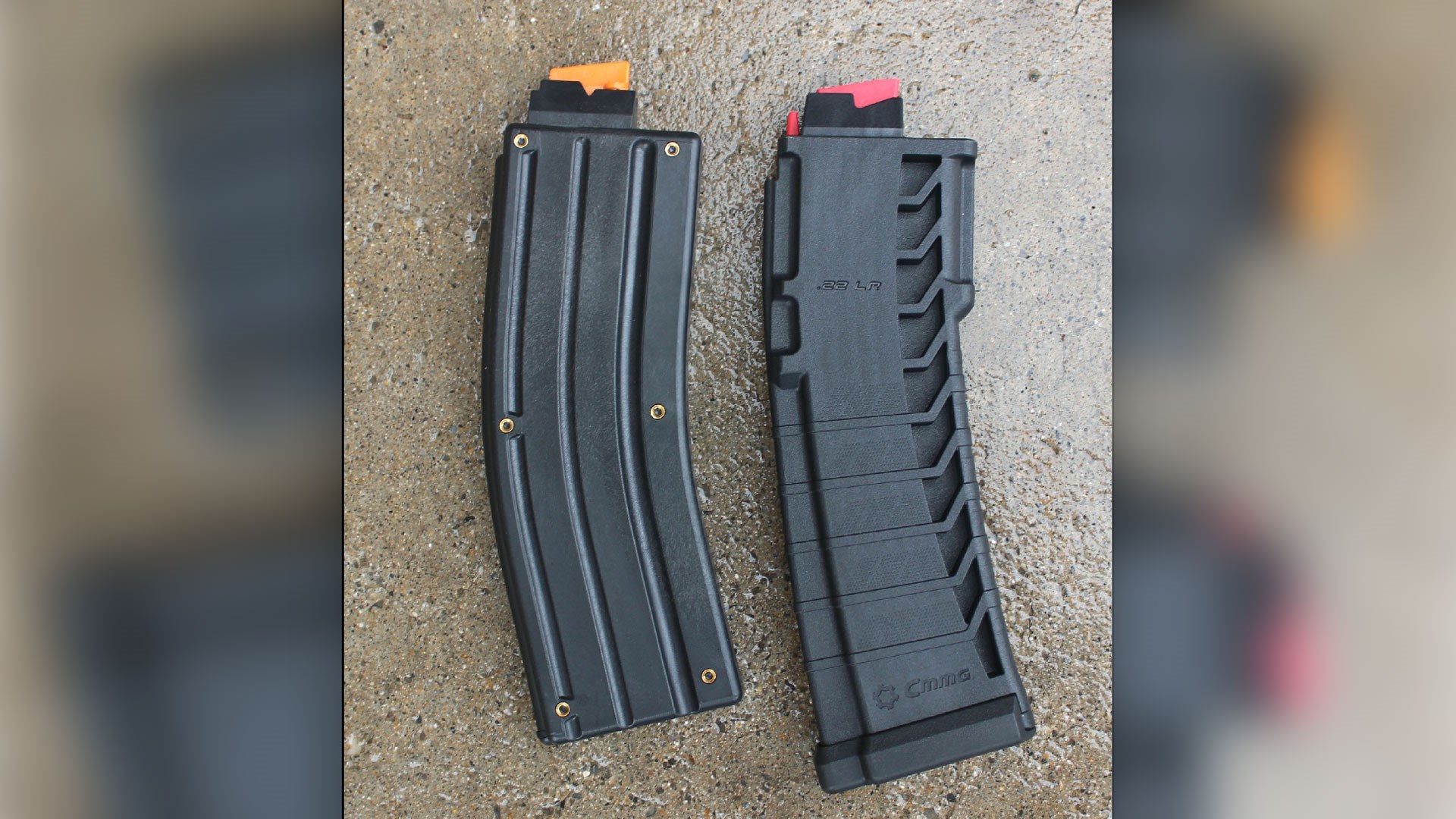 The Gen 1 CMMG 25-round .22 LR magazine (left) compared to the more stylized Gen 2 version (right).
The lower receiver used here was the mil-spec CMMG Mk4. It is forged from 7075-T6 aluminum, and it comes with a Cerakote finish, which ended up matching the upper receiver finish perfectly. I did, however, upgrade the lower parts set to the CMMG ZEROED Gunbuilder's Kit. For about $30 to $40 more than the company's standard kits, customers get an ambidextrous magazine release, a dual-lever bolt catch and a safety selector lever that is ambidextrous and can be installed to swing either 60 degrees or 90 degrees.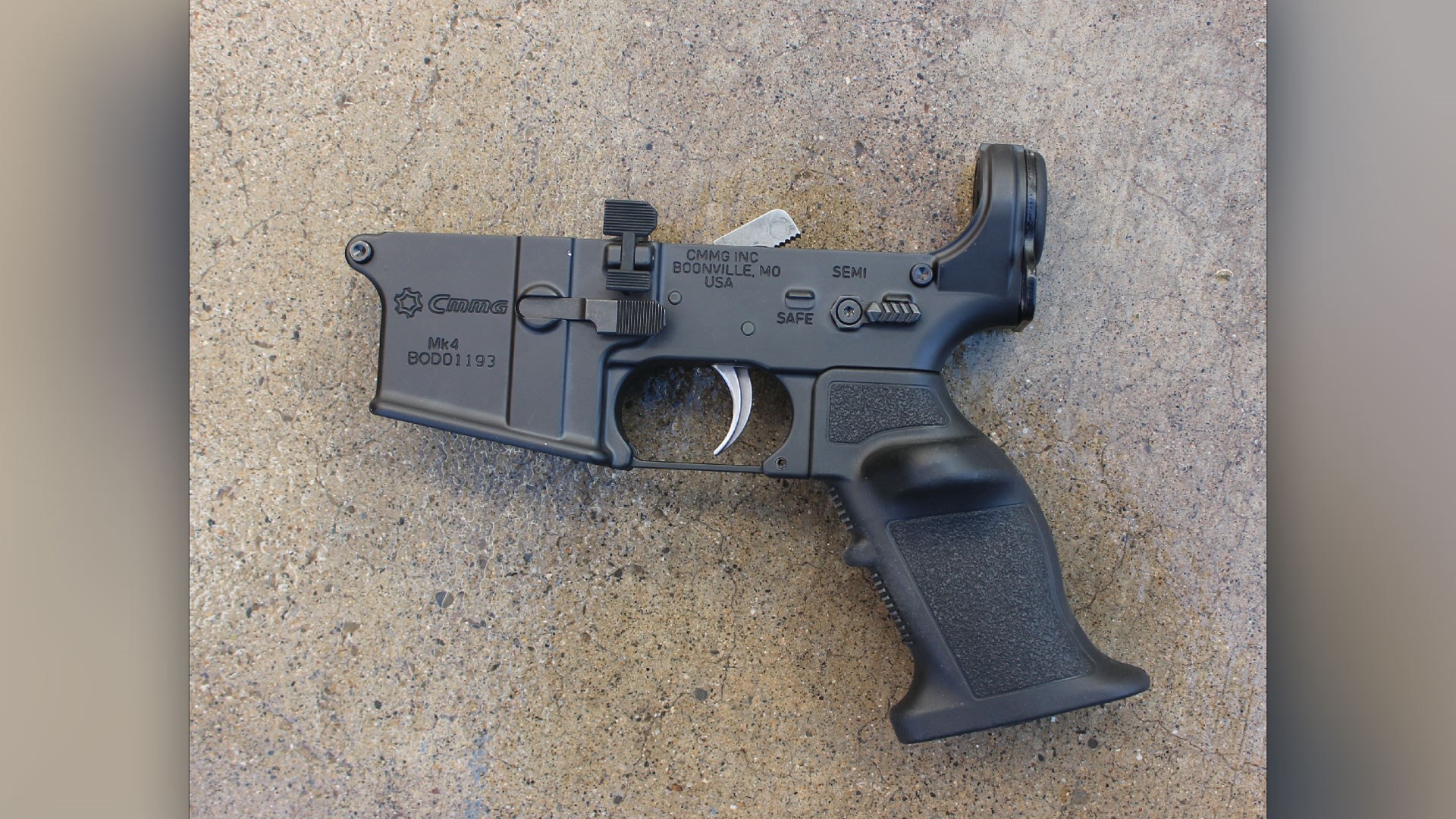 The Mk4 pistol lower was outfitted with Zeroed series component upgrades, including the oversize bolt catch, along with an ambidextrous magazine release and safety-selector lever.
CMMG's aluminum end cap, which takes the place of the buffer tube, secures the receiver end plate in place and protects the rear of the action from dust and debris. It is simple to install and only requires the use of a 3/8″ hex wrench. The cap also sports a central port for quick-detach, push-button sling mounts. The company also offers a non-ported cap and one with a Picatinny rail.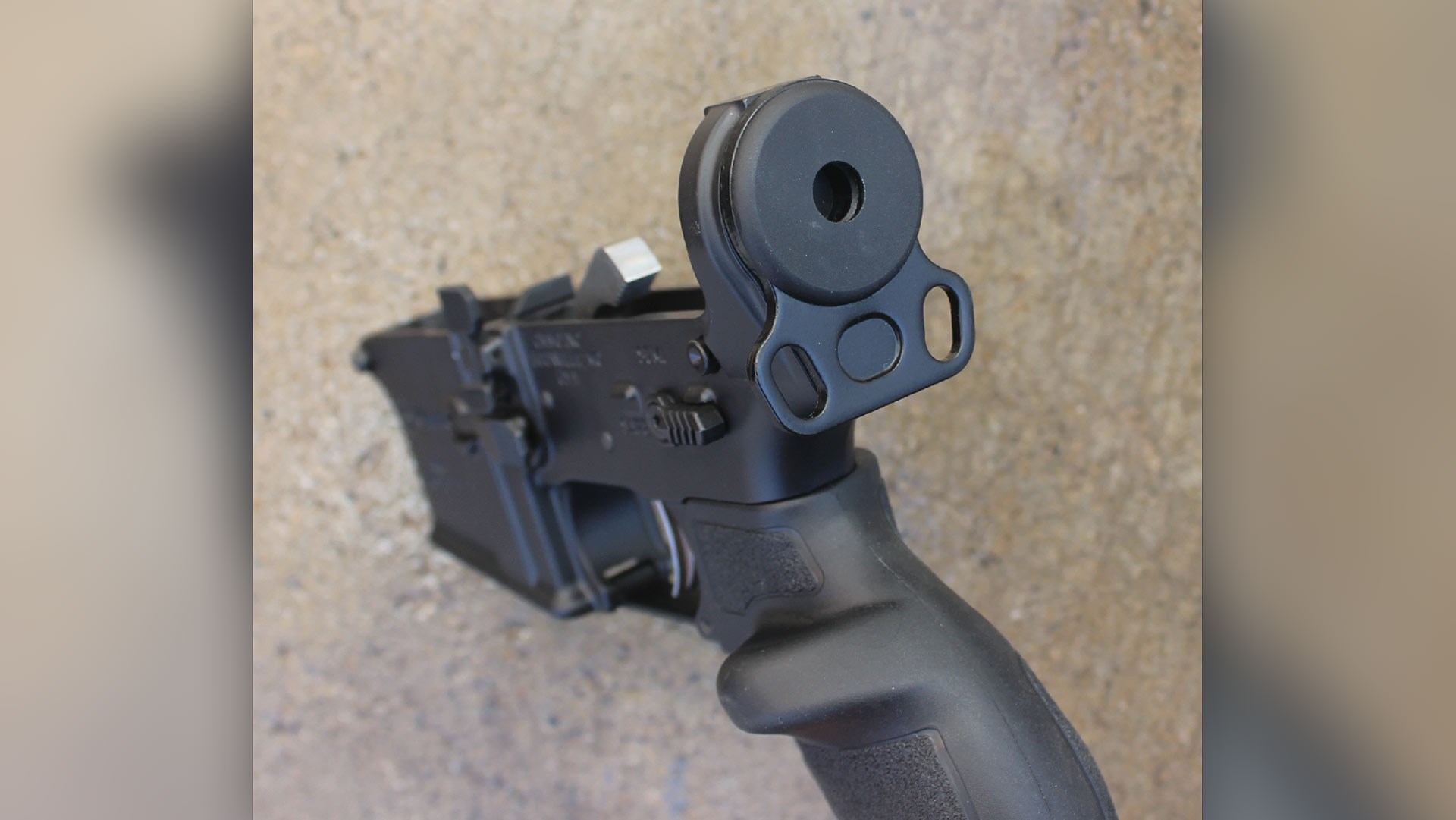 This version of CMMG's twist-in end cap features a central port for quick-disconnect sling attachment.
The Luth-AR Chubby Grip proved to be an ideal fit for this gun both on and off of the shooting bench. With an unloaded weight of 59.6 ozs., with an empty magazine, it's not all that heavy for an AR-15-style pistol, though the heft is right up there with some of the big-bore hunting revolvers available today, like the Taurus Raging Judge chambered in .460 S&W. The grip's contours, the flared base, effective texturing and large thumbrest ledge lends to a noticeably more comfortable hold on the pistol when using a standing two-handed grip. The only downside to the Chubby is that it's configured specifically for right-handed shooting.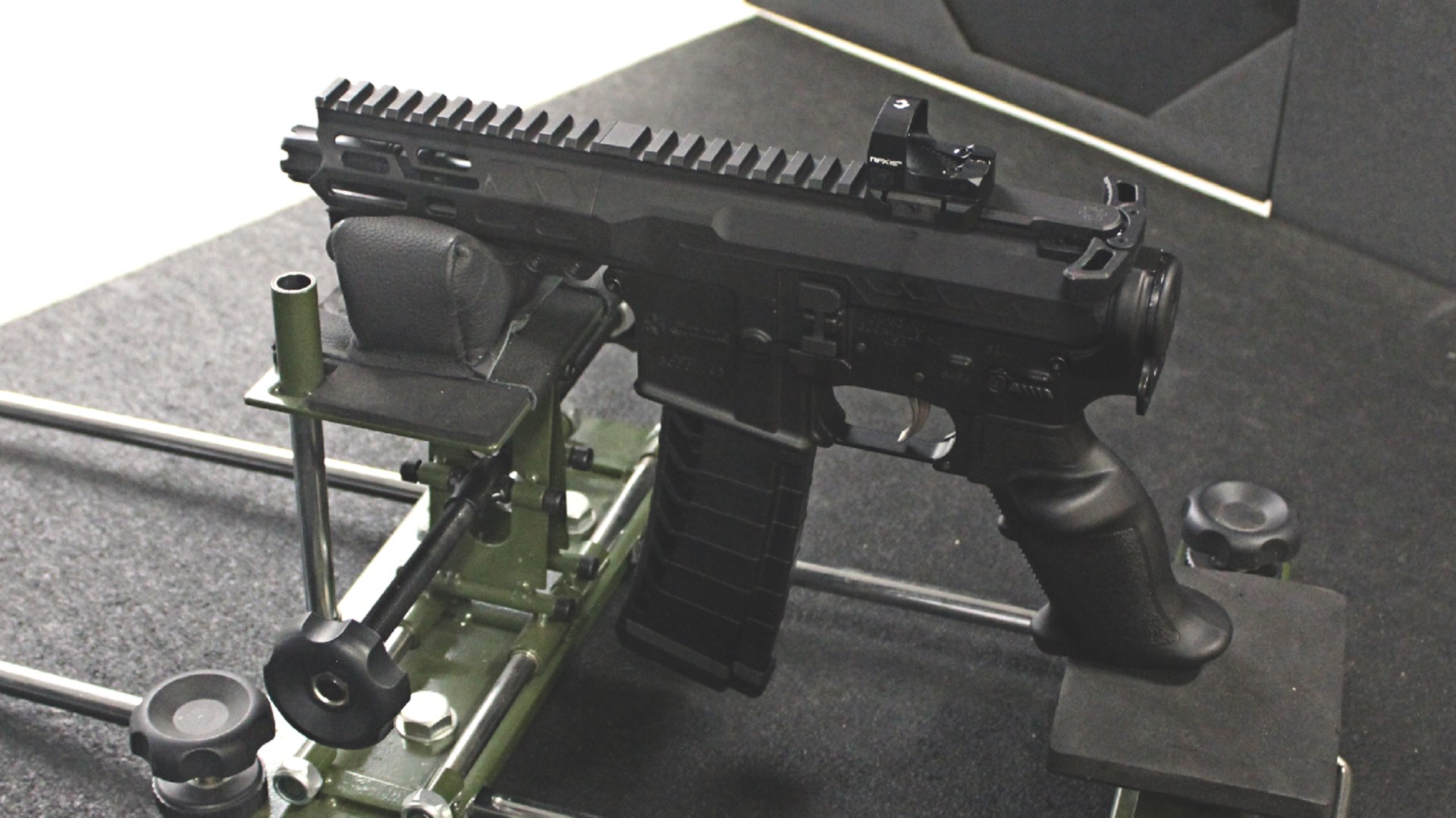 The fully assembled pistol tips the scales at 59.6 ozs., with an empty magazine.
The AR-15 Rimfire Trigger Learning Curve
It's no secret that semi-automatic .22 LR pistols can be ammunition-sensitive, some models more so than others. In regards to reliability, the previous version of the Banshee .22 LR I sampled ticked right along like a metronome with a variety of loads. But when I put my home-assembled version through its paces at the range, it experienced about 20 failures to fire across various test loads, including the three I used for formal accuracy testing. The occasional .22 LR dud, especially when using bulk-box practice-grade loads, is to be expected. But this was too many failures to be blamed on the ammunition. So I dug deeper.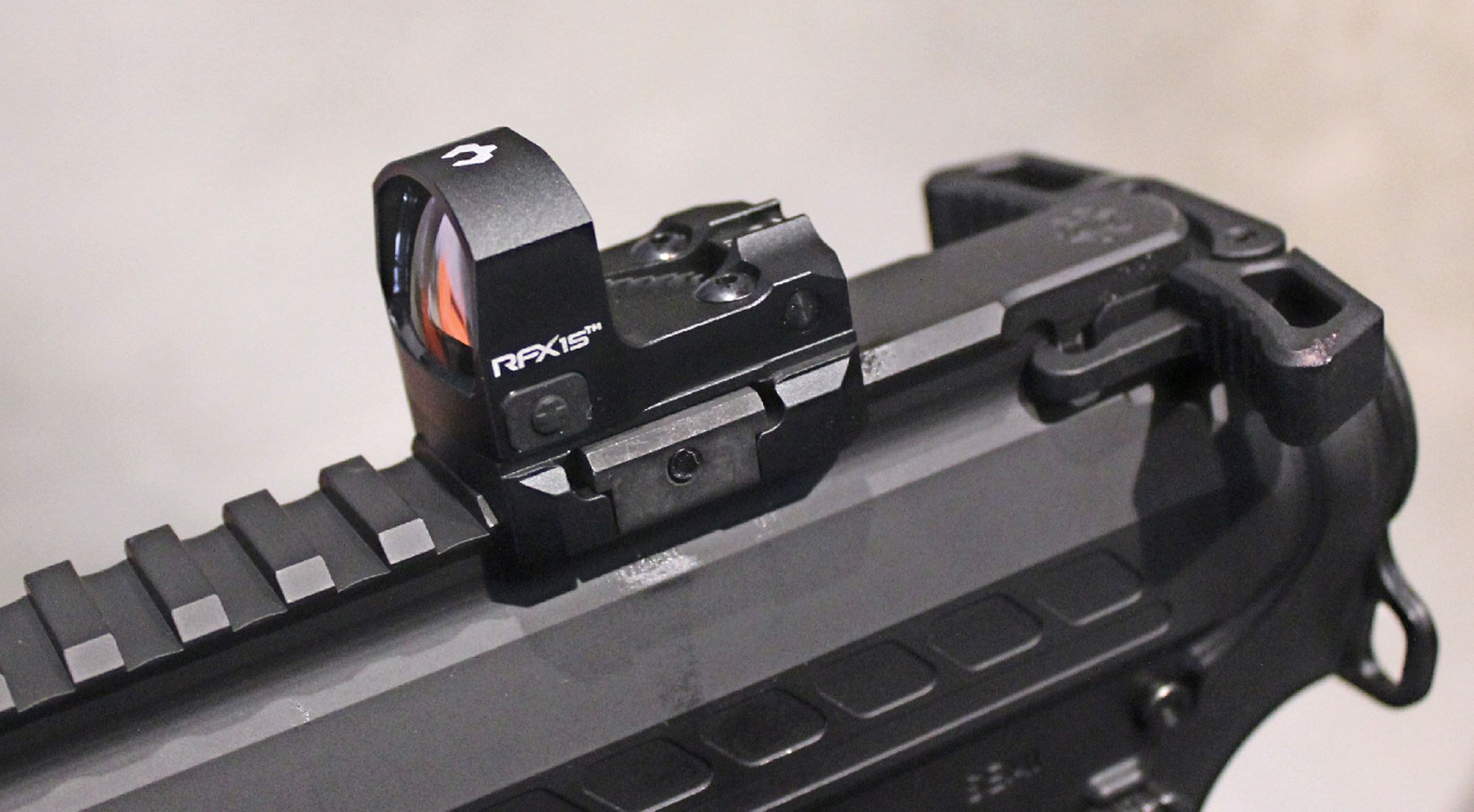 The compact size and bright green aiming point of the Viridian RFX15 micro reflex sight make it a great fit for a rimfire pistol such as the CMMG Mk4 Banshee.
It turned out the competition-grade trigger group was to blame. Though the drop-in upgrade is ideal for a high-speed, low-drag, centerfire AR build, as luck would have it, .22 LR brass and primers require a more authoritative "whack" for proper ignition than some lightweight AR triggers can provide. With this in mind, the trigger was traded out in favor of the Ground Zero Precision (GZP) Enhanced Fire Control Group. The GZP is a single-stage unit, and its trigger-pull weight, though smooth and crisp due to its hand-polished engagement surfaces, was measured at 6 lbs., 3 ozs. The failures to fire dropped to zero for the rest of the testing. With the reliability issues resolved, the benchrest accuracy results at 25 yards yielded a satisfying five-shot group with a calculated average extreme spread of 1.54″.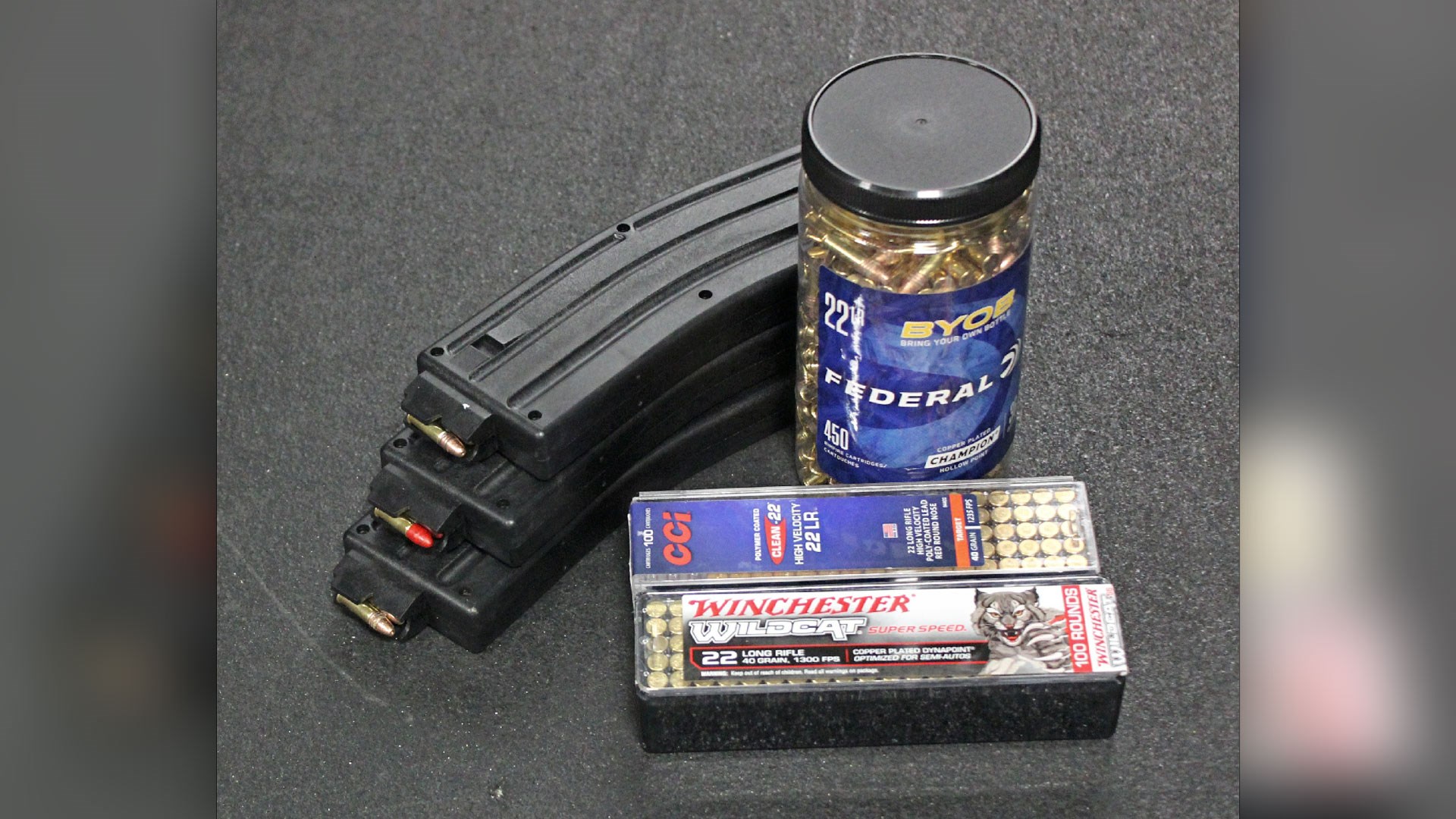 The Banshee was tested with a mix of premium and plinking-grade .22 LR ammunition.
Parting Shots
The latest version of the CMMG Mk4 Banshee .22 LR looks great, and it's a hoot to shoot. Removing the buffer assembly in favor of a cap makes it more portable and neatly solves the problem of restricted features in some jurisdictions. This pistol's updated styling, redesigned magazine, scalloped flash hider and cropped-off upper give it a sci-fi-movie-blaster look and feel that some folks (like me) will find appealing. In fact, if you would like your Banshee to look more like the laser blaster carried by a certain space-traveling smuggler who made the Kessel Run in less than 12 parsecs, then take a look at CMMG's DL44 wooden pistol grip.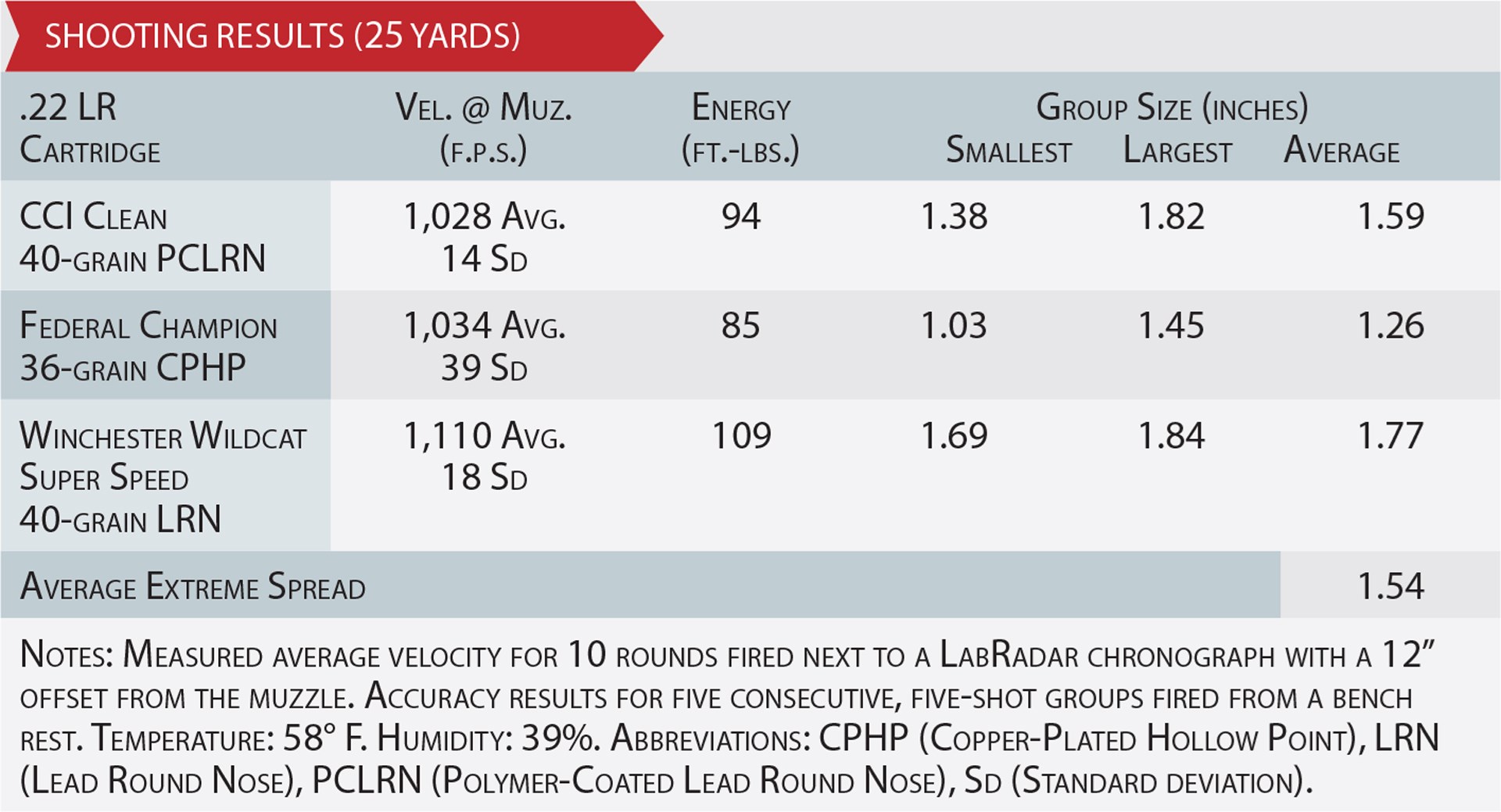 Specifications:
Manufacturer: CMMG, Inc.
Action Type: blowback-operated, semi-automatic, rimfire pistol
Chambering: .22 LR
Barrel: 4.5" 4140 chromoly steel, Melonite finish
Rifling: 1:16″ RH twist, six-groove
Lower Receiver: Mk4, forged 7075-T6 aluminum, Cerakote finish
Upper Receiver: milled 6061-T6 aluminum, Cerakote finish
Trigger: GZP EFC, single-stage, 6-lbs., 3-oz. pull
Magazine: 10, or 25-round polymer, detachable box
Sights: None, Picatinny Optics Rail
Overall Length: 13.5″
Height: 7.375″ (as configured)
MSRP: $1063.95 (as configured)