Rifleman Review: Smith & Wesson M&P12
Rifleman Review: Smith & Wesson M&P12
Smith & Wesson introduced its M&P12 bullpup, pump-action shotgun design in August 2021, validating a concept that, until that point, had really only been explored by smaller companies with limited production capability, such as KelTec with its KSG. S&W's introduction of the M&P12 brings 12-ga. firepower in a compact platform that dramatically outpaces traditional shotgun designs in both size and capacity. Watch our Rifleman Review segment from American Rifleman Television above to learn more about this unique shotgun.
"Despite how argumentative many in the gun community  often like to be, virtually no one questions the fight-stopping ability of the 12-ga. shotgun. However, as it pertains to self-defense, the limitation of the platform has always been that of capacity, given how large and heavy shotgun shells are," said Kelly Young, American Rifleman senior executive editor. "In recent years, as a way to address this problem, manufacturers have started experimenting with ways to up the number of rounds their guns can hold, with everything from using extended tubular magazines that extend far beyond the length of the barrel to also using detachable box magazines."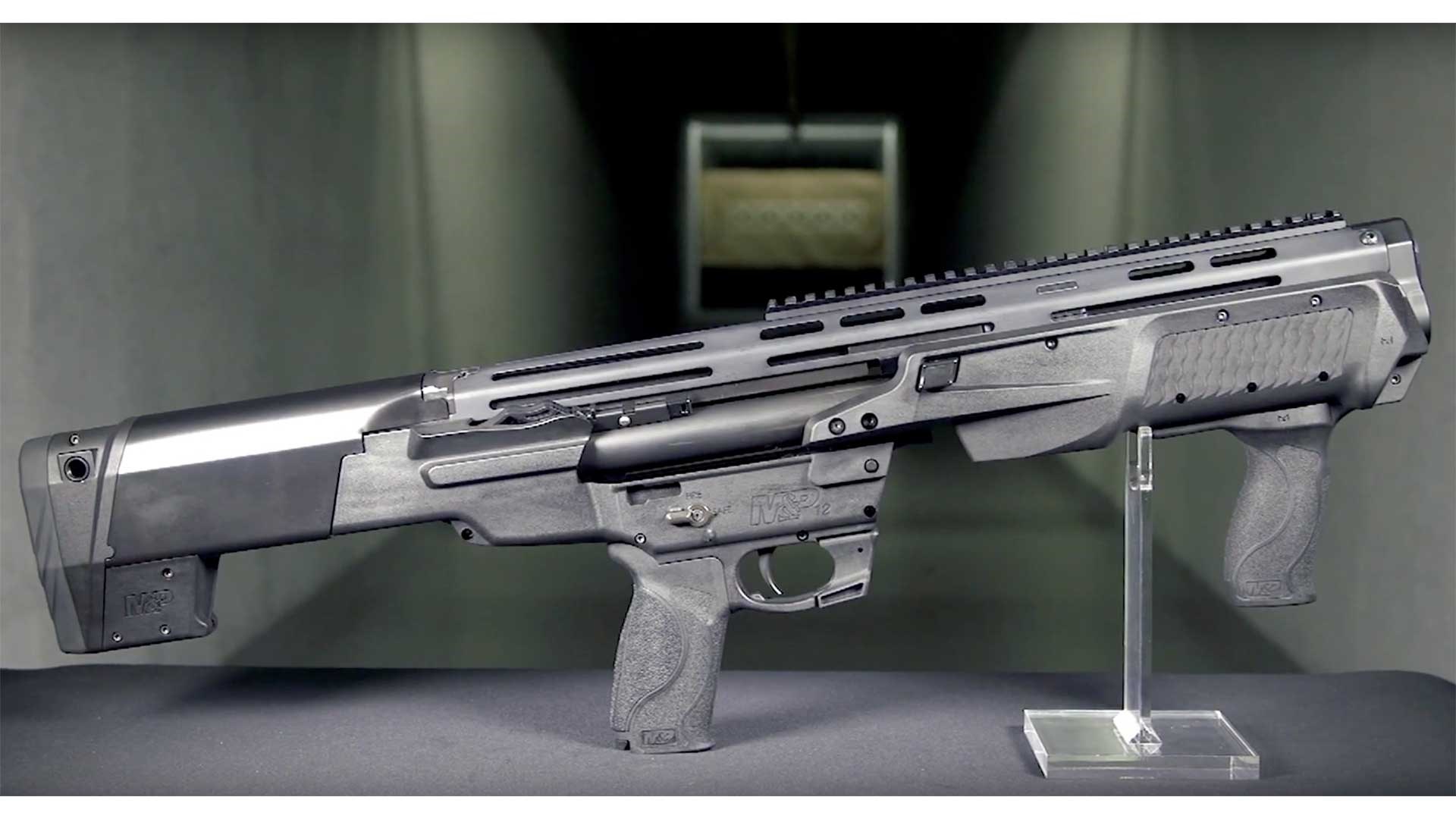 Despite its compact size, the S&W M&P12 still weighs in at a healthy 8 lbs., 5 ozs., putting it right in the middle of the pack in terms of traditional shotgun weights. However, once the gun's dual magazine tubes are full of heavy 12-ga. shotshells, that weight can increase dramatically, tipping the scales at nearly 10 lbs.
"Because so much of the weight is situated in the back and its held close to the body, it feels substantially less than that, so shooters who may suffer from limited upper-body strength are probably going to find that they can use this gun surprisingly well," Young said.
Two magazine tubes run parallel underneath the shotgun's barrel, and a magazine-selector switch is located high up at the rear of the shotgun's slide housing. Simply push the selector through the frame, and the side with the protruding switch is the side from which the shotgun will feed. The M&P12's heightened capacity is a benefit, but reloading the shotgun can be cumbersome, requiring that the user depress a "load/unload assist button" associated with each magazine while a shell is being inserted into the magazine tube.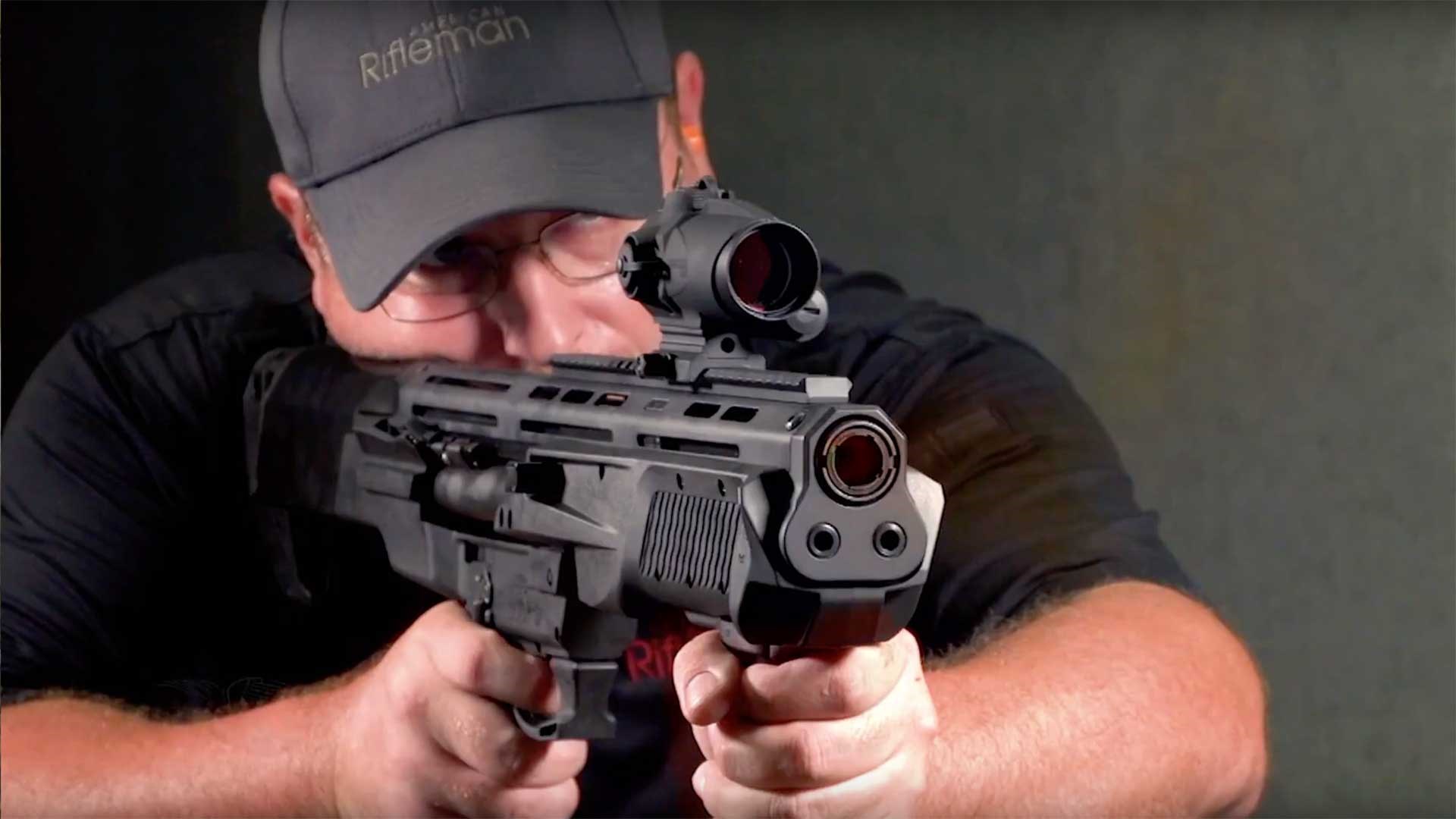 "I have found loading this gun to be a bit cumbersome. The company actually recommends that you rest it on its nose on a flat surface because, in order to load shells into magazines, you have to depress this button," Young said. "However, I have found that it actually is possible to reload on the fly, standing, it just takes some practice."
Other features of the S&W M&P12 shotgun include Rem Choke-pattern threading, as well as a polymer pistol grip that accepts the same interchangeable grip panels produced for the company's M&P M2.0 double-stack handgun lineup. At the front of the shotgun is a vertical foregrip that aids in actuating the manually operated slide.
"In my experience, bullpups can be pretty polarizing, with people either loving them or hating them. If you're not turned off by the idea, Smith & Wesson's new M&P12 offers a ton of firepower in a package that is far more handy and compact than fighting shotguns of a more standard configuration."
Smith & Wesson M&P12 Specifications
Manufacturer: Smith & Wesson
Action Type: pump-action shotgun
Chambering: 12 gauge
Receiver: 410 stainless steel
Barrel: 19″, 4140 chrome-vanadium steel
Magazine: dual, tubular; seven-round capacity (2 3/4″) each
Sights: none; Picatinny rail
Trigger: two-stage, 6-lb., 10-oz. pull
Overall Length: 27.75″
Stock: synthetic, matte black; length of pull, 14.5″; drop at heel, 0.38″; drop at comb, 0.25″
Weight: 8 lbs., 5 ozs.
Accessories: owner's manual, hard case, two choke tubes, choke wrench, chamber flag, lock