Vudoo Carbon Sinister .22 LR
Vudoo Carbon Sinister .22 LR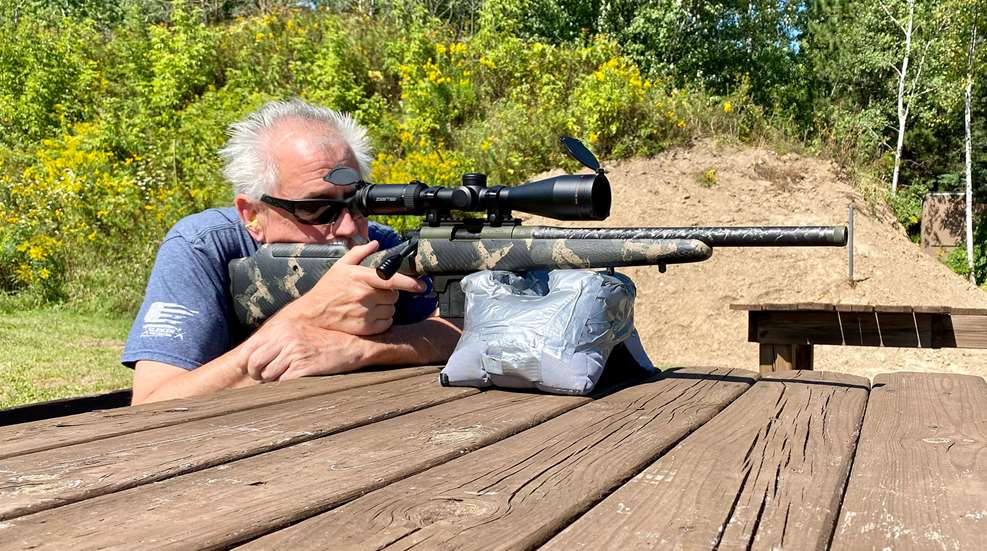 For the last decade, participation in precision rimfire shooting events, like those hosted by NRL22, has been growing. Courses of fire can be anywhere from 50 to 400 yards, entry fees are relatively minimal and, in theory, anyone with a rifle chambered in .22 LR can compete.
Yet in practice, the growth in rimfire competitions has created a surge in demand for precision rimfire rifles, ones capable to shooting .50″ groups or better at 50 yards. These rifles usually feature custom-made bolt actions, first-rate triggers, threaded muzzles and adjustable, performance-grade stocks. Some are quite heavy, too, and can exceed 9 lbs. Not surprisingly, these precision rifles cost many times more than their $200 "plinker" cousins.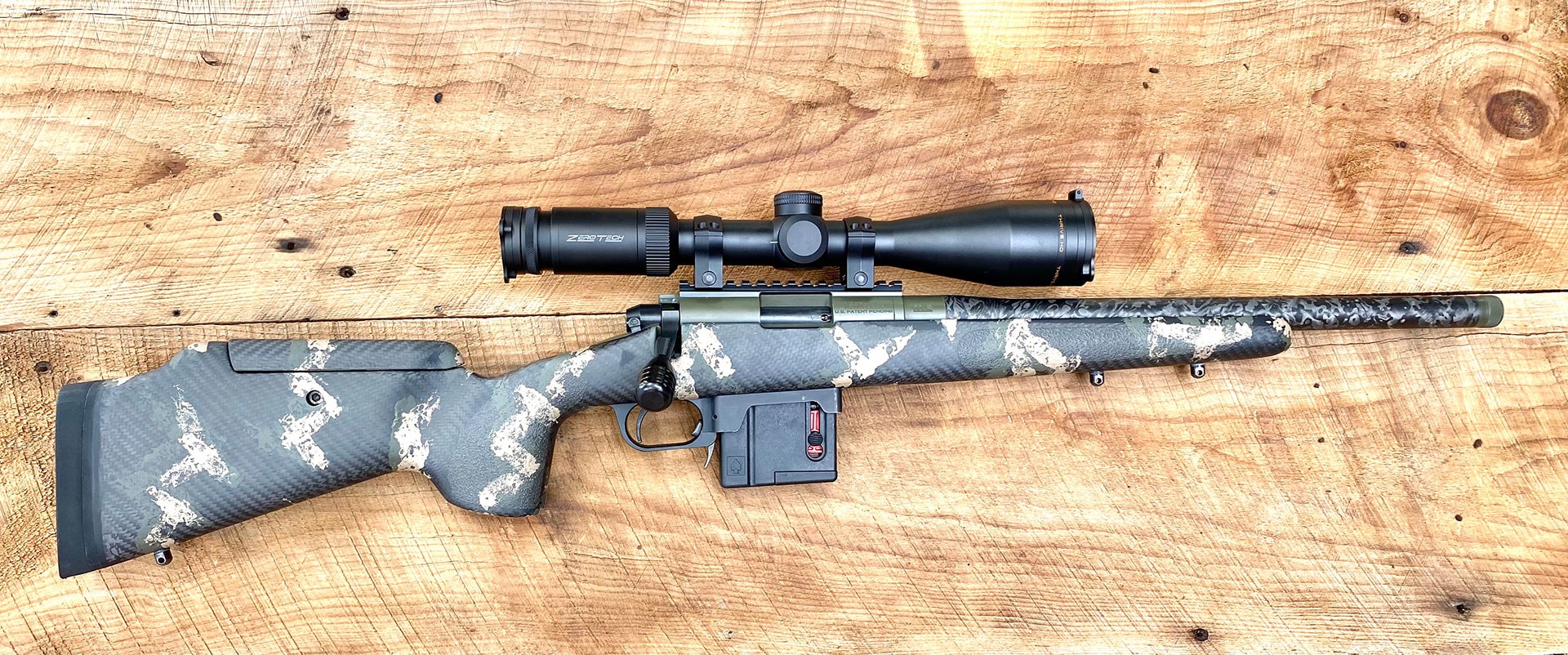 The new Carbon Sinister precision .22 LR from Vudoo Gun Works, mounted with ZeroTech Thrive HD scope.
Among the newest precision .22 LR platforms is the Carbon Sinister from Vudoo Gun Works of Saint George, Utah. What sets the Carbon Sinister apart from many precision rimfire rifles is that it was designed as a "cross-over" rimfire, one capable of holding its own in competitive shooting events but nimble enough to be a hunting rifle afield.
It's also costly, with a base price of $3,200, depending on stock and barrel options selected. What does one buy for that kind of money? In the test rifle received, what we got was a rimfire capable of putting someone near the top of the leader board at a competitive rimfire shooting event one day and taking down squirrels at 100 yards the next day.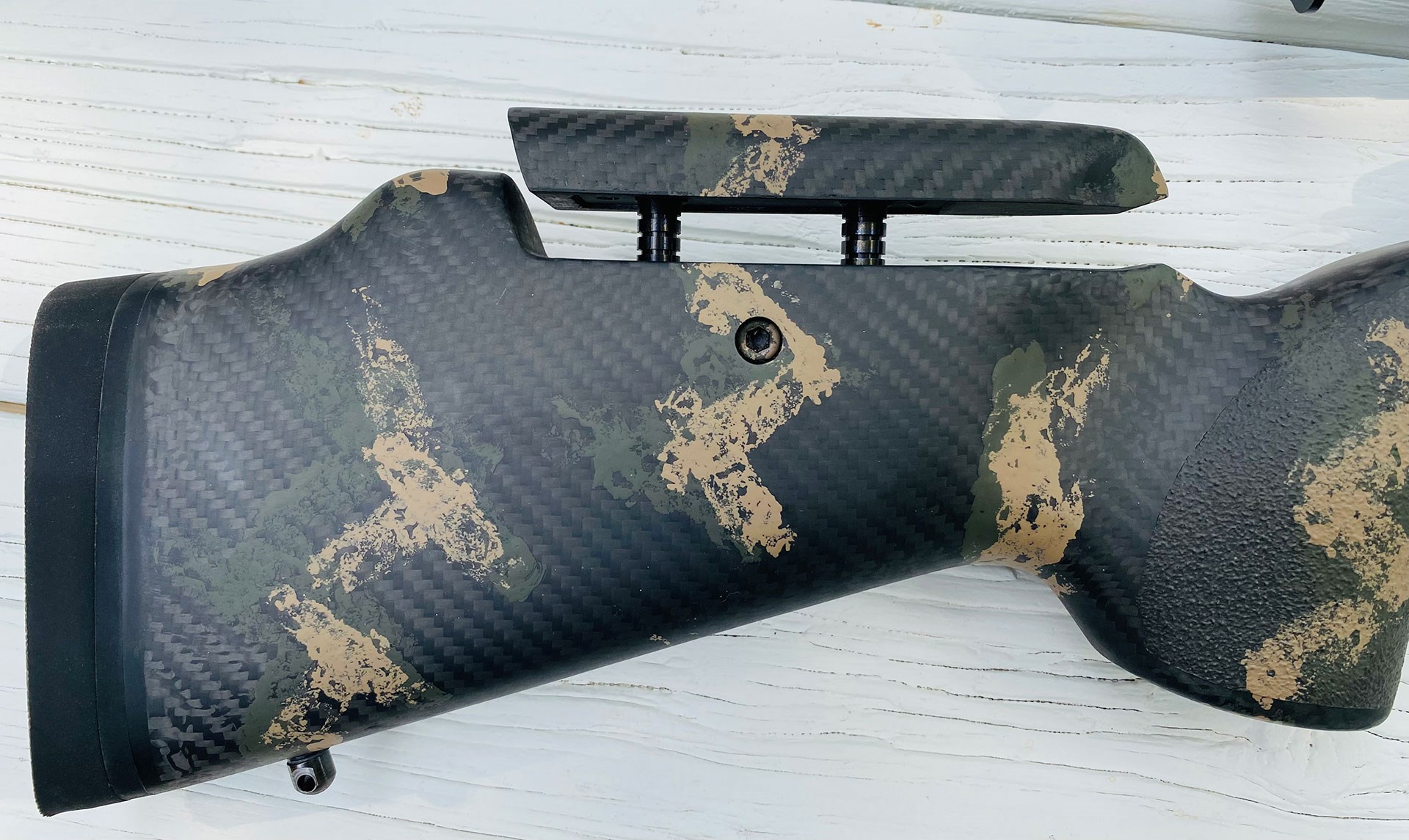 The rifle's Mesa Precision Arms carbon-fiber stock features an adjustable comb.
My test model Carbon Sinister was built around Vudoo's Three 60 action, featuring a three-lug, 60-degree-throw bolt and an oversized bolt handle. The 18″ Proof Research barrel was built from a stainless-steel tube that was then carbon-fiber-wrapped. The TriggerTech Primary trigger snapped off very crisply, with an average pull of 1 lb., 5 ozs., according to my Lyman Digital Trigger Pull Gauge.
The Mesa Precision Arms Altitude carbon-fiber stock sported an adjustable comb, which was nicely textured along the fore-end and grip for a firm hold and was finished in the company's Western Slope color pattern. Ammunition is fed into the Carbon Sinister's receiver via a detachable, polymer magazine, which holds 10 rounds with handy loading tabs on both sides to help make those last rounds fit. Overall length of the Carbon Sinister is an agile 37.25″, and the weight was just 6 lbs., 13 ozs. unloaded and without an optic.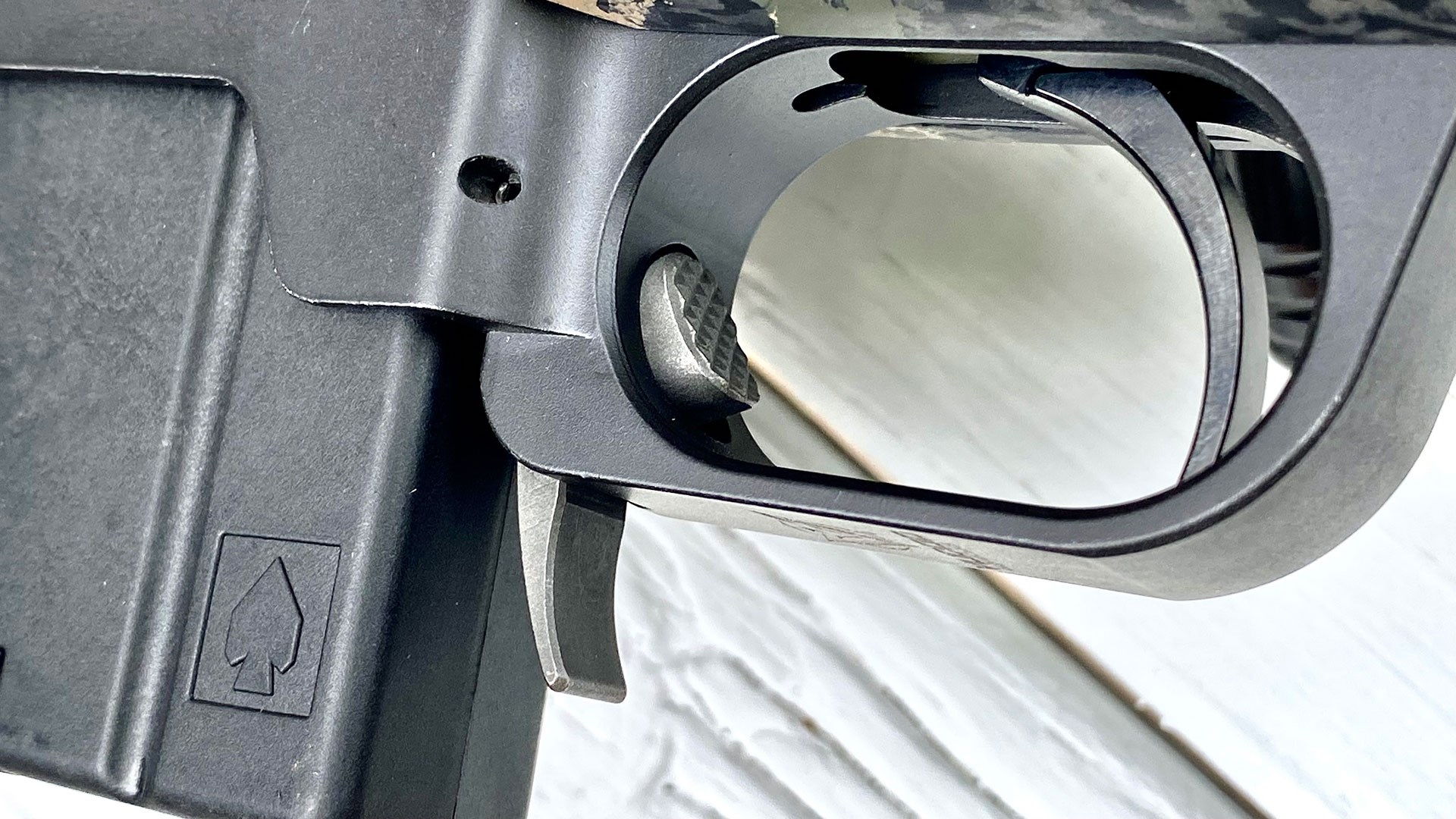 The Carbon Sinister features an extended magazine release.
The optic I chose was a ZeroTech Thrive HD 2.5-15X 50, easily mounted onto the rifle's 30 m.o.a. Picatinny rail. The Thrive HD featured an m.o.a. floating center dot reticle and 1/4 m.o.a. elevation and windage adjustments, along with a 30 mm tube and a side-focus parallax knob. Images were very clear and sharp-edged, and adjustments proved precise.
To test the rifle's accuracy, I used three brands of .22 LR ammunition: CCI Ammunition's Green Tag Competition; Lapua Center-X; and SK Long Range Match. All three brands of .22 LR launched 40-grain projectiles. At my outdoor range, I first zeroed the rifle at 25 yards with the Thrive HD set on 4X magnification, which took just 10 rounds of the CCI Green Tag.
The muzzle of the rifle's carbon-wrapped barrel is threaded for a suppressor.
Then, I shifted to 50 yards. From a sandbagged rest, I shot at least a half-dozen five-shot groups with each of the three .22 LR ammunition brands, with the Thrive HD set at 10X. Accuracy was impressive. My best groups with the CCI scored 0.74″ and 0.77″, with an average group size of 1″. The Lapua Center-X shot a 0.48″ group with an average at 0.75″, and the SK Long-Range scored 0.60″ and 0.64″ groups with an average group size of just 0.84″.
This level of accuracy, it should be noted, was achieved with left-to-right winds gusting from 10 to 15 m.p.h., the sky clear and sunny and the temperature in the low 80s. The next day, at 100 yards, the accuracy held up just fine, though the first shots using the Lapua ammunition were approximately 5″ low. With the necessary adjustments to elevation turret of the Thrive HD, set on 15X, and the point of impact came right up to the bullseye.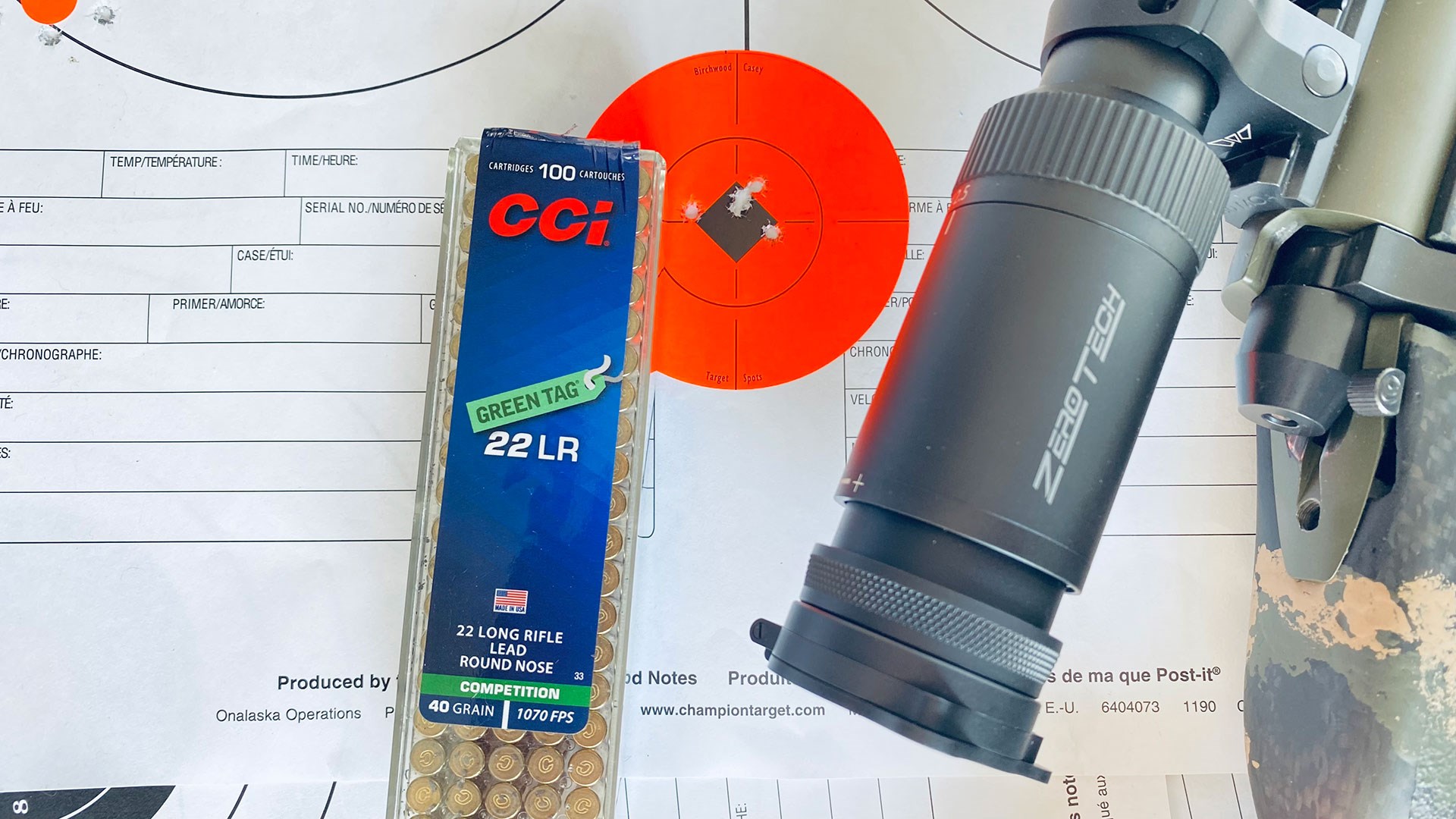 At 50 yards, CCI Green Tag .22 LR through the rifle pegged this 0.74" group.
Here, the rifle's accuracy really shined. Best group of five shots was with the Lapua Center-X at 0.65″ and a four-shot cluster at 0.73″, the SK Long Range also placing five shots at 0.65″ as well as two other groups at 0.85″, and the CCI with 0.73″ and 0.96″ groups. Average group sizes were only slightly higher, at an additional 0.25″ for the Lapua and SK and 0.40″ for the CCI.
I also chronographed 10 rounds each of each brand of .22 LR using a Caldwell G2 chronograph from Brownells, with the rifle's muzzle approximately five feet from the unit. The CCI averaged 1,075 f.p.s. velocity and a standard deviation (Sd) of 13.5, Lapua 1,092 f.p.s. with an Sd of 6.6, with the SK ammunition at 1,106 f.p.s. on average and a 6.4 Sd.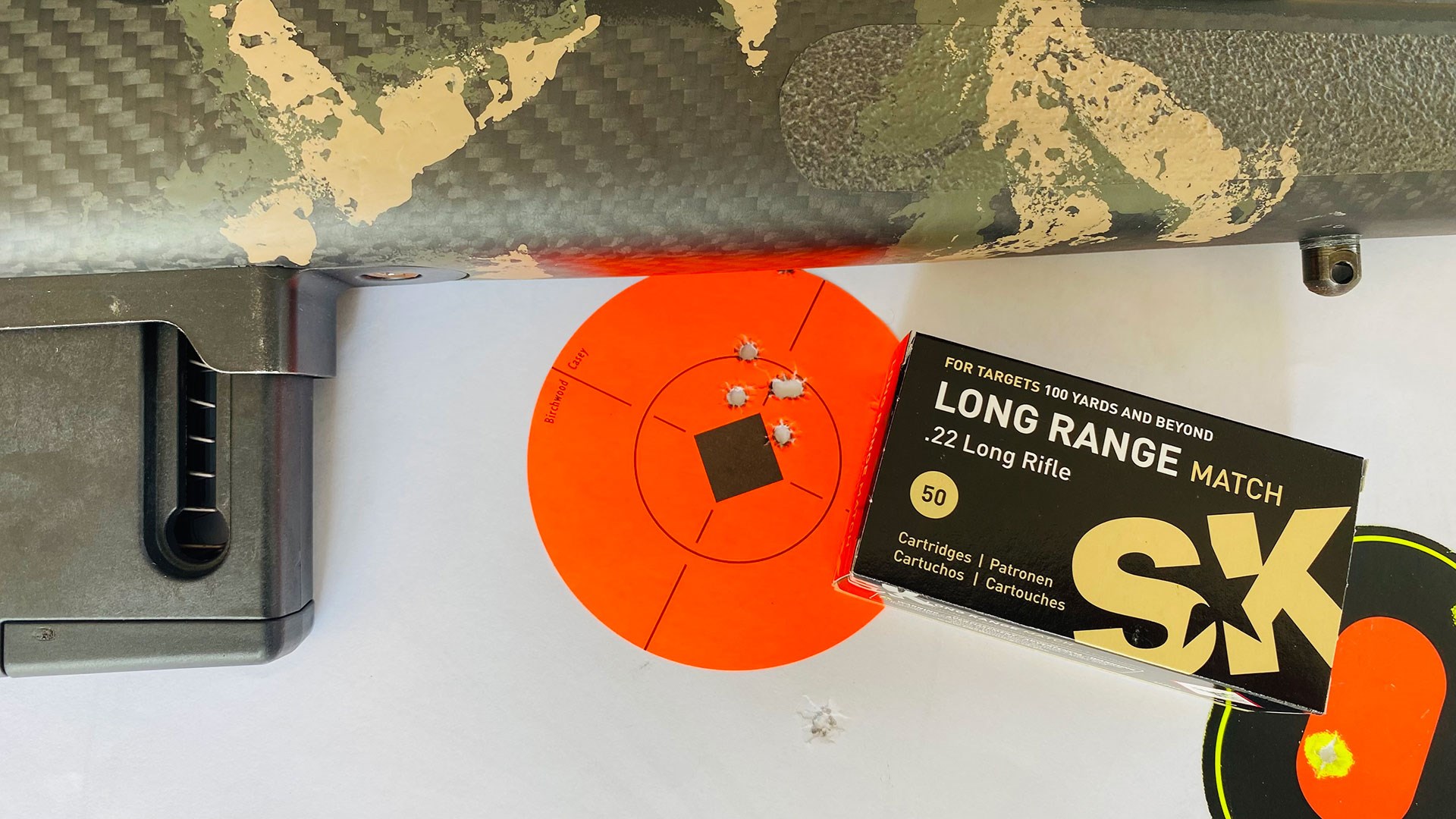 SK Long Range .22 LR at 100 yards drilled this 0.65" group.
The Carbon Sinister's bolt worked almost effortlessly, providing a tight, little arc for fast reloads. The stock was comfortable on the shoulder. I did need to raise the adjustable comb to allow for the height of the Thrive HD scope, and that was easily done by loosening and then tightening the Allen screw below the comb.
The only functional problem I experienced with the Carbon Sinister was the half-dozen times empty SK Long Range Match brass would not eject. To remove the spent brass, I inserted a cleaning rod into the muzzle, the rod tipped with a plastic jag. This failure to eject did not occur even once with nearly 200 rounds of the other two .22 LR ammunition brands. So, I was not sure if that particular batch of SK ammunition had some quality-control problem or if something about the brass rim and the Carbon Sinster's bolt did not match up 100 percent of the time.
The 60-degree bolt on the Carbon Sinister sports an oversized handle for easy manipulation of the bolt.
Unlike a centerfire rifle, the barrel break-in advice for the Carbon Sinister suggested bore brushing the barrel initially, but not again for the rifle's first 1,000 rounds to let the lubrication on the .22 LR bullets to adhere to the bore and its rifling for improved accuracy. So, I initially gave the barrel a cleaning using a copper brush and bore cleaner, and then between changes in ammunition, simply ran a cloth patch through the bore to remove debris.
As befits a custom gun maker, Vudoo Gun Works also offers the Carbon Sinister in several variations. The rifle can be ordered with premium carbon-fiber barrels from Helix 6 Precision, as well as Proof Research and Bartlein Barrels. The Helix 6 Precision and Bartlein carbon fiber barrels provide the ability for customers to select specific barrel lengths from 16.5″ to 22″. Customers who prefer Proof Research barrel have the option of 18″ and 20″ barrels.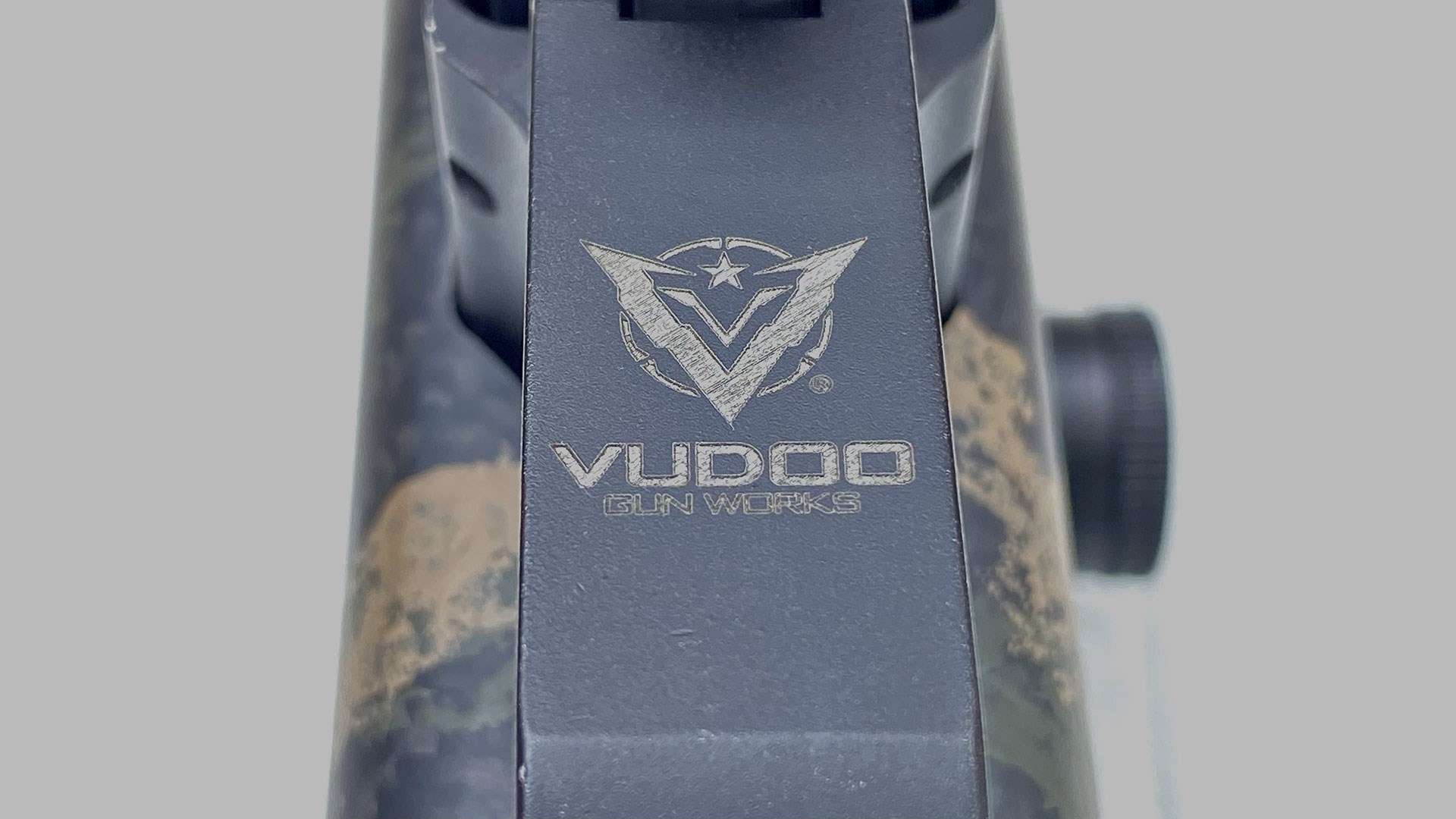 The Vudoo Gun Works logo, on the bottom of the trigger guard.
Yes, the Carbon Sinister costs a fair amount of cash. But the rifle is definitely not just a plinker. In the hands of a skilled shooter, the Carbon Sinister will make shots unimaginable to those of us who grew up shooting single-shot, bolt-action .22 LR rifles sold at the local hardware store. That level of quality and performance is expensive. For more information on the Carbon Sinister, visit vudoogunworks.com.
Specifications:
Manufacturer: Vudoo Gun Works
Model: Carbon Sinister
Action Type: bolt-action, repeating rimfire rifle
Chamber: .22 LR
Barrel: 18″ stainless steel; carbon-fiber-wrapped
Receiver: Vudoo Gun Works V-22 Three 60
Trigger: TriggerTech Primary, 1-lb., 5-oz. pull
Stock: Mesa Precision Arms
Magazine: V-2210 AI-format; polymer, 10-round detachable box
Sights: none; 30 m.o.a. Picatinny Rail
Length: 37.25″
Weight: 6 lbs., 13 ozs.
MSRP: $3,265