8 Tactical Lever-Action Rifles Available In 2023
8 Tactical Lever-Action Rifles Available In 2023
Support NRA American Rifleman
DONATE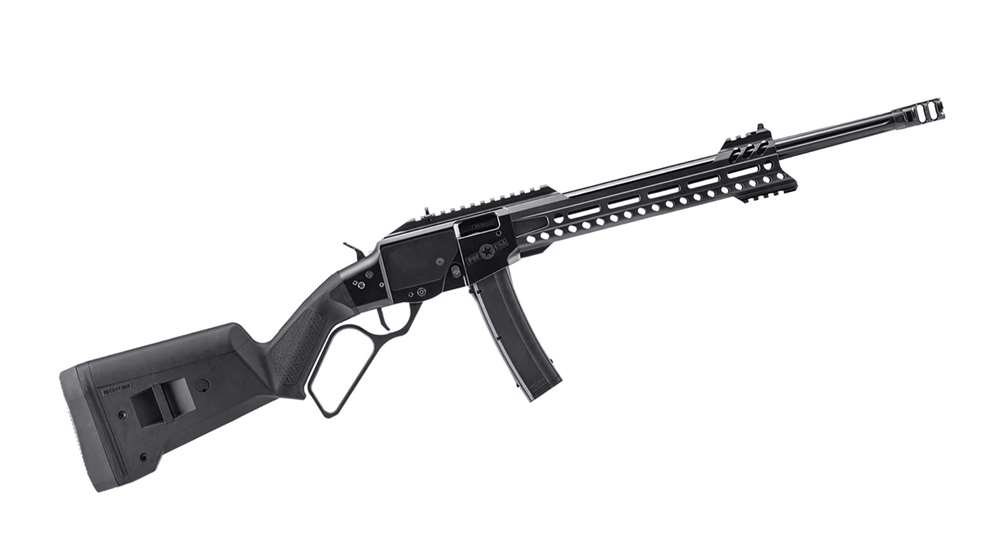 It is amazing to think that the lever-action rifle continues to thrive, largely unchanged, in the firearm world more than 160 years after it first emerged. Of course, there were early variations of the concept in the form of Colt's Ring Lever rifles and the Volition Repeater, but the gun that most point to as the first true-lever action rifle as we know it is Benjamin Tyler Henry's Model 1860 repeating rifle.
Throughout the years, there have been advancements and improvements, and famous designs such as the Winchester Model 1873 and Model 1894 and Savage Model 99 have emerged as popular options that still see use today. However, the market certainly has changed in some respects, and today's manufacturers have adjusted to accommodate consumer wants and needs.
In the modern firearm market, "tactical" is the name of the game, and we certainly see a proliferation of blacked-out guns covered with rails and sporting optics, suppressors and other modern accessories. There are a number of modern lever-action rifles on the market for the discerning shooter, and here are the ones you can buy today: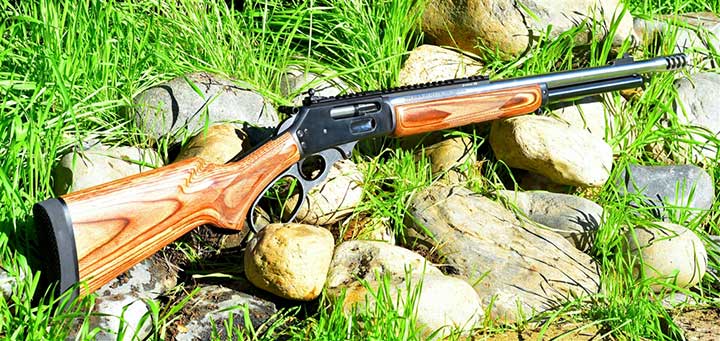 Bishop Firearms 1895 GBL
At first glance, the Bishop Firearms 1895 GBL doesn't appear "tactical." Of course, I'm defining "tactical" here as something that's all-black, outfitted with polymer furniture and sprouting Picatinny rails off every surface, which doesn't necessarily have to be the case. In this instance, it's not the look that makes this gun "tactical." It's the chambering.
That's because Bishop Firearms managed to do the seemingly impossible. The company managed to figure out how to chamber a Marlin 1895 GBL in 458 SOCOM, which, I'd say, qualifies as a "tactical" caliber. Why? Well, the company offers all kinds of reasons, such as for hunting where an AR isn't allowed or having a slim, trim field gun for hog hunting. Personally, I just think it's cool, and that's reason enough in America.
As of this writing, though, the Remington bankruptcy disrupted the supply of Model 1895 base rifles that the company used to construct its guns, so orders are currently suspended, but the company gives customers the opportunity to backorder one. With Ruger now churning out Model 1895 SBLs under the Marlin brand, new rifles are entering the marketplace, so this one may be up and running again soon.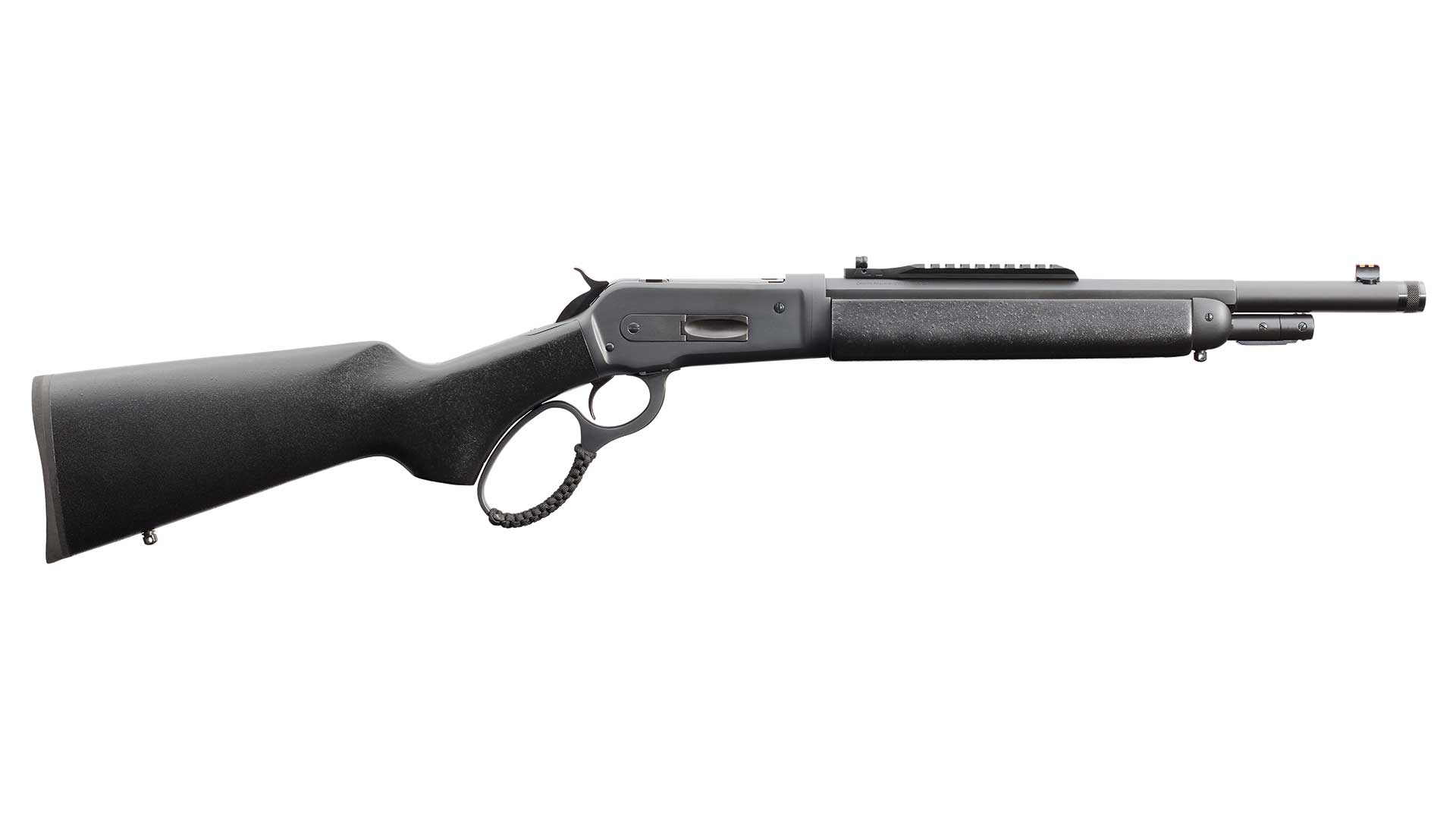 Chiappa Wildlands Lever-Action Take Down Rifle
Chiappa also has a new offering in 2023, its 1892 Wildlands Lever-Action Take Down rifle, which is available in .44 Mag., .357 Mag. and .45-70 Gov't. The rifle features textured black furniture, and the triangular fore-end features a flattened bottom for improved stability when shooting off bags or other rests.
The rifles are equipped with octagonal barrels, which are topped by a short section of Picatinny rail located above the fore-end to accommodate scout-style optics. At the end of the rail is a Skinner peep sight, which matches up with a fixed fiber-optic front sight. The guns are equipped with 16″ barrels in .357 Mag. and .44 Mag., while the .45-70 Gov't. rifle features a 16.5″ barrel. A large-loop, paracord-wrapped lever eases operation.
Moving on to another Marlin offshoot, this model from Citadel Firearms takes inspiration from the pistol-caliber Model 1892 instead of the big-bore 1895 chambered in 45-70 Gov't. Citadel announced this model in 2020, and the gun is offered in .357 Mag.
The gun features an 18" threaded barrel, a polymer buttstock with a traditional profile, a large-loop lever and a skeletonized fore-end loaded with M-LOK attachment points. Completing the package is a section of Picatinny rail located just forward of the receiver, and the rifle comes with a set of back-up iron sights.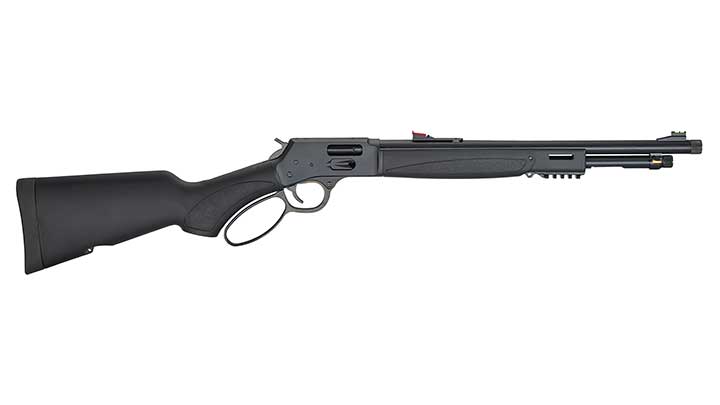 Henry Model X Series
Henry has quite an expansive lineup of lever-action guns, but with the exception of some all-weather models, most of the rifles and shotguns in the company's lineup are pretty traditional, featuring blued steel, wood furniture and steel or brass receivers. The Model X Series released in 2020 changed the game.
The company went all-in on the tactical lever-action concept in 2020, releasing not one but three blacked-out, tactical lever guns in one fell swoop. There's the Big Boy X Model, chambered in .357 Mag. or .44 Mag., and .45 Colt and two Lever Action X Models chambered in either .45-70 Gov't or .410-Bore. All of the guns include polymer furniture, an enlarged loop, threaded muzzle and a section of Picatinny rail on the fore-end for accessories.
The Remington Outdoor bankruptcy of 2020 stopped the flow of Marlin lever-action rifles, but Ruger acquired the brand and its assets and moved manufacturing to Mayodan, N.C. It took about a year, but Marlin was reborn, with the first "Ruger Marlin" rolling off the assembly line on Sept. 30, 2021. Now, Marlin offers several versions of its Model 1895 chambered in .45-70 Gov't. Model 336 and Model 1894 rifles are slated to be available by mid-2023.
Marlin's first re-launched rifle included a host of tactical features, including a threaded stainless-steel barrel, updated and elongated Picatinny optics rail, along with built-in back-up iron sights, and highly durable gray-laminate furniture. An enlarged lever loop makes it easy to get the gun into action, even with gloved hands. Should you want a platform that's a bit handier, the Trapper variant is also available and features a shortened 16.1" barrel, along with black-laminate furniture.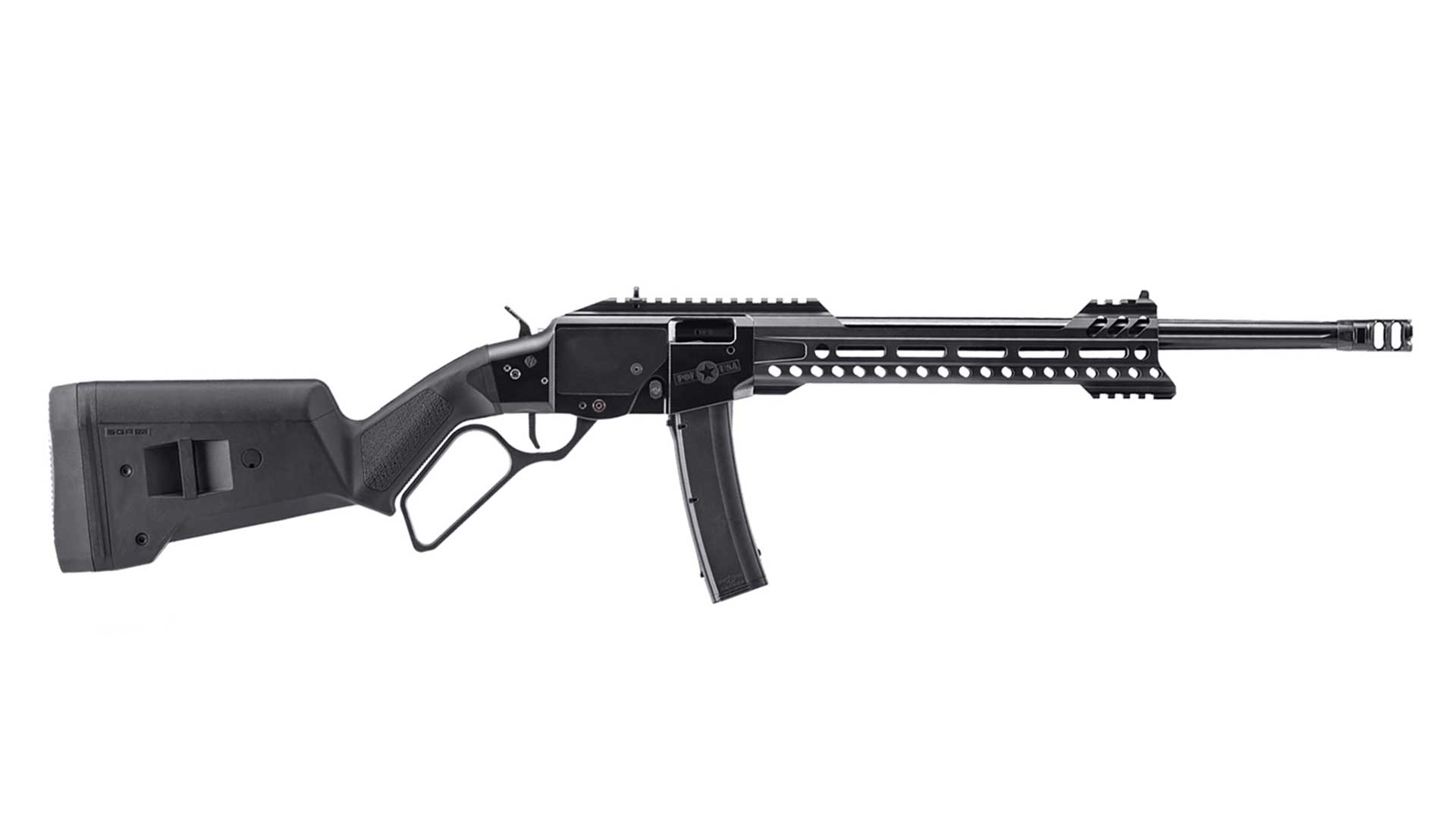 In 2023, POF-USA, known for its lineup of AR-style rifles, shocked the industry with its Tombstone, a lever-action, pistol-caliber carbine that accepts a detachable box magazine. The Tombstone is an entirely new concept, incorporating little in the way of classic lever-action lines or design. Since the company was able to depart from traditional forms, though, it came up with new features that make this design attractive from several standpoints.
The POF-USA Tombstone is chambered in 9 mm Luger and feeds from a standard 20-round magazine. Ten-round magazines are also available for a reduced form factor, if desired. The 4150 steel barrel is free-floated and surrounded by an AR-style Modular Receiver Rail complete with M-Lok attachment slots. At the back end of the gun is Magpul's SGA shotgun stock. Other features include a dual-port muzzle brake, XS ghost-ring sights, a Picatinny optics rail and a 3.5-lb. single-stage trigger.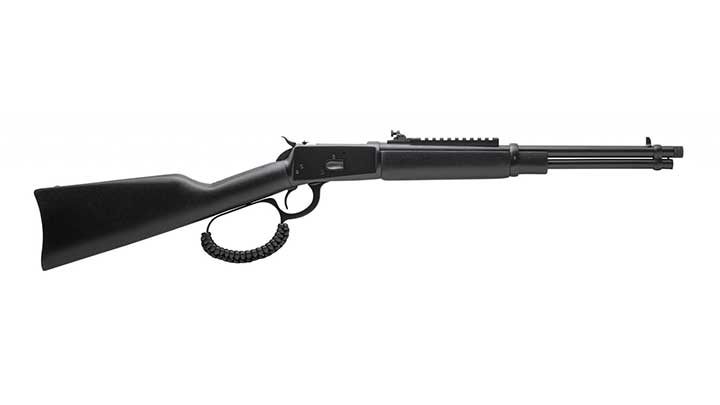 One of the most affordable options on this list comes from Rossi, which offers an R92 Series model called its "Triple Black" that's loaded with lots of tactical features. First, the gun is blacked-out with a Cerakote finish and features a paracord-wrapped, large-loop lever. The gun is also outfitted with a short 16.5″ barrel that makes it light, handy and nimble, all necessary qualities for a tactical lever gun.
The sight arrangement on the Rossi R92 is also solid, featuring a forward-mounted Picatinny rail that's perfect for mounting a long-eye-relief optic. There's a blade front sight and a peephole rear sight that's attached to the forward-mounted rail.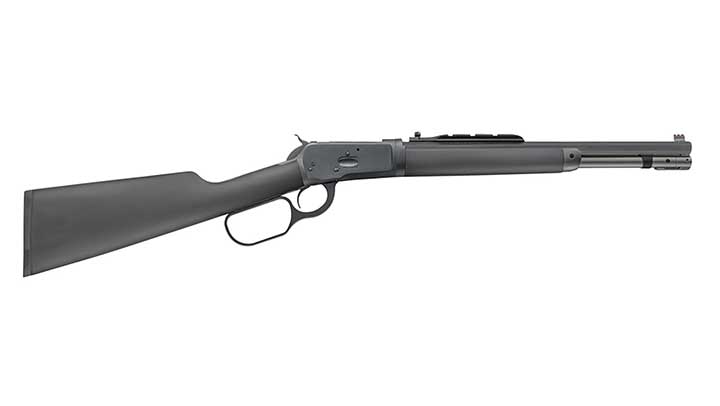 Taylor's 1892 Alaskan Takedown
Though Chiappa makes this and other takedown lever-action models, this Model 1892 lever-action rifle is an exclusive option available only through Taylor's & Co. What separates this model from similar options available straight from Chiappa are several elements, including the all-black finish and the shortened barrel measuring just 16" long.
Consumers will also find a forward-mounted rail designed for use with a scout scope, and the rail features a rear peep sight that pairs with the fiber-optic front sight. Possibly the coolest feature of this Model 1892, though, is its takedown feature, which separates the gun into two halves just forward of the receiver. Since the iron sights and any mounted optic are attached to the forward half of the gun, this platform will maintain zero when reassembled.
As we head into 2023, still other rifles are on the horizon. Fightlite Industries announced that it would be rolling out its Herring Model 2024, an AR-style lever-action rifle capable of accepting detachable box magazines. Additionally, at SHOT Show 2023, Bond Arms also highlighted that it would be unveiling a similarly styled lever-action rifle, but at the time of this writing, both of those are still concepts that are unavailable to the public. However, it's remarkable that the 160-year-old lever-action concept continues to evolve. What else will we see in the lever-action rifle market of the future?