Luth-AR MCA-22 Chassis For The Ruger
Luth-AR MCA-22 Chassis For The Ruger 10/22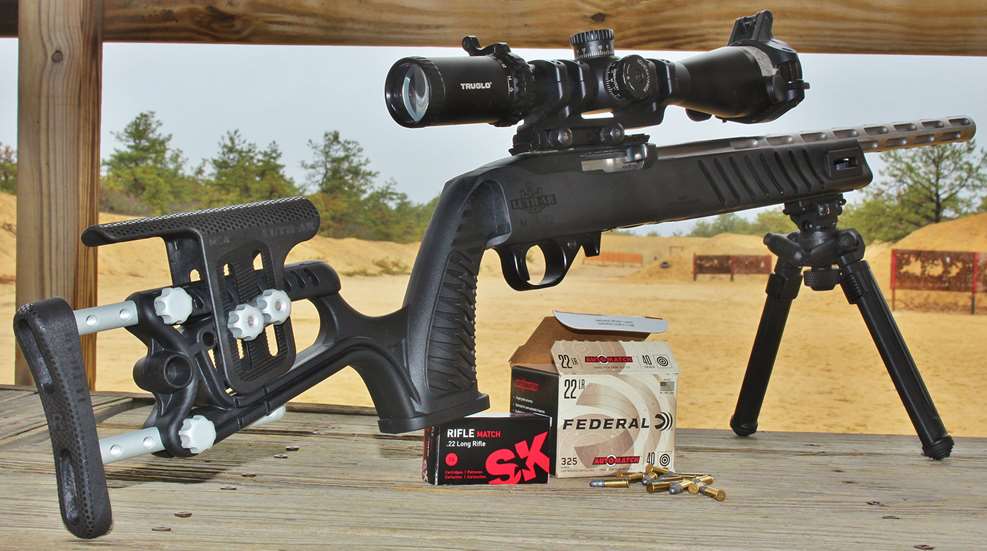 Whenever customizable rifles are brought up in one of my classes, the Ruger 10/22 is one of the first mentioned. As the leading rimfire rifle in the nation, it should come as no surprise that the sea of available aftermarket parts is quite vast. Luth-AR is no stranger to this market in the AR-15 realm, and in the second half of 2022 announced its entry into the 10/22 market with its MCA-22 Chassis, a product conceived right on the firing line.
It was at the Superstition Mountain Mystery 3-Gun match when Randy Luth of Luth-AR and Mark Roth of Roth Performance first discussed the idea of a modular, synthetic aftermarket stock. As the story goes, the original idea was for 3-Gun-themed shotguns. However, the consensus was quickly drawn that there are too many different models to think of and that the market might be a bit too small for the product to make sense. On the other hand, more than 7 million 10/22s are circulating the ranks, and folks of all disciplines love to tinker with them. With that, the idea of making a synthetic cradle for this platform started to sprout roots, and it was quickly agreed that Mark would provide most of the design work while Randy would spin his plant up to churn them out in the same fashion as the company's hit MBA stocks.

The final product was glorious, as it is the brainchild of a revered competitor and engineering mastermind. When the press release hit my inbox, I requested one with gusto, and it showed up quickly. That's something that I love about Luth-AR. If it announces something new, the product is ready to ship. When it arrived, it was far lighter than expected, which isn't a bad thing for rimfire rifles. As there isn't much recoil to deal with, additional stock weight typically becomes nothing more than a hindrance when shooting in the offhand position. I also noticed a genius spacer system that allowed for standard-taper barrels or can be removed to accommodate any of the aftermarket bull barrels with an outer diameter of up to .920″.
I quickly ran through the Renaissance Firearms Instruction arsenal in search of a 10/22 that could use a little love in the stock department. I had several, but none stuck out more than my first attempt at hogging out a standard synthetic stock to accept a Volquartsen match-grade barrel. Even worse than my Dremel job was the "bubba-ing" that I did to make the screw fit the action better. While it worked, it certainly wasn't ideal. To my delight, Luth is one of the few manufacturers that include a properly-fitted action screw, allowing me to pitch both the stock and hardware straight into the trash. After pulling the spacer out, I sat the barreled action into the stock and torqued the action screw down to 45 in.-lbs. and called it a day.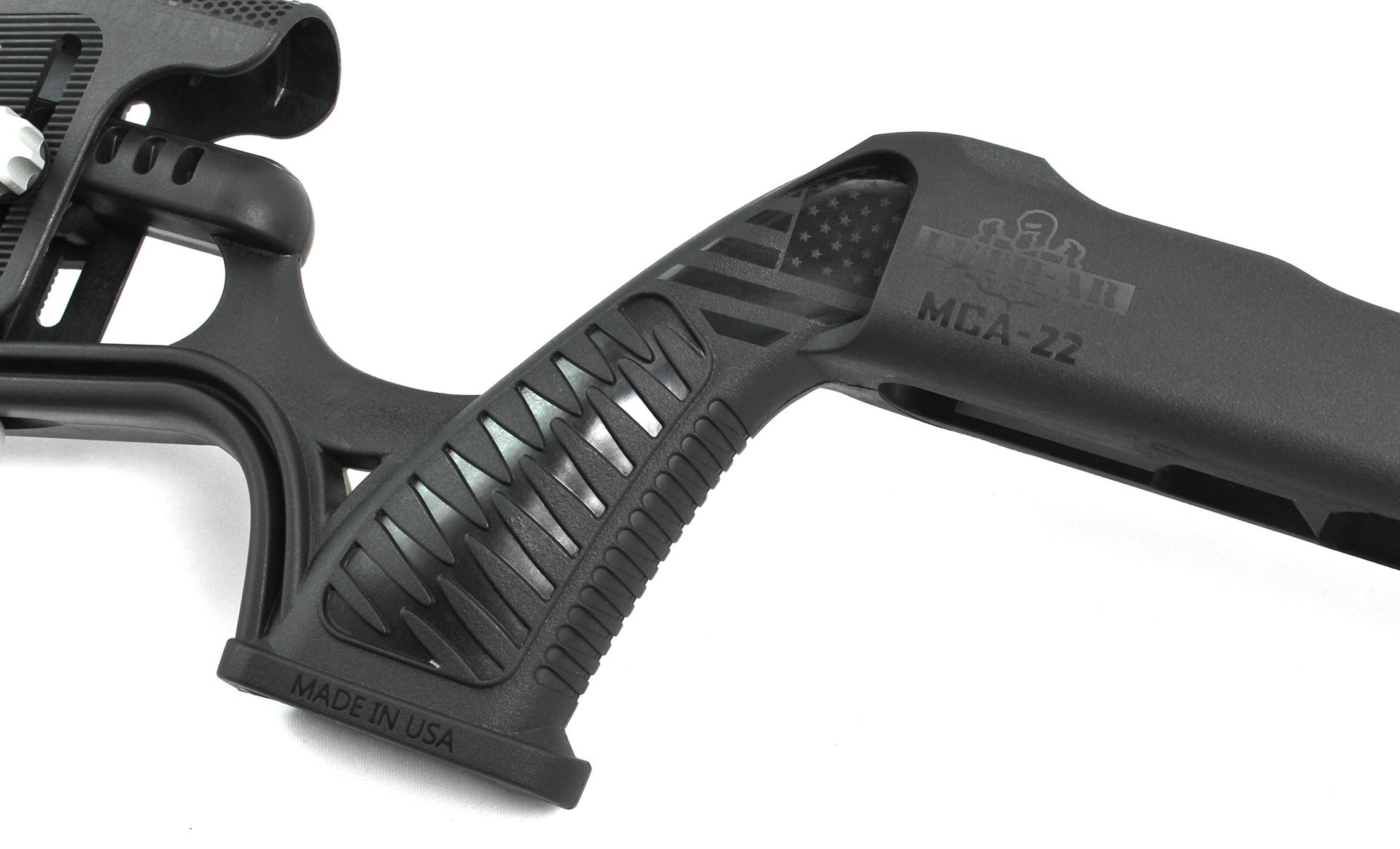 Being that the installation process was a breeze, I found myself at the range that same day to evaluate the stock right at the firing line, which was fitting, considering this is where it was conceived. As I gave it a deeper look, I was able to appreciate better some of the finer intricacies, such as the seemingly endless connectivity accommodations. The handguard is molded with standard M-Lok slots at the six-o'clock position, which allows for direct mounting of certain bipods or the easy addition of a Picatinny rail section to mount other connection systems. There is even a pre-drilled hole to add a sling stud for Harris-style bipod models or, dare I suggest, a sling. As for rearward sling points, there is a QD cup on either side of the buttstock to accommodate a two-point setup, but I guess nothing is stopping you from running a single-point rig, either.
While examining the rear, I noticed that excellent thinking went into the buttstock itself, which didn't come as a surprise, being that this is Luth's specialty. An adjustable cheek riser is always nice to see, but far too often have I had them slip while shooting. Luth solved this with a click-adjustable mechanism that holds it in place and provides a positive return to previous settings. This is great when you are sharing the gun with somebody else or like to have a different amount of lift for a particular shooting position. The same held true in spades for the six-position length-of-pull adjustment. The MCA-22 holds this setting through the use of aluminum hardware that goes completely through the stock; no clamping. That means that the only way that LOP can creep is if both screws fall out entirely.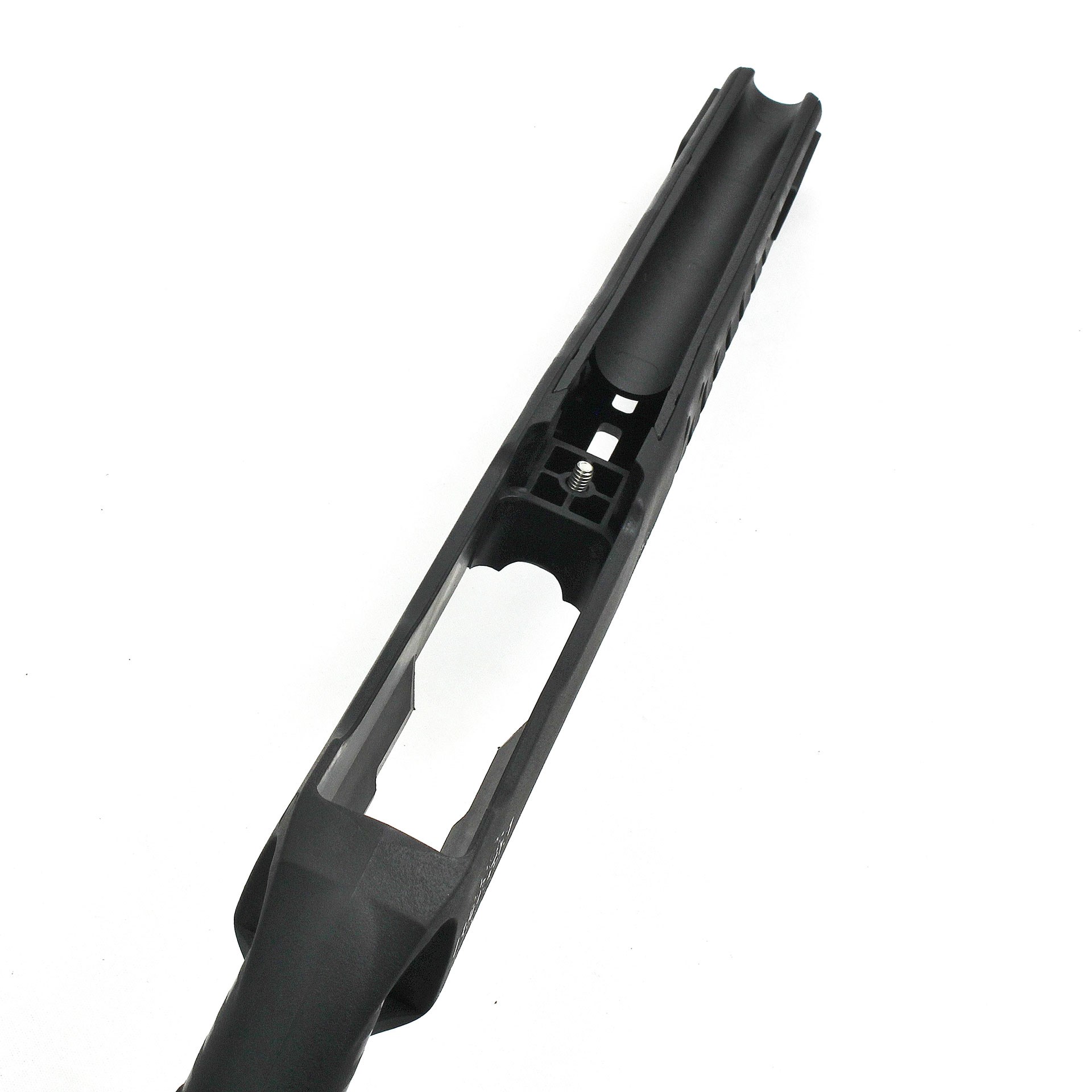 After setting both the cheek height and the LOP, I commenced fire on targets placed at 50, 100 and even 200 yards from various positions. I found it balanced well on a Magpul bipod in the prone position, especially when served with a rear bag. Additionally, the squared nature of the fore-end fit like a glove into my Caldwell Rock BR Rest, lending it to that bench work as well. None of the aforementioned targets were safe from these rock-solid firing positions. To that end, I experimented with a Gamechanger sandbag to see how well the new setup fared off a barricade and giggled at the fact that I could balance the rifle even without it. After wearing out a brick of Federal Auto-Match .22 LR, I turned to some SK Rifle Match ammunition to harken back to my smallbore silhouette days. Working exclusively on the 200-yard target, I placed nine out of ten shots in the unsupported offhand position, teaching me all I needed to know about field use.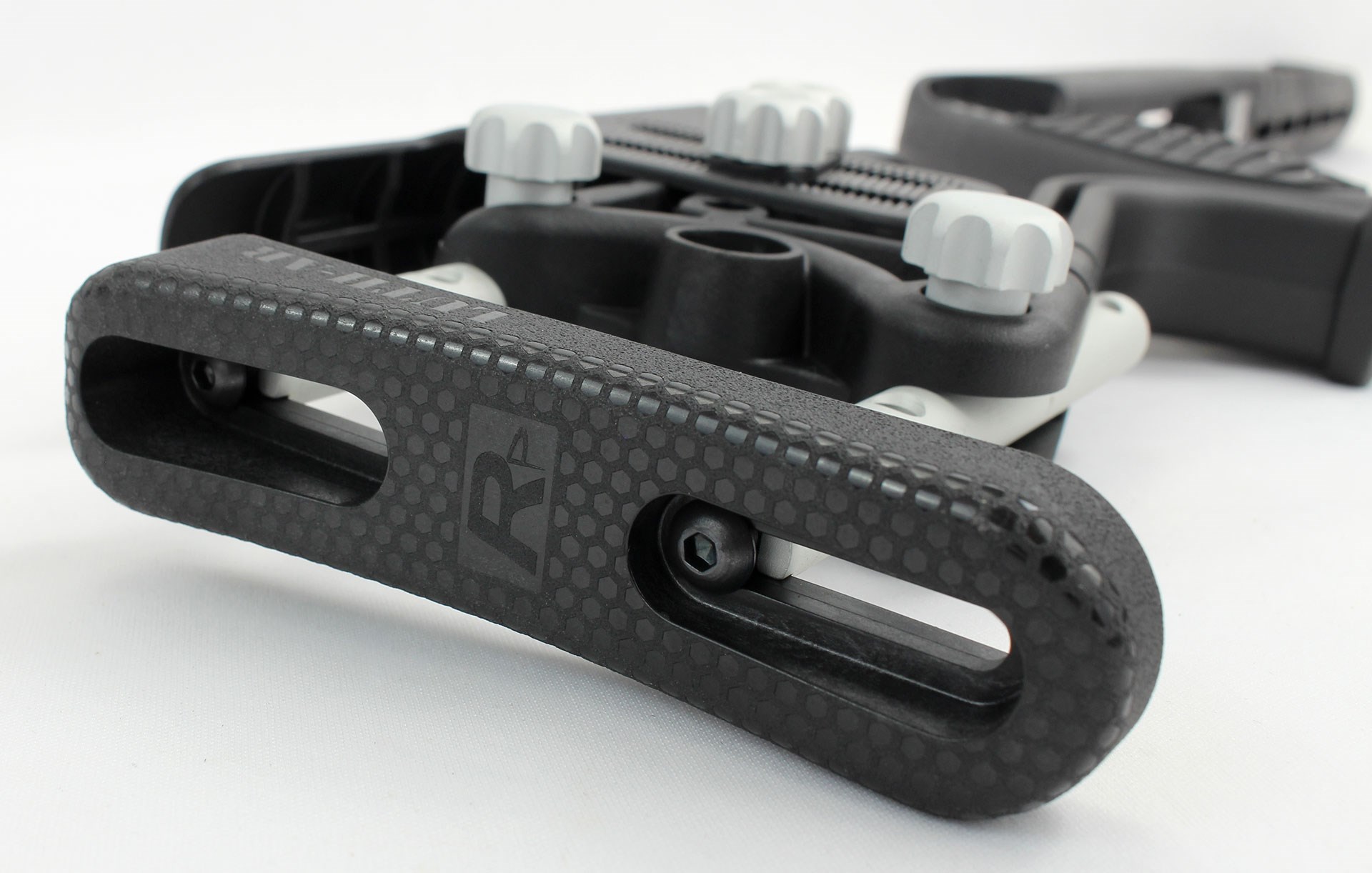 I left the range contemplating where I would use the recently upgraded rifle, and the answer was simply everywhere. The stock balanced nicely on structure, so NRL-22 is on the table but, at the same time, fits a plethora of bench apparatuses, so I can't rule out any disciplines that allow this shooting position either. At the same time, firing from my feet was extraordinarily stable, so Smallbore Silhouette or its real-life counterpart, squirrel hunting, are well within this rig's grasp too. Lastly, the minuscule price point of $190 makes it an easy upgrade for a casual plinker, mainly because it doesn't require any other aftermarket modifications to work. At the end of the day, there will be little buyer's remorse, if any, which is consistent with every other Luth-AR product I own. For more information, visit luth-ar.com.