Palmetto State Armory AK-103
Palmetto State Armory AK-103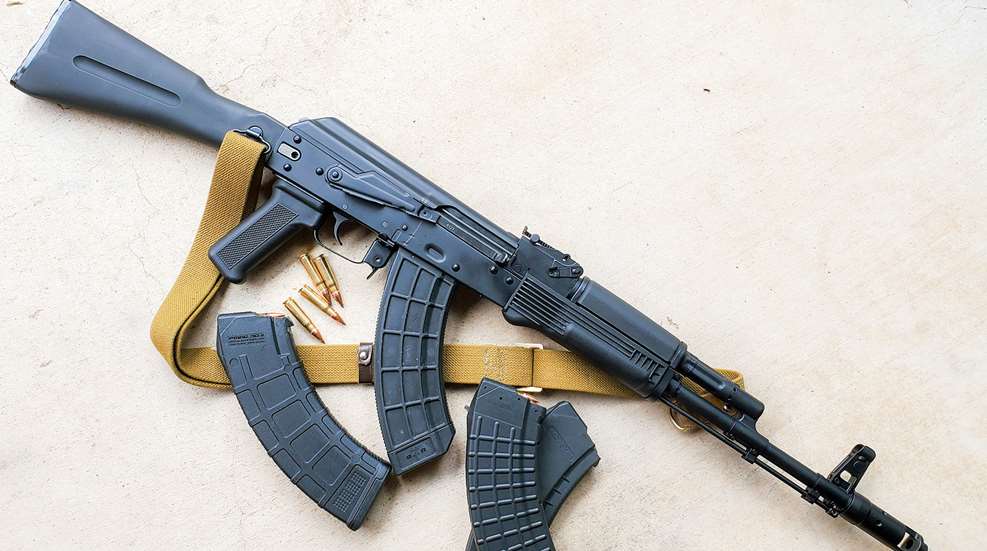 It was particularly hot that morning. Gunny had done that thing again about our PT shirts not matching his and made us run without any. Bug-bitten and sunburned, I cussed Gunny under my breath each time my left foot hit the ground. It was my way of focusing my mind on something other than the sweat stinging my eyes and the burning ache in my side. We passed through an area shaded by trees. I was happy to have a break from the brutal heat. Just then, I heard loud blasts that I knew instinctively were gunshots. Reflexes took over and I flung myself to the ground.
I immediately felt grit, sand, and dirt stick to my sweaty flesh. I lay prone, listening to the cries of alarm from my fellow Marines as they, too, hit the deck. The firing continued non-stop for what felt like hours. Then, just as quickly as it started, it was over. I craned my head left and right, searching desperately for the shooter. Off to one side, I saw him! Gunny Highway! He was cradling some sort of rifle with a long, curved magazine. He stood there with that sort of half scowl/half smirk on his face and said, in his gravelly voice, "This is the AK-47. The preferred weapon of your enemy. And it makes a distinctive sound when fired at you. So, remember it!"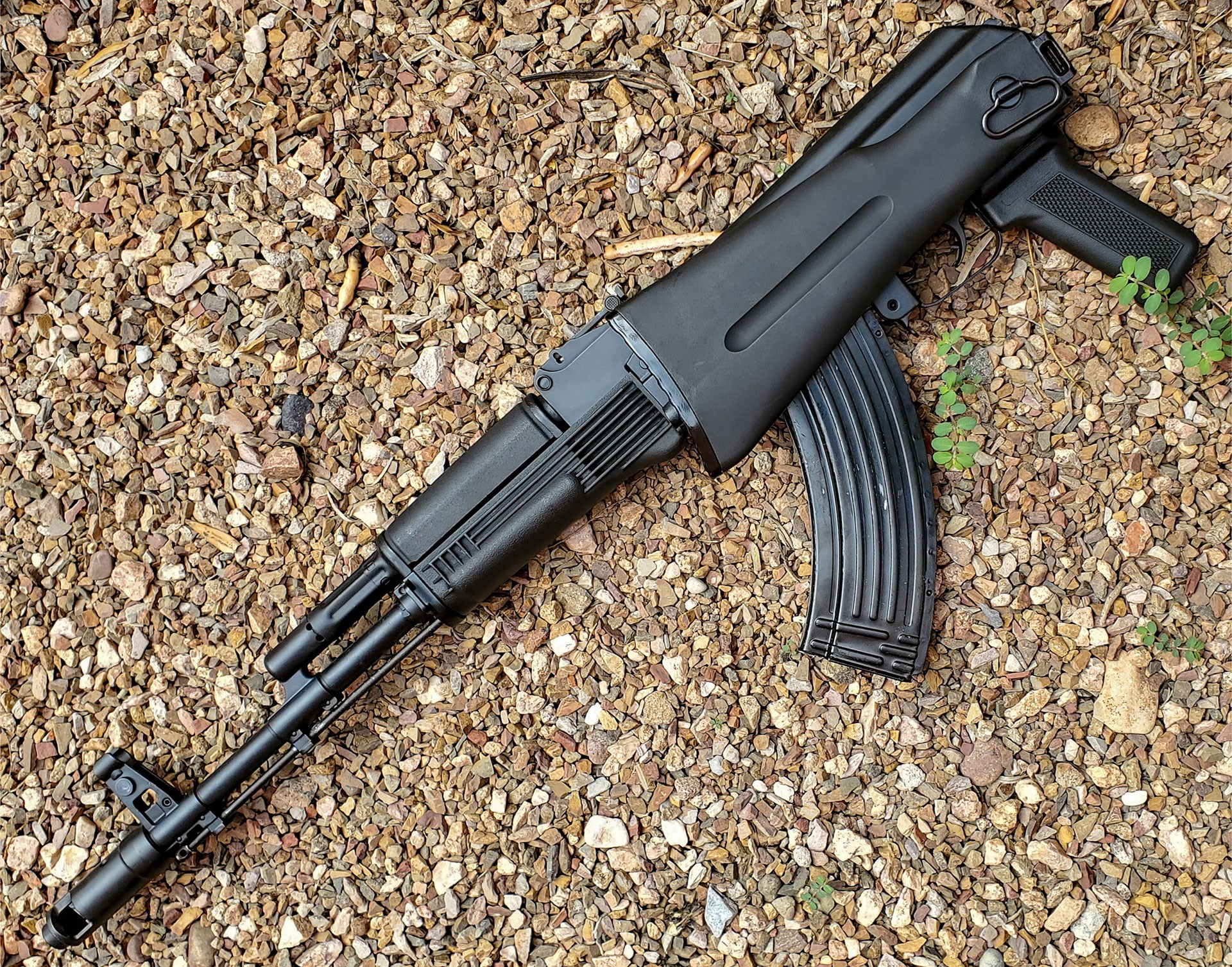 Early AKs in America, such as the one seen in Clint Eastwood's "Heartbreak Ridge," were imports. These were quite common on the U.S market until various bans restricted the importation of rifles designed to use so-called "high-capacity" magazines. Companies worked to circumvent restrictions by bringing in rifles that were modified stateside or by assembling rifles from a mix of foreign surplus and new American parts. As surplus military inventories are drying up, American companies have started making domestic parts to fill this void. We've reached the point now where some AKs are built completely from U.S. parts. One such rifle is the Palmetto State Armory AK-103, which is based on a Russian firearm with the same name.
The Russian AK-103 is manufactured by Kalashnikov Concern JSC and is part of what's often called the "100 series." This is a series of AKs designed for mass production with a focus on parts commonality between different calibers and barrel lengths. Internally, these firearms are quite a bit different from the previous AK-47 and AKM. Essentially, the Russians discontinued the AK-47 and AKM with the adoption of the AK-74. The AK-74 was superseded by the AK-74M. Then the AK-74M was used as the basis for the 100 series. Furniture on 100 series guns is black plastic. Stocks fold and latch to the left. Gas blocks are 90 degrees, instead of the older angled pattern, and front sight bases have 24 mm threads for attaching muzzle devices.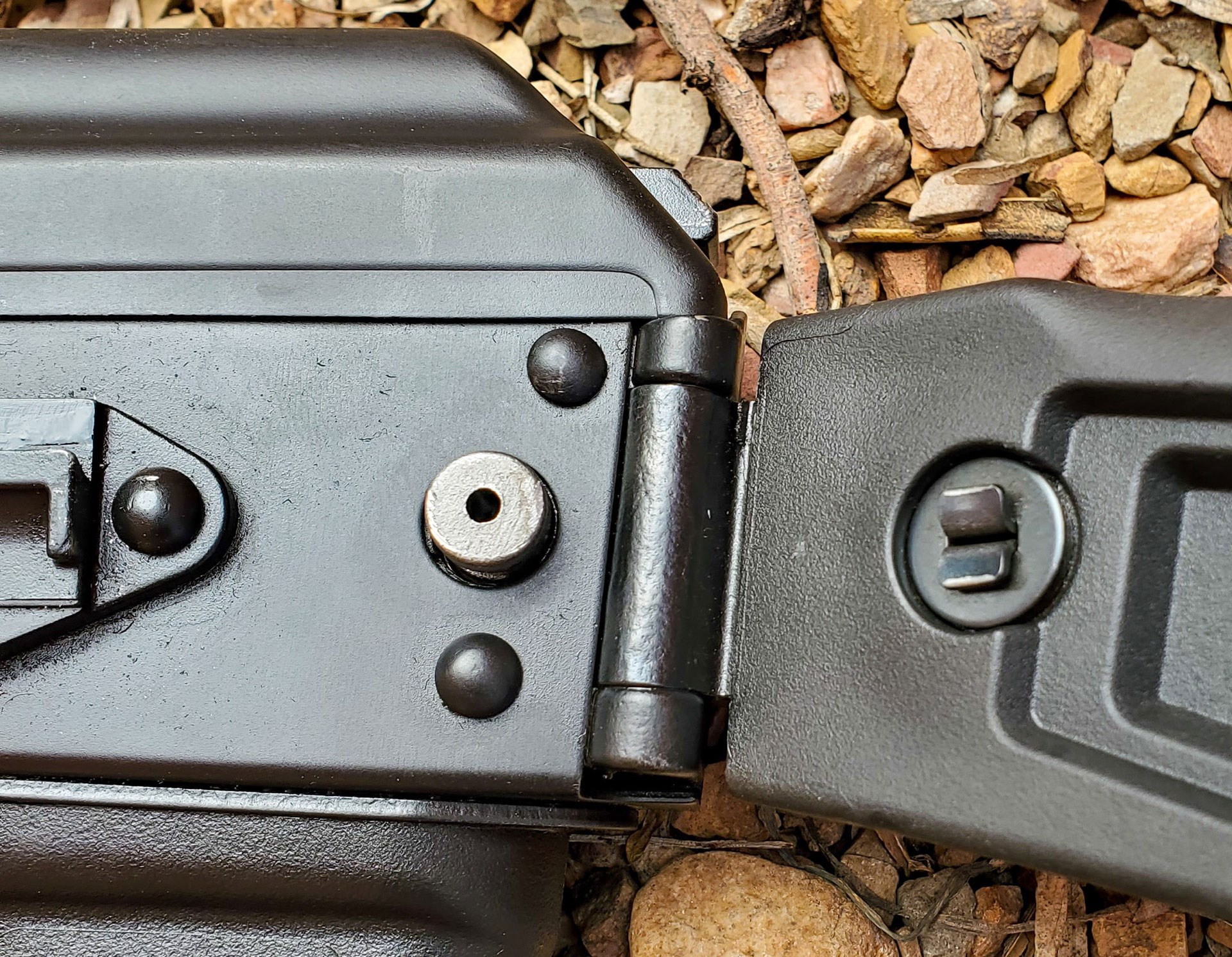 The model number designations correspond to caliber and barrel length. The AK-101 and AK-102 are chambered in 5.56 NATO, with the former being a rifle and the latter being a carbine. The AK-103 and AK-104 are produced in 7.62×39 mm and follow the same rifle and carbine sequence of the AK-101 and 102. The AK-105 is an oddball in the sequence, as it's a carbine variant of the AK-74M, which is not included in the 100 series lineup. The AK-103 has been quite popular globally. Venezuela and a few other countries make them under license. India is also establishing a licensing agreement to produce the AK-203, which is a variant of the AK-103.
Palmetto's AK-103 has the outward appearance of the Russian AK-103, but is based on the AK-47 or AKM, not the AK-74M. This means that it is not technically a 100 series gun. Few people, aside from the most diehard AK enthusiasts, will know or care about the internal similarities and differences. The PSA AK-103 Premium Forged Classic tested here is one of several 7.62×39 mm rifles in PSA's GF5 (Gen 5 Forged) line. The GF5 rifles are all AK-47 or AKM pattern, using what is referred to as a "thick stem" bolt. Barrels are cold hammer-forged, sourced from FN Herstal. Bolts and front trunnions are forged, sourced from Toolcraft Inc. Some other makers, in the early days of U.S. production, were using cast barrel trunnions. These castings could break at higher round counts and are considered inferior to the forged trunnions used here.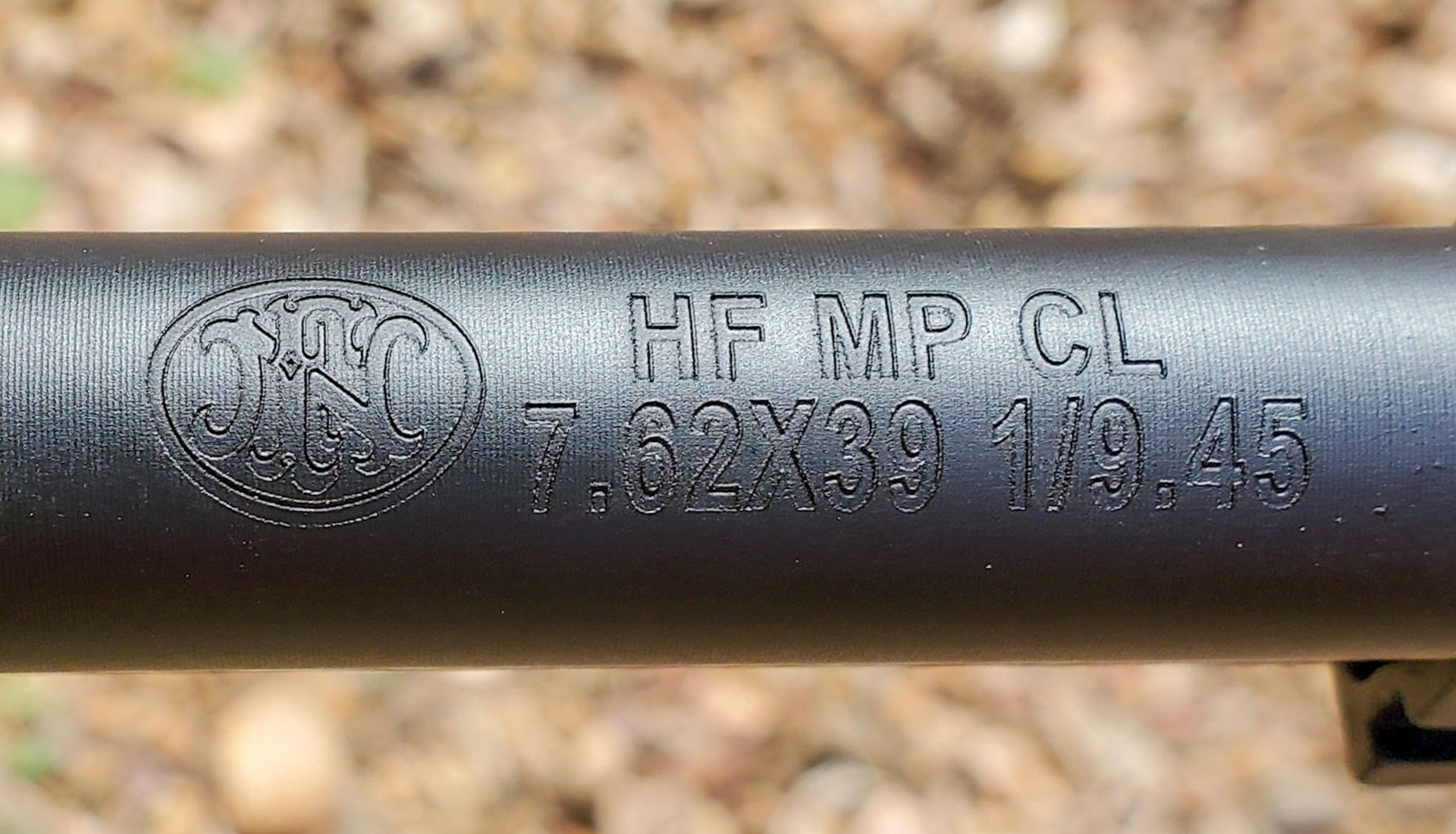 Externally the PSA AK-103 appears nicely assembled, with smooth and even painted surfaces. Trunnion rivets all appear to be well-seated against the receiver and are not smashed or deformed. The plastic furniture fits well and is generally devoid of flash or rough seams. The stock locks solidly into the rear trunnion and does not move or wiggle in the unfolded position. The rifle's dust cover also fits well and comes on and off the receiver without any undue effort. One departure from the usual AK aesthetic is the extended ledge on the safety lever. This ledge sits close to the safety axle and should be easily reached with the right hand pointer finger. Sorry lefties, you're stuck working the safety with your support hand.
Even with an apparent attention to overall fit and finish, our test sample had a front sight base tilted slightly clockwise. This required the front sight drum to be pushed nearly all the way to the left to correct for windage. Additionally, we had concerns about wear on some internal parts. We returned the rifle under warranty and PSA corrected the issues and returned the rifle promptly. Testing continued thereafter without drama. No harm done, in the end, and Palmetto continues to work on refining manufacturing processes and quality control in an effort to be a top choice in the American AK market.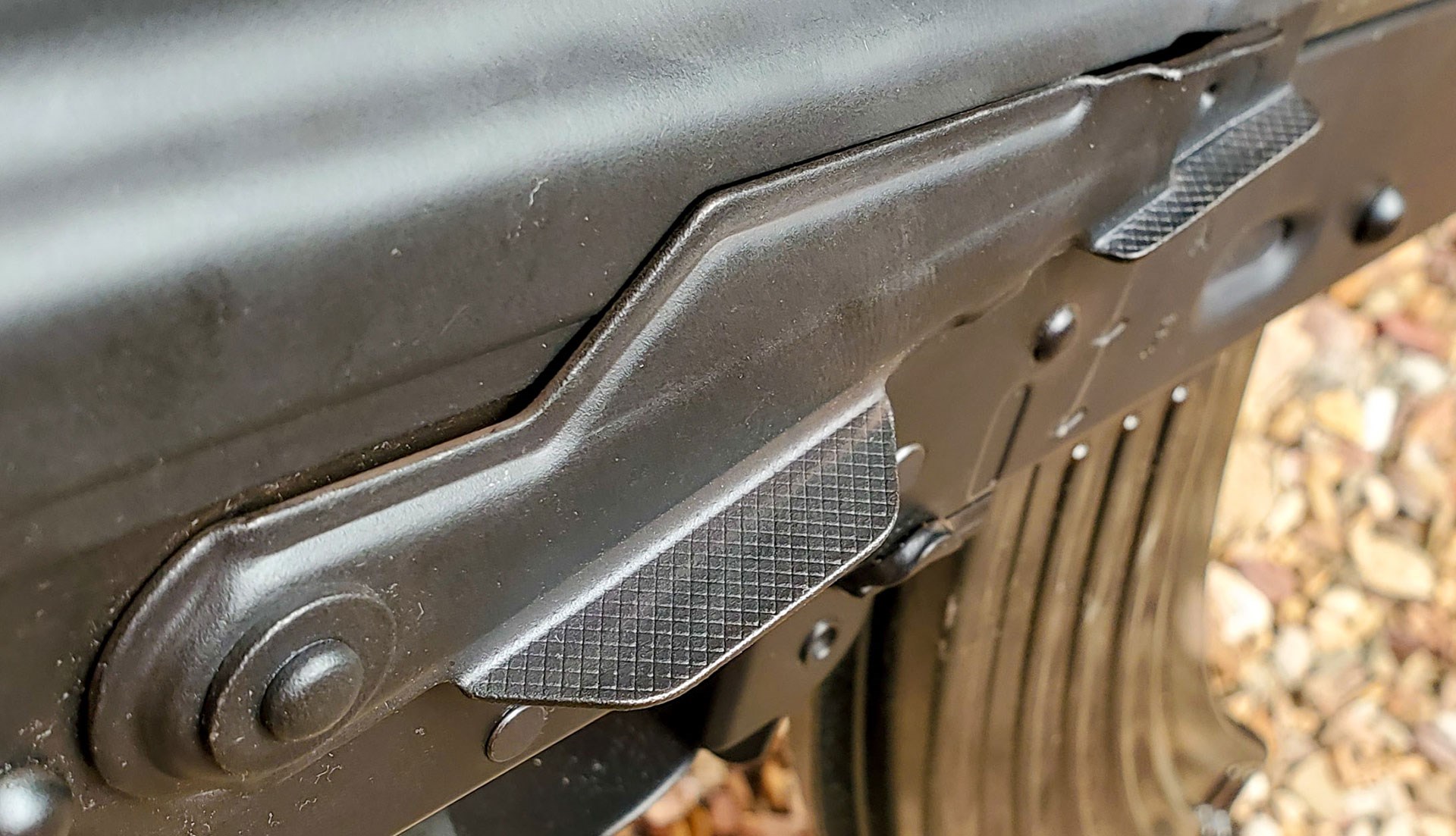 We tried a variety of magazines in the rifle that included foreign military surplus, Palmetto OEM, Kalashnikov USA, AC Unity, Tapco, Magpul and U.S. Palm. Some were a little tighter than others, but all mags functioned properly in our testing. AKs are generally not known for accuracy, and the Palmetto seems about on par with other rifles of this type. Still, the AK-103 shoots well enough if the user keeps reasonable expectations, as we had no difficulty hitting a B/C zone steel target repeatedly at 100 yards.
Accuracy testing was conducted using the rifle's rudimentary iron sights. The rifle would no doubt benefit from the addition of a red dot with a small precise aiming point or one of the popular variable low power scopes on the market. One note on mounting a scope: the PSA is outfitted with an optics mounting plate riveted to the left side of the receiver. We tried to use a mount from Sureshot Armament Group, but the mount hit against the rail's rear rivet and wouldn't slide fully onto the rifle. Russian rifles have a flat-headed rivet at the rear of the optics rail while the Palmetto rivet is domed. PSA may want to consider using a flat rivet in future production to maximize optic mount compatibility.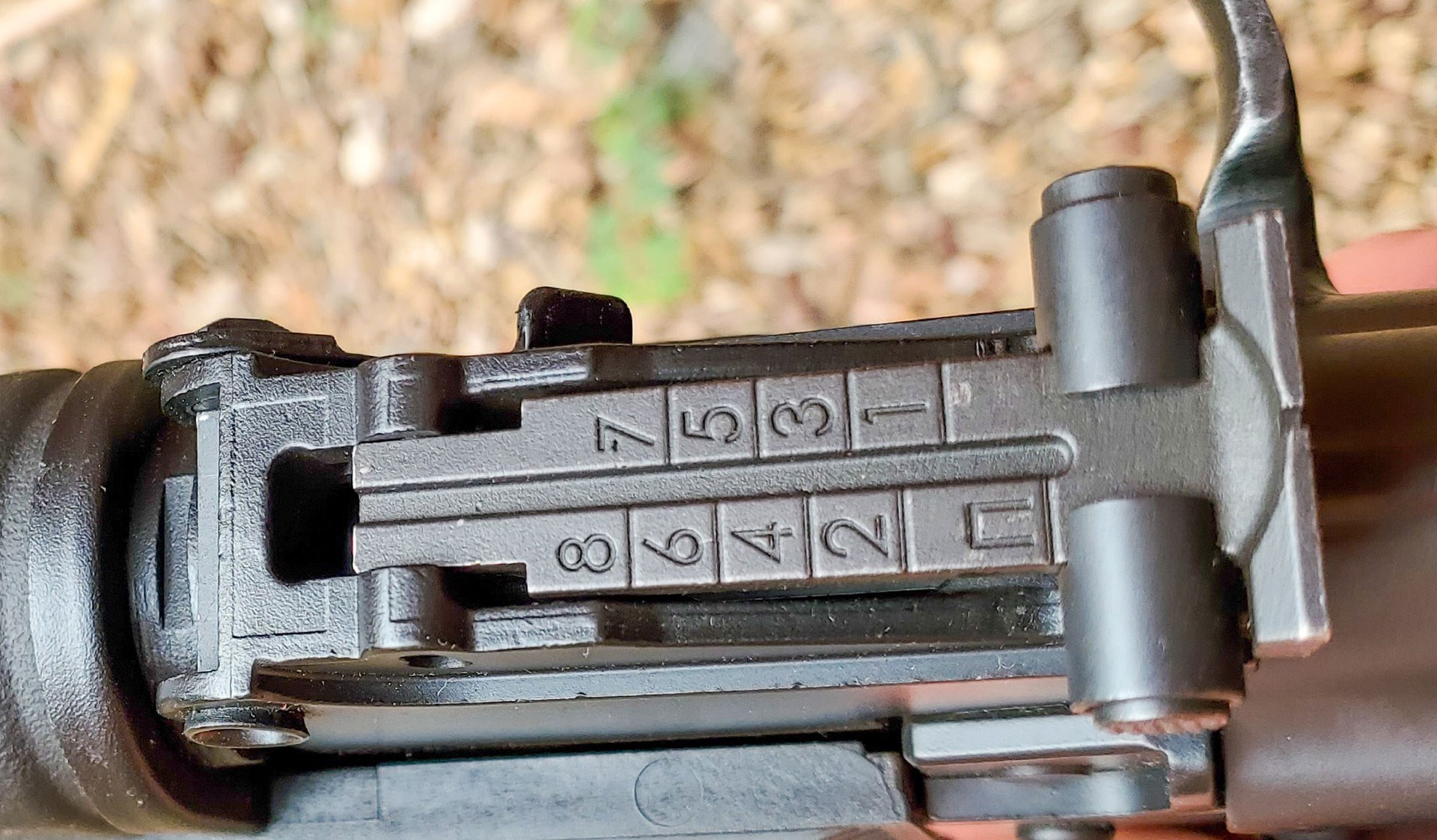 The PSA AK-103 ships in a padded cardboard box emblazoned with PSA logos. Included with the rifle is one magazine. No sling or accessories are included. Fortunately, AK slings, mags, cleaning equipment etc. are easy to come by. Online retailers such as AIM Surplus are a good source for ammunition, magazines, and other parts. Palmetto State also has a variety of accessories available via its website. Probably one of the better AK slings on the market is the Vickers AK Sling made by Blue Force Gear. It is available from RTG Parts or can be purchased directly from Blue Force Gear.
Palmetto State Armory is a diverse firearm manufacturer, producing rifles and pistols as well as parts and accessories. PSA's AK line includes firearms in 7.62×39 mm and 5.45×39 mm and has recently expanded into .223 Rem. models. PSA also makes a pistol-caliber carbine in 9 mm Luger that is AK based.
The Avtomat Kalashnikova is, without argument, one of the most-recognized firearms on Earth. It is estimated that one in every five firearms ever produced is some form of AK. First manufactured in Russia, the AK has gone on to be made in China, Romania, Bulgaria, North Korea, Egypt, East Germany and many others. We can now add the United States to this list. For more information, visit palmettostatearmory.com.
Specifications
Model: PSA AK-103
Chambering: 7.62×39 mm
Barrel: 16" cold-hammer-forged steel, chrome-lined, 1:9.45"-twist.
Stock: black polymer, folding
Trigger: single-stage; 3-lb., 4-oz. pull
Overall Length: 37″
Weight: 7 lbs., 14.4 ozs.
MSRP: $1,100
**Features and furniture selection may affect price.