Anschutz 1712 Silhouette 2-STG Bolt Action Rimfire Rifle 22 Long Rifle 21.6″ Barrel Blued and Walnut Monte Carlo
$2,100.00 & Free Shipping
Compare
Free shipping on orders over $300!
Satisfaction Guaranteed
No Hassle Refunds
Secure Payments
Description
Anschutz 1712 Silhouette 2-STG Bolt Action Rimfire Rifle 22 Long Rifle 21.6″ Barrel Blued and Walnut Monte Carlo for sale 
The Anschutz target bolt action, which is used in this Anschutz 1712 AV hunting repeater, has dominated national and international competitions including the Olympic Games and the World Championships in the small bore rifle disciplines. The bolt movement, as with all Anschutz equipment, is extra ordinarily smooth and effortless. The bolt face is set back so that the rim of the cartridge is fully supported by the bolt head. The tried and tested arrangement of claw- extractor and cartridge holder ensures reliable case extraction. The one-piece firing pin has a defined end-stop area to prevent damage from dry firing. The receiver is equipped with an 0.43″ wide, Anschutz Wave Style, V-block riflescope mounting dovetail rail. On some models there are additional drilled and tapped holes provided for scope mounting bases and rings. The independent bolt catch, mounted on the left side of the receiver, limits the movement of the bolt and protects the trigger. A gas vent hole on the side of the extractor groove directs the gas safely to the side in the event of cartridge failure. The sliding safety catch on the right hand side, a recent improvement, blocks the trigger sear in the safe position and simultaneously lifts the trigger sear and bolt release latch. The bolt can also be opened in the safe position, allowing unloading the firearm with the safety engaged.
The 1712 AV features an 21.6″ medium-weight tapered stainless steel barrel with 1/2″ X 28 tpi threads.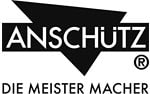 Made In Germany
Specifications
Product Information
| | |
| --- | --- |
| Cartridge | 22 Long Rifle |
| Capacity | 5 Round |
| Weight | 7.3 Pound |
| Overall Length | 40.9 Inches |
| Barrel Length | 21.6 Inches |
| Twist | 1:16.5 |
| Hand | Right |
| Youth | No |
| Action Type | Bolt Action |
| Stock Type | Monte Carlo |
| Stock Material | Wood |
| Stock Color | Walnut |
| Trigger Type | Two Stage |
| Safety | Manual |
| Threaded Muzzle | No |
| Barrel Finish | Blued |
| Front Sight | None |
| Rear Sight | None |
| Case Included | No |
| Frame Material | Steel |
| Scope Included | No |
| Frame Finish | Blued |
| Fluting | No |
| Country of Origin | Germany |
| Included Mounts | No |
Delivery Information
| | |
| --- | --- |
| Must Ship to FFL Dealer | Yes |
| Shipping Weight | 10.000 Pounds |