LC Carbine: Ruger Doubles Down On The 5.7×28
LC Carbine: Ruger Doubles Down On The 5.7×28
Serving as a companion to the Ruger-5.7 pistol, and using the same 20-round magazines, the new LC Carbine chambered in 5.7×28 mm FN is a superlatively light and compact rifle.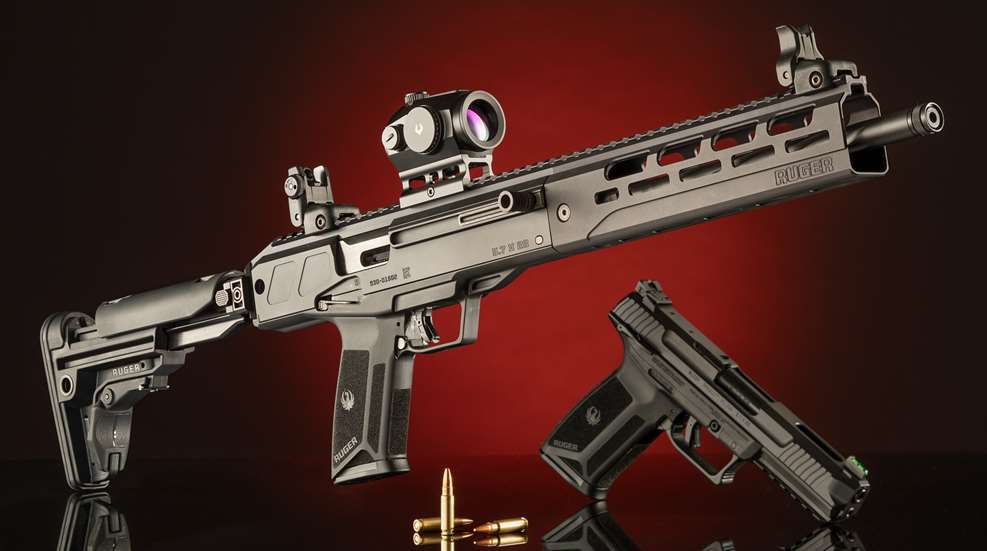 Depending on your point of view, Ruger is either a very early or rather late adopter of the 5.7×28 mm FN cartridge. Early in that, in addition to Fabrique Nationale (the design's originator back in the late 1980s), the gunmaker has now become only the second major manufacturer to fully embrace the cartridge by offering both a handgun and a longarm chambered for it. The award-winning Ruger-5.7 pistol came first in 2020, and the Southport, Conn.-headquartered firm has now followed that up by adding a companion rifle, the LC Carbine, to its catalog as well. But it is also quite late from the perspective that it did take more than three decades for the company to get around to discovering the joys of shooting this overlooked little gem.
Regardless of which way you choose to look at it, the folks at Ruger are now obviously quite smitten with the 5.7 mm cartridge, and they seem to be in good company, as, in my own personal experience at least, FN's design has proven itself to be a preternatural crowd pleaser. I have yet to see anyone light off a magazine of 5.7×28 mm FN through either a pistol or a carbine—whether a greenhorn or a long-in-the-tooth veteran gun writer—without it resulting in a big, childlike grin.
Some may scrutinize its ballistics or question its practical applications—or at least those of the watered-down versions of the cartridge that us lowly civvies are allowed to access—but, on the range, its appeal has proven to be darn near universal. And, as a result, the soft-recoiling cartridge enjoys a loyal fan base totally out of proportion with the limited amount of the ammunition that is actually available on the shelves for its devotees to shoot.
So, when sales of the Ruger-5.7 unexpectedly exceeded the company's projections, it was a no-brainer that a 5.7 mm carbine project would also be greenlit, and here at the office, we have been speculating wildly about the gun since learning of its existence six months ago. Would it be an adapted PC Carbine or maybe a totally new, blank-slate design? I assumed the company would probably use its proven existing pistol design as an inspiration and a launching point for the 5.7 mm long gun, and would, at the very least, elect to carry over the 20-round steel magazines developed for its handgun. As it turns out, that is exactly what Ruger ended up doing, as the LC looks like the receiver of a tactical carbine has sprouted forth from the frame of a Ruger-5.7 pistol.

While both are fabulous products in their own right, I'm not going too far out on a limb when I say that FN made some unconventional choices when designing its two 5.7×28 mm FN-chambered platforms—the P90/PS90 personal defense weapon (PDW)/carbine and the Five-seveN pistol. In fact, my personal PS90 is easily one of my very favorite gun designs, but its "oddball" factor is a big part of the rifle's appeal for me, which I understand might not click with other shooters.
On the other hand, Ruger's goal during the past three years appears to have been to create guns that would not only appeal to a more mainstream audience—with more conventional control schemes and aesthetics—but also undercut the competition significantly, price-wise. Much as the Ruger-5.7 "normalized" the eccentricities of the Five-seveN, the LC presents shooters with a much more familiar, less radically styled carbine than the PS90.
Ruger refers to the LC Carbine as a pistol-caliber carbine (PCC), and from the company's very specific perspective—the LC being a derivative of and companion to its Ruger-5.7 pistol—it is. But, speaking more broadly, simply calling the 5.7×28 mm FN a "pistol caliber" does fudge the cartridge's development history quite a bit. The 5.7 mm was released in 1990 as FN's answer to a NATO call for a new PDW cartridge with which to replace the 9 mm Luger in some of its submachine gun platforms.

Designed specifically for use by support units (much like the .30 Carbine had been 50 years earlier), 5.7×28 mm FN is a bit difficult to classify, as it occupies that ambiguous territory between the true pistol and true intermediate rifle cartridges, working surprisingly well in firearms of either category but truly belonging to neither. In practice, it's an intermediate-intermediate rifle cartridge—although I do not expect that terminology to catch on. While NATO ultimately decided not to adopt the 5.7 mm at that time (it would eventually be integrated into the organization's portfolio of standardized cartridges in 2021), dozens of nations and U.S. law-enforcement agencies felt otherwise, putting it to immediate use that continues to this day.
Per NATO's request, the black-tipped, 31-grain SS190 duty load that FN had designed for governmental use was capable of defeating the body armor of the day—which, unfortunately, was not a capability the U.S. government trusted its citizens to have. In response, FN would develop a number of gelded "sporting" loads for the commercial market without the ability to pierce armor. These loads essentially provide the ballistics of a .22 Hornet, but in a package with a 0.273″ shorter case and a rebated rim more conducive to feeding through a semi-automatic. Pardon the brief historical digression, but I couldn't abide just calling this a PCC and leaving it at that.
The "LC" in LC Carbine stands for Light and Compact, and the company ain't just whistling Dixie on either account; Ruger has incorporated design elements into the rifle from the ground up that help bring both of those descriptors to fruition in the final product. This is a closed-bolt, straight-blowback-operated semi-automatic that weighs just 5 lbs., 15 ozs., empty, and, given how lightweight 5.7 mm ammunition is, loading and topping-off the LC with 21 rounds only brings its total weight to a highly manageable 6 lbs., 4 ozs.
A five-position collapsing buttstock allows the carbine's overall length to be adjusted from between 28.5″ and 30.5″ long, despite its 16.25″ barrel, and a hinge in the buttstock assembly also allows the stock to be folded along the side of the rifle's receiver, decreasing the already diminutive rifle's length to just 22.5″ when stowed. For the sake of comparison, at its absolute longest, the LC is still 2″ shorter than a typical 16″-barreled AR-15 with its stock fully collapsed, and only about 4″ longer than the AR pistol with an 8″ barrel that I built for myself a few years back—neither of which are foldable.
Three SKUs are being offered at launch. Most shooters will be able to enjoy the "full-freedom" version, with a 20-round magazine, threaded barrel and folding stock. However, in order to cater to those living under various gun-control regimes, Ruger is also offering a "limited-capacity" version that ships with a 10-round magazine and a "limited-feature" version with an unthreaded barrel and a non-folding stock in addition to its half-capacity magazine.
The LC's rectangular receiver is comprised of a solid block of 7075 aluminum, with a full-length Picatinny rail machined into, not bolted onto, its top surface. Forward of the receiver is a separable 6061 aluminum handguard also topped with Pic rail and featuring five M-Lok slots at each of the 3-, 6- and 9-o'clock positions—giving the gun an abundance of both optic- and accessory-mounting options. Ruger includes a set of its plastic Rapid Deploy flip-up sights with the LC, and the rear aperture is adjustable for windage while the front post can be raised or lowered for elevation using a supplied tool. The carbine's non-reciprocating charging handle can be configured so that it extends from either the left or right side of the receiver, however, it arrives from Ruger installed to the left side of the gun. Re-positioning the handle for right-side operation is not difficult, but it does require the removal of the handguard.
The relatively low energies of the 5.7 mm invite simple blowback operation, in which the action is not locked when in battery and is simply held closed by the tension imparted by the recoil spring—albeit with the assistance of a relatively beefy 1-lb., 4-oz., steel breechbolt in this case. Ruger's engineers saved a decent amount of space by designing the buffer assembly (of which the recoil spring is a part) so that it runs above the rear portion of the bolt rather than behind it.
Ruger elected to design the LC with an interesting two-piece bolt, with the two sections mated together via a U-shaped channel. The gun's firing pin and spring-loaded extractor are incorporated into the rear bolt (the coordinating ejector is a part of the grip frame), while the front bolt essentially just provides mass for the blowback system. This is purely speculation on my part, as the company has announced nothing of the sort yet, but this two-piece design would make it fairly straightforward for the LC's blowback action to be tuned for use with other cartridges in the future.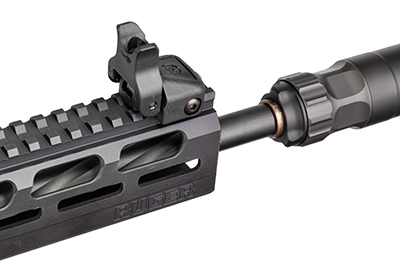 Rather than being permanently affixed, the LC Carbine's buttstock assembly attaches to the receiver by way of a Picatinny rail segment at its rear. The stock comes in the box set up to fold along the left side of the rifle's receiver (most comfortable for right-handed use), however, a few minutes' worth of work allows the hinge to be reversed so that the stock instead folds to the right.
An adjustment lever allows the stock's length of pull to be fine-tuned from between 12.5″ and 14.5″, however, there's a decent amount of wiggle to the stock when it is fully extended, so I wouldn't run it any longer than is necessary. Sling-mounting options are abundant, as the stock features both bilateral QD sling cups (matching the pair bored into the rear of the receiver) and also a 1.25″ sling slot. An M-Lok-compatible QD socket also comes with the gun for those who prefer a two-point sling.
Although a bit difficult to see, the carbine's 16.25″ 41V45 vanadium-steel barrel has been spiral-fluted to help further cut down on its weight and black-nitrided to help its rifling stand up to the 5.7 mm's velocities. Threads have also been cut into the muzzle at 1/2×28 TPI for the installation of a device such as a compensator or a suppressor. While we are on that topic, although several .22-cal. rimfire suppressors are technically rated for use with 5.7 mm, many lack the internal volume to do so well—so users of these minuscule silencers can expect the experience to be louder, dirtier, less reliable and producing of an excessive amount of backpressure. In short: 5.7×28 mm FN is a centerfire cartridge—for best results, you should probably use a centerfire can. My personal Banish 45 worked great.
As mentioned before, the LC's grip frame is basically a Ruger-5.7 frame that has been tweaked and elongated somewhat to better support a carbine receiver. Such being the case, the gun's magazine well is located within its pistol grip, in the same manner as Beretta's Cx4, Kel-Tec's SUB2000 and Hi-Point's line of PCCs. Its placement here results in a firearm with a much shorter overall length than designs with the magazine well forward of the trigger guard.

Given that the LC Carbine is essentially a pistol that has been supersized into a rifle, all its operating controls, save for the charging handle, are integrated into the grip frame. In a curious choice on Ruger's part, some of the controls are either bilateral or reversible (and thus supportive of left-handed use) while others are so right-hand-centric as to make them problematic for southpaw users.
Bilateral M1911-style thumb safeties, in which up is safe and down is fire, lock the trigger bar when activated. Whereas the pistol's slide was prevented from movement when the safety was switched on, the carbine's bolt is free to move with the safety engaged. The metal safety levers click very positively when flicked from one setting to the other.
The Ruger-5.7's reversible, push-button magazine release has morphed instead into a non-reversible, spring-loaded lever on the LC Carbine; actuating the rear portion of this lever downward releases the box magazine. Right-handed users can easily do so by sweeping the thumb on their shooting hand downward; lefties will need to abandon their shooting grip by either reaching around the grip and activating the control with their thumb or slipping their hand rearward in order to hit it with their trigger finger. Included with the gun is a reversible, push-button release, like the one on the original pistol, that can be installed in place of the new lever; I heartily recommend that lefties take advantage of it.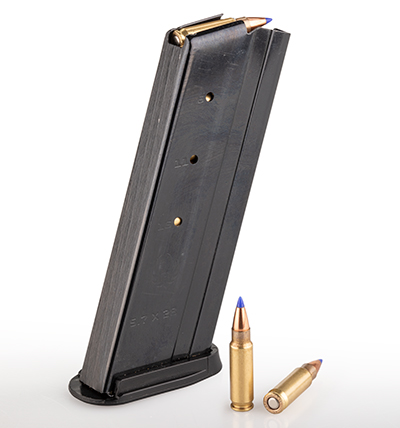 LC magazines are identical to Ruger-5.7 magazines, and thus retain the latter's easy-to-load, double-stack, staggered-feed design. Only one magazine ships with the gun, and while a flush-fitting 20-rounder in a pistol is exceptional, in a carbine, this capacity is middling, and the LC screams for the five extra rounds provided by the extended magazine bumpers that Ruger offers aftermarket. Like the 5.7 mm pistol before it, the carbine does not feature a magazine-disconnect safety and will fire even if no magazine is seated.
A steel bolt release is found on the left side of gun, just forward of the manual safety. For a right-handed user, locking the bolt open is easily accomplished by sweeping the shooting hand's thumb upward while the support hand manipulates the charging handle. For southpaws, there's no clean and easy way to do this: While reaching over the top of the receiver to grab the charging handle, you're going to have to come around the pistol grip with your strong-side thumb to press upward once the bolt is fully rearward.
The LC's partially pre-cocked, double-action trigger is very similar to the ones the company uses in its Ruger-5.7, LCP II and Security-9 pistols. A Glock-style blade safety is present to keep the trigger from being fully depressed unless intentional rearward pressure is applied. On my test sample, there was 3/16″ of take-up before a distinct wall was reached, with the trigger then breaking after just a bit of creep at 6 lbs., 4 ozs., on average—and resetting the trigger simply required taking it back out to the start of the wall. All in all, the trigger was not at all a hindrance to the types of shooting for which this carbine will most frequently be employed.
Before we get to the range results, I would be remiss if I penned a story about a 5.7 mm-chambered firearm without at least briefly mentioning the tragic lack of ammunition on the market available for it. Regardless of the box in which it will eventually reside, every round of 5.7×28 mm FN in circulation today was loaded on a single production line in Fiocchi's Missouri plant—and, as such, demand for 5.7 mm perpetually outpaces its supply. As a result, for most consumers, ammunition will be rare to encounter and exorbitantly priced when found.
There are only a small handful of 5.7 mm loads currently in production; FN presently lists three on its website, Federal offers an American Eagle training option and Speer has developed a Gold Dot. For the purposes of testing, I was able to procure small supplies of three loads: FN-branded SS195LFs and SS197SRs and American Eagle FMJs.

Formal testing from a bench rest revealed the LC Carbine to be more than sufficiently accurate for the roles of defense or even short-range varmint hunting. The clear winner was FN's SS197SRs, which produced a five-shot, five-group average of 0.96″ at 50 yards, but the others were also accurate enough to get the job done. I then took the 10X scope off and did some run-and-gun drills using the provided irons, which is where this type of carbine truly shines. Functioning throughout 250 rounds was flawless.
The .223 Rem. may be renowned for being soft on the shoulder for a centerfire cartridge—but only by those who have never fired 5.7×28 mm FN. With a case capacity of less than half, and typically firing lighter bullets, the 5.7 mm only generates about a quarter of the free recoil energy of the .223 through guns of equal weight. And even with a carbine as lightweight as the LC, felt recoil is down there at rimfire levels—allowing for amazingly rapid but accurate strings of fire.
While 5.7×28 mm FN in its armor-piercing SS190 guise has proven to be up to the task of stopping a man, I was curious to see how my SS197SR test ammunition (what I have found to be the most commonly encountered expanding load on the commercial market) would fare through a tissue-like medium. The results demolished my expectations: Fired from a distance of 25 yards, the 40-grain Hornady V-Max projectile traveled 12.5″ into Clear Ballistics' 10 percent ballistic gel before coming to rest, creating an impressive temporary wound cavity for the initial 8″.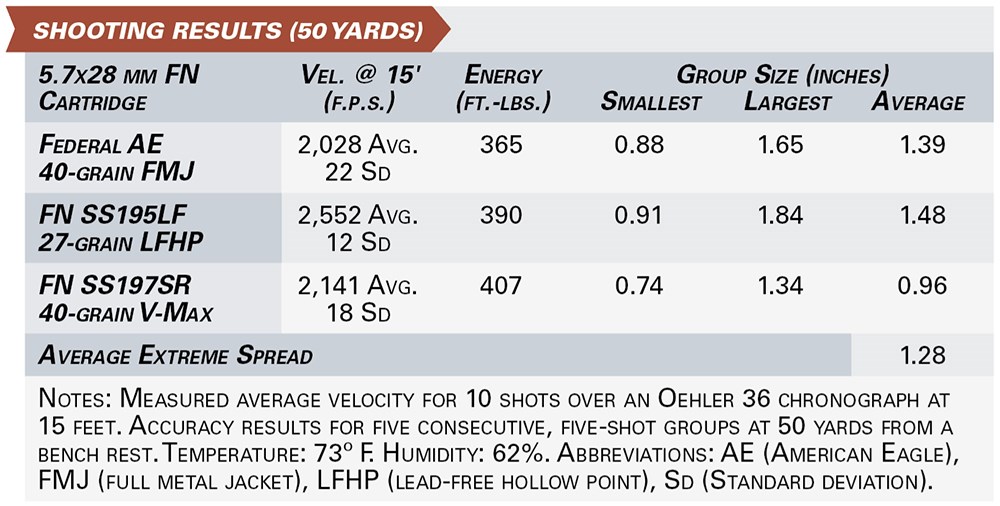 Cutting into the block revealed that the core of the bullet had mushroomed to about 0.40″ in diameter on average and measured as much as 0.59″ across when also taking the jagged jacket petals into account. Years ago, my wife commandeered "my" PS90 as her primary home-defense carbine, and these results fully validate her choice—particularly given how quickly the cartridge's meek recoil allows her to put subsequent shots on target.
The 5.7×28 mm FN deserves more widespread success than it has received up to this point—as it has essentially been relegated to niche status simply due to its scarcity—and I commend Ruger for helping bring the cartridge out into the light and giving it a chance to shine.
In its LC Carbine, the company has created a superlatively handy gun that, because of its chambering, remains extremely soft-shooting, despite its bantam-class size and weight. While a great combination for anyone, this makes the rifle especially useful to those with a severe aversion to recoil, small stature or diminished physical prowess. And, while it is certainly an option for home defense, the portability afforded by its folding stock allows the LC Carbine to really come into its own as a vehicle or backpack gun or in any other application where portability is paramount.