NRA Gun Of The Week: Springfield Armory XD-M Elite 4.5" OSP In 10 mm Auto
NRA Gun Of The Week: Springfield Armory XD-M Elite 4.5" OSP In 10 mm Auto
Back in 2009, American Rifleman selected a unique striker-fired pistol design for its coveted "Handgun Of The Year" award. That gun, the XD-M, continues to be improved upon, and the top-tier "Elite" version of the match-ready pistol came to fruition back in 2020. Now, Springfield's hard focus on expanding the power factor among its handgun lineup has realized the addition of a 10 mm Auto chambering. Watch the video above to see the Springfield Armory XD-M Elite 4.5″ OSP in 10 mm Auto in use on the NRA Publications Tech Range.
The XD-M Elite series includes a total of five models, but our focus here is on the 4.5″ Optical Sight Pistol or OSP version. These guns typically wear a black polymer frame, forged steel slide and barrel, and feature enhancements at every corner that home defenders and hunters alike will rejoice in. The fact that Springfield Armory has stepped it up with more power from its 10 mm Auto chambering is a major move, especially considering this is an optics-ready platform available at an attainable price point.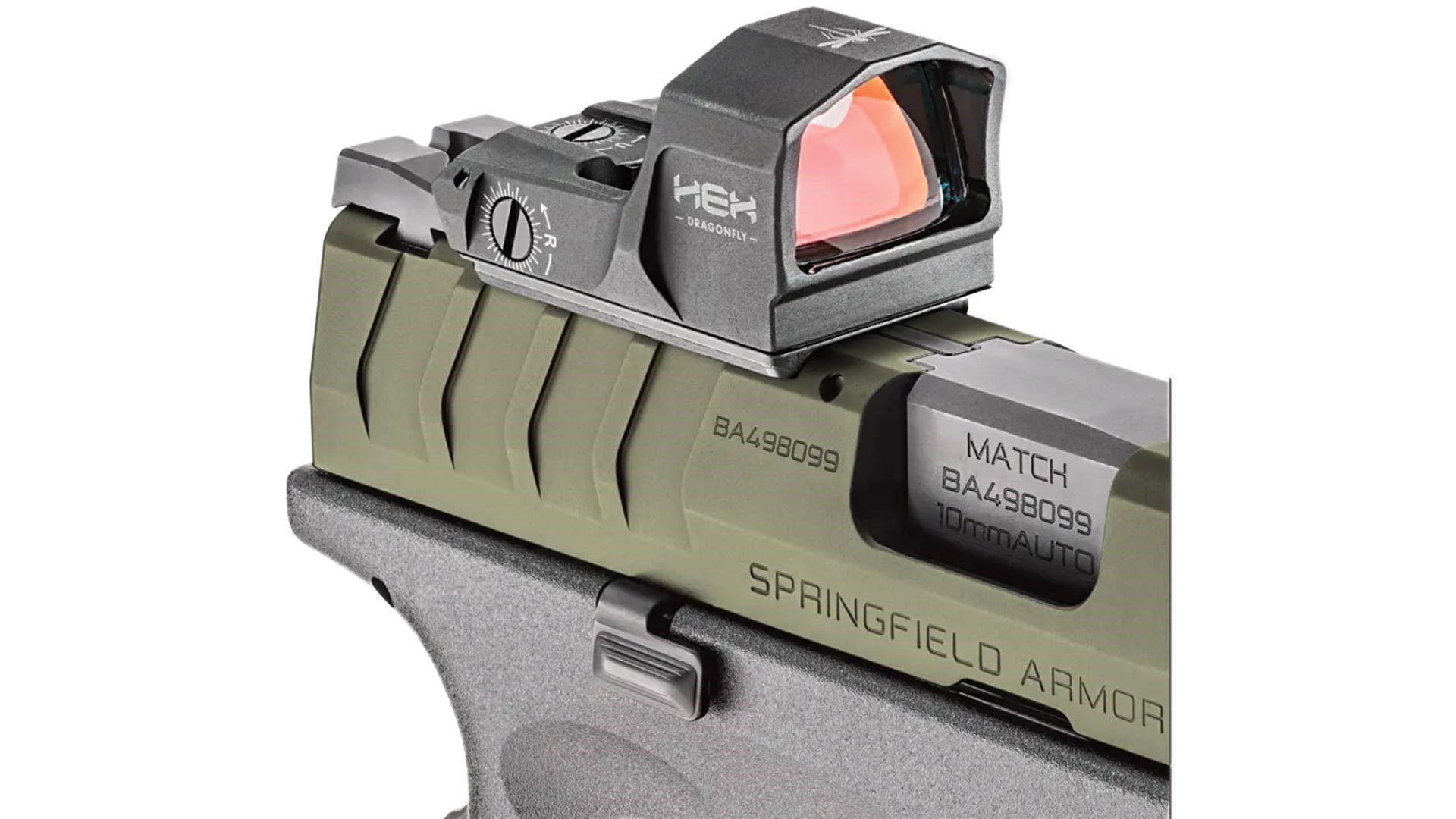 Unlike its compact-sized stablemates, the longer 4.5" slide and barrel configuration, combined with the lengthened grip frame you see here, allows for more control and accurate shooting of one of the most robust handgun chamberings in commercial production while also providing the ability to hold up to 17 rounds onboard. Of course, with that many rounds of 10 mm Auto in the stack, the gun's loaded weight is sure to increase from its empty listed weight of 31 ozs. A milled slide provides ample opportunity to add a micro red-dot sight. Should you opt run the irons, Springfield includes a great pair of open sights. The rear is a tactical type with an easily visible U-notch, and the front post holds a fiber-optic pipe for low-light viewing. These sights are drift-adjustable.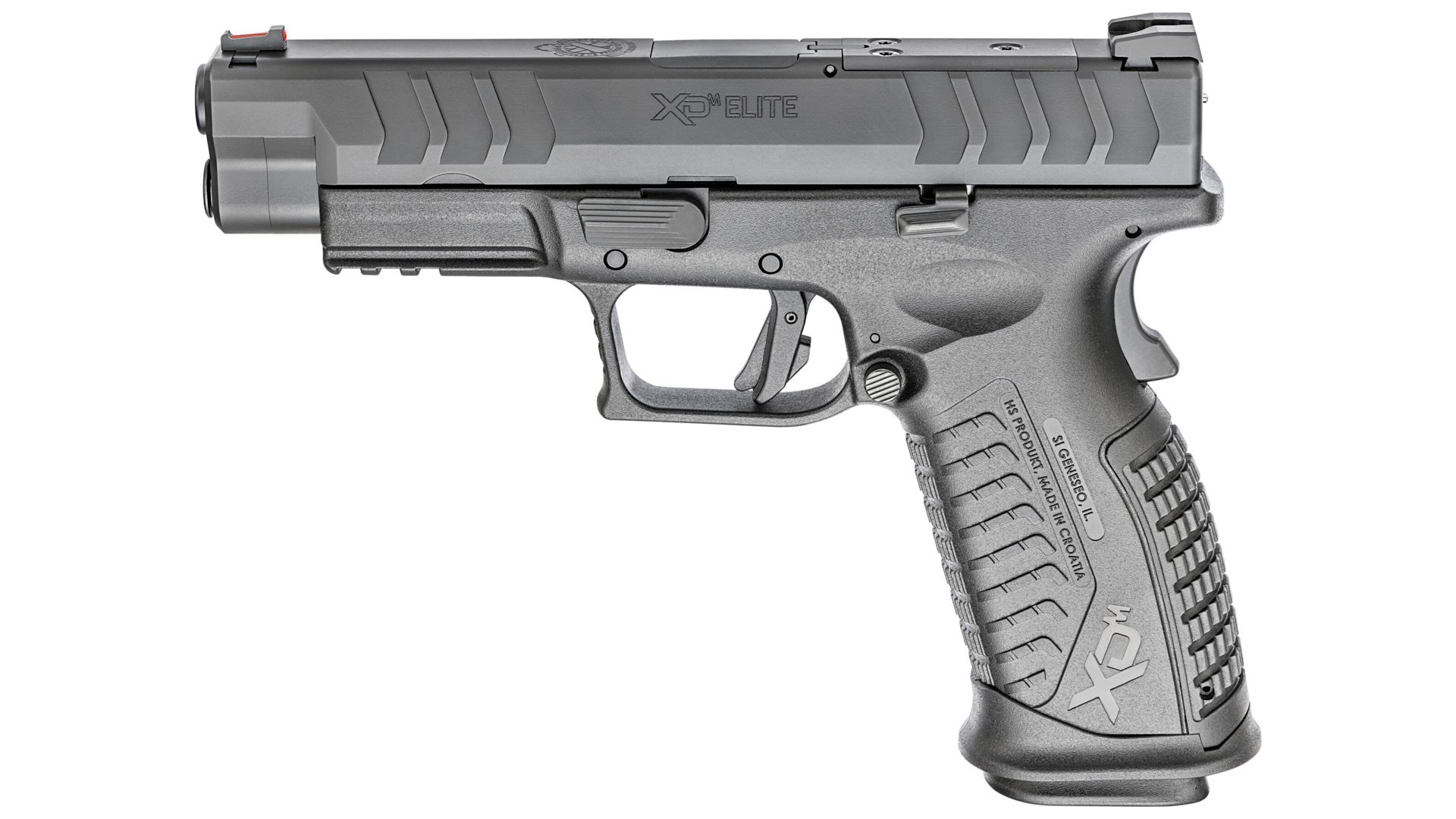 Our range experience with the XD-M Elite 4.5″ OSP was a positive one, despite the added juice from the gun's hefty chambering. Our test sample arrived wearing Magpul's OD Green Cerakote finish, which pairs nicely with the removable green backstrap. Springfield's META trigger system is a joy to press. The flat face provides a great feel. Like all other XD-Ms, there is no manual safety, merely passive systems that require a positive hold and firm trigger purchase. Our testers particularly enjoyed the flared magazine well, which is removable. In addition to easing our reloads, it was found that the flare also aided in our grip, and this feature, along with other ergonomic elements of the grip frame, enhanced purchase during live-fire exercises. The provision of a three-slot Picatinny rail is an added bonus.
Specifications
Importer: Springfield Armory
Action Type: recoil-operated, semi-automatic, centerfire pistol
Chambering: 10 mm Auto
Barrel: 4.5″ hammer-forged steel, Melonite finish
Slide: forged steel, Melonite finish
Frame: black polymer
Magazine: 16-round detachable box
Sights: drift-adjustable; fiber-optic post front, U-notch rear
Trigger: single-action Match Enhanced Trigger Assembly (META)
Overall Length: 7.6″
Height: 5.75″
Width: 1.2″
Weight: 31 ozs.
MSRP: $653 (base)