Trijicon 1-8X 29 mm VCOG SCO
Within the realm of optics, few names are as trusted as Trijicon. After all, the company's U.S.-made products have been field-proven by U.S. armed forces and law-enforcement personnel—along with civilian devotees, who top their trusted firearms with Trijicon-branded units for self-defense, competition and hunting. Of the company's diverse lineup, though, the standout remains the compact, self-illuminating Advanced Combat Optical Gunsight (ACOG), of which more than 1 million have been manufactured. Though the ACOG is popular for a diverse range of tasks, it does have one shortcoming, at least in some shooters' minds, and that's its fixed power. Noting the market trend toward low-, variable-power optics, Trijicon created a complementary, reflex-type unit—the military-grade Variable Combat Optical Gunsight (VCOG)—to excel in both close quarters and at long range.
The first of the series, the 1-6X VCOG riflescopes, debuted in 2013, followed by the 1-8X variant six years later. Functionally identical to the USMC Squad Common Optic (SCO) VCOG, which was adopted by the Marines in 2020 and fielded in January of the subsequent year, the new 1-8X 28 mm SCO version is evaluated here. The commercial VCOG SCO isn't Trijicon's only variable-magnification riflescope. In fact, the company's website lists seven different models, with innumerable variants between them.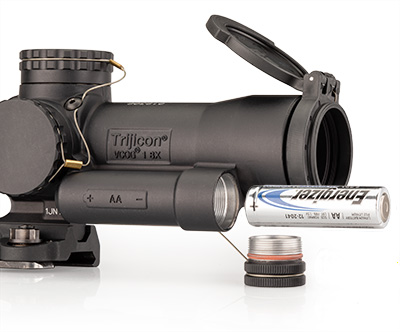 But the idiom "whole different animal" certainly applies here. The VCOG SCO is a mil-spec-grade optic, built for maximum durability and reliability, and it's tested to Department of Defense (DoD) MIL-STD-810H standards, which simulate conditions in the field. Among the tests are: temperature and humidity; vibration; shock; sealing/immersion; and drop. Trijicon reports that the VCOG can operate between -25.6º F and 140º F.
The forged, 7075-T6 aluminum main tube/housing is atypically thick, and no doubt contributes to the optic's hearty 32-oz. weight. Integral to the tube/housing is an O-ring-sealed battery compartment, which holds a single AA battery (included), as well as a mounting adapter that's mated with a low-profile LaRue Tactical LT799 mount. Installation is foolproof; there is no need for rings or tools to install it, and the rearmost lever has a locking piece to ensure that it doesn't inadvertently open.
Removing the aluminum caps (with deep grooves for increased purchase) on the top and right grants access to the elevation and windage turrets, respectively. "Clicks" are valued at 0.1 milliradians at 100 meters, and inadvertently turning the oversized dials is unlikely due to the considerable force needed to move them. The total adjustment range is 35 mils. There is no return-to-zero feature, and the elevation dial is devoid of numbers. The caps, like that of the battery compartment, are held to the scope via a thin cable to prevent loss.
On the VCOG's left side, there is the brightness-adjustment knob for the LED-illuminated reticle. There are 11 user-adjustable settings, including eight for daytime, two night-vision settings and one "super-bright" setting; between them are spots to terminate illumination. A single lithium AA battery can provide 633 hours of constant illumination on Setting 6. As for the reticle, the 1-8X 28 mm VCOG SCO features an etched, segmented circle with holds for elevation and windage. Since the "MRAD tree reticle," as it's also known, is in the first focal plane, subtensions and drops are consistent throughout the magnification range. Trijicon reports that its VCOG scopes feature multicoated lenses for "superior clarity and light-gathering capabilities with zero distortion."

To aid magnification changes, the VCOG's enlarged magnification band has a prominent fin. Like the windage and elevation dials, accidental movement of the magnification band is improbable, as rotating it requires a concerted effort. Rounding out the package is a set of Tenebraex flip caps.
In order to test the commercial 1-8X 28 mm VCOG SCO, we mounted it atop a trustworthy Savage Model 12 rifle in .223 Rem. We then proceeded to "shoot the square" at 100 yards using handloaded, flat-base, 40-grain Berger Varmint Rifle bullets. It was then, while attempting to shoot tiny groups and following a regimented pattern, that the scope's 8X top-end magnification came into its own. After an initial shot, the following sequence commenced: 10 "clicks" up, followed by a shot; 10 clicks left, then a shot; 10 clicks down, followed by a shot; and lastly, 10 clicks to the right, then a final shot. The full sequence was then repeated twice more.
Tight clusters of holes are indicative of repeatable adjustments and, at the same time, the accuracy of those movements can be tracked, too. In both cases, the VCOG SCO proved true. In fact, the smallest two of the three-shot groups created while shooting the square were 0.30″ and 0.38″. The scope was then removed and replaced with no shift in the point of impact, which is a testament to the consistency of the LT799 mount. Though the .223's recoil is hardly anything to fret about, we appreciated that the scope has nearly 4″ of eye relief—plenty for even the hardest-recoiling rifles.
We then subjected the optic to a lengthy stint in a freezer, followed by submersion in warm water. No bubbling was encountered, but, as expected, there was external fogging. Nitrogen purging appears to have rid the VCOG of most air, as the internal fogging stemming from the remnant supply lasted fewer than five minutes. Given the stringent standards that the VCOG series scopes must meet, such performance is unsurprising.
Lastly, we assessed the scope's optical qualities. What stood out to us was the edge-to-edge clarity and sharpness of whatever we were viewing. Its resolving power enabled us to identify very fine details; counting strands on a frayed rope, identifying leaf veins and discerning the characteristics of flower petals at varying distances was easy. We also tested the VCOG in a host of lighting conditions, ranging from full sunlight to shade and even at dusk. Although the scope has a relatively small objective lens, we were pleasantly surprised how long past sunset it could still be used.
Frankly, with Trijicon's commercial VCOG 1-8X 28 mm SCO, there is little to critique. It's doggedly rugged and reliable, with features that make it well-suited for a variety of missions. Sure, it's costly, but as is so often the case, you get what you pay for—this optic is the embodiment of that long-standing axiom.