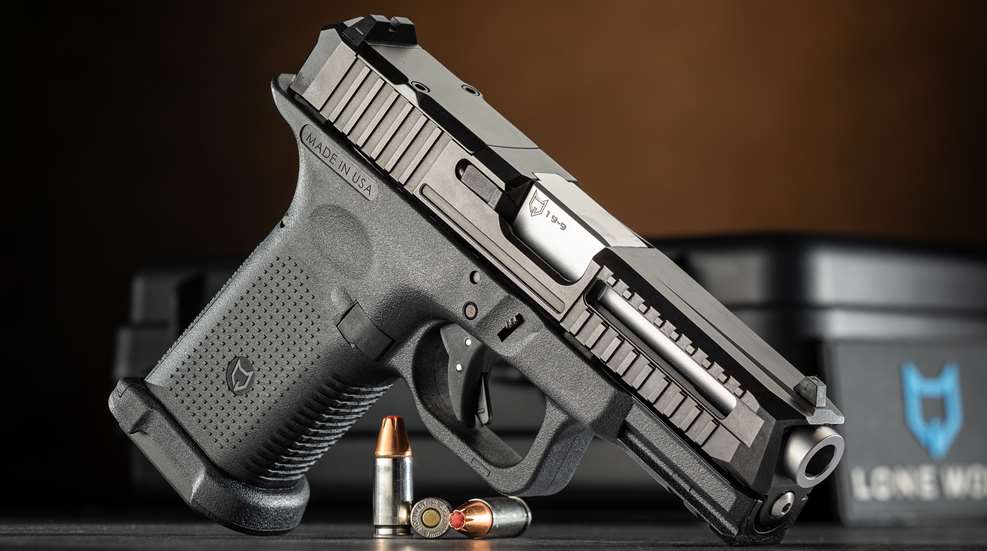 Founded in 1998, Lone Wolf Distributors has been at the forefront of Glock enhancement for quite some time. The company started out as a distributor of a few OEM connectors and Glock-compatible components made by AroTek, but over the years, it has developed a diverse catalog of its own pistol parts that are considered to be among the best aftermarket upgrades for Glock-pattern pistols. This includes custom slides, high-quality barrels, small-parts kits, triggers and serial-numbered Timberwolf frames.
Lone Wolf stepped into the factory-completed handgun market in 2021 by bringing its in-house components together to launch the Lightweight Tactical Defense (LTD) 19 pistol. Sold and distributed through the company's Lone Wolf Arms division, these compact-size pistols have a Glock G19 footprint that is compatible with many of the same holsters. But instead of being a straight clone of the Gen3 pistols, the Lone Wolf offerings incorporate a unique set of features inspired by years of customer feedback.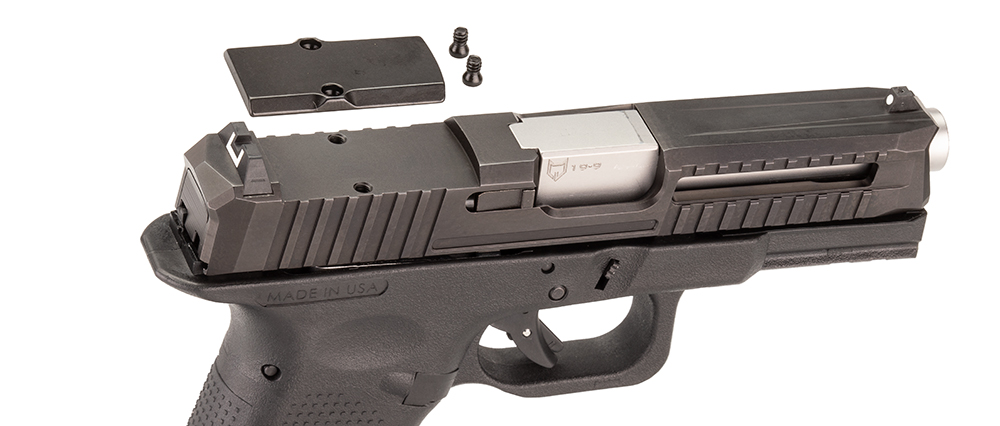 The LTD19 is a polymer-frame, striker-fired, recoil-operated semi-automatic 9 mm Luger-chambered pistol that unabashedly lifts its action and control configuration from the Glock Safe-Action design. The majority of components are drop-in-compatible with Gen3 G19 pistols. Currently available in V1 and V2 slide configurations, this evaluation takes a closer look at the V1 version.
The slide is CNC-machined from heat-treated 17-4 stainless steel. It features various bevels and cutouts along all sides to give it a unique appearance and to reduce its mass. The most notable of these are cutouts on the right- and left-side that measure 1.9″x0.25″ and that provide an unobstructed view of the barrel. Other features include 1.8″ worth of front cocking serrations, canted rear cocking serrations, a beveled ejection port for improved function and an aluminum slideplate. Customers can choose from natural stainless-steel or matte-black nitride finishes.
The factory-installed polymer sights consist of a post, white-dot front and a drift-adjustable rear with a white outline. They can be replaced with a wide variety of Glock-pattern steel or night sights. All LTD19 pistols ship with optics-ready slides. The slide is drilled and tapped to accept optics with the Trijicon RMR footprint, and it is fitted with a matching stainless-steel cover plate.

The 4″ barrel is made of 416 stainless steel with traditional land-and-groove rifling suitable for use with both jacketed and unjacketed bullets. The Gen3-style recoil assembly consists of a stainless-steel guide rod that captures a single flat-wire spring. A removable screw allows the recoil spring to be uninstalled, either for replacement or to change spring weights.
Lone Wolf's Timberwolf frame is available molded from either black or gray polymer. Its dustcover features a 1.5″, two-slot accessory rail for the mounting of light or laser modules. The squared-off trigger guard is deeply undercut where it meets the front of the grip frame. The metallic slide lock and extended left-side slide-stop lever are typical in location and operation.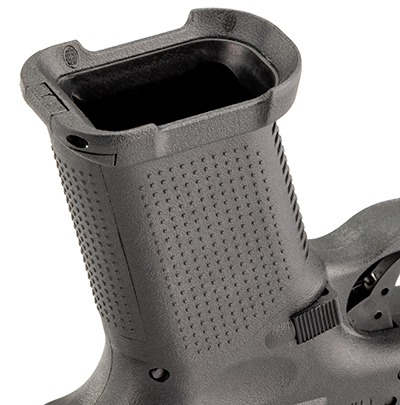 An extended, textured magazine-release button is reversible for right- or left-handed operation, but a Gen4- or Gen5-compatible magazine is required when the release is in the left-hand position. The LTD19 ships with a single Glock Gen4, 15-round magazine—so that the release can be switched and used right out of the box.
The polymer trigger is in the Safe-Action standard configuration, with a smooth face and an integral blade safety. It's listed as having a pull weight of 6 lbs., 8 ozs., but our test gun averaged a lighter 5 lbs., 10 ozs. The trigger exhibited a smooth takeup followed by the somewhat-elusive break typical of striker-fired pistols.
Lone Wolf has adjusted the Timberwolf frame's grip angle and shape to give it a much more natural and comfortable feel. A beavertail extension has been added at the top the backstrap, and the Glock-type backstrap channel has been removed completely to reduce the size of the grip frame. Two interchangeable backstrap inserts are provided with the pistol. Moderately aggressive texturing is molded into the grip on all sides. A removable, polymer magazine-well extension is pinned in place at the base of the grip; it has a just-right size that helps guide the magazine into the well but isn't so large as to interfere with comfortable concealed carry.
At the shooting range, the LTD19 proved to be utterly reliable with a mix of 9 mm practice and premium-grade loads, with bullet weights ranging from 115 to 147 grains. The pistol was tested with Glock 15-round Gen3 and Gen4 G19 magazines, along with Magpul's GL9 magazines. All functioned flawlessly throughout the testing process. Bench-rested five-shot groups fired at 25 yards, using the factory-installed iron sights, ranged from 2.75″ to 3.52″ in size for an average extreme spread of 3.06″.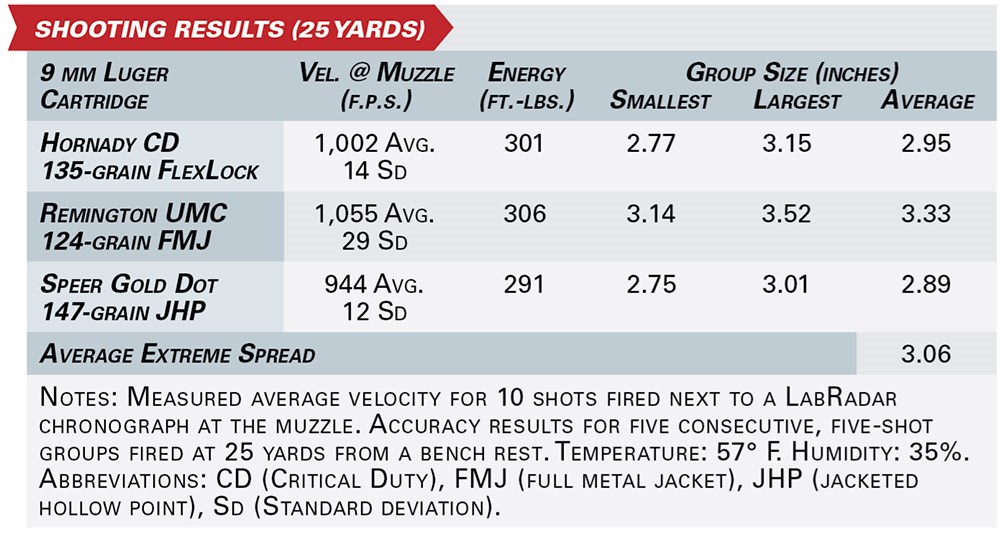 The Lone Wolf Arms LTD19 V1 succeeds at the unenviable task of standing out in a marketplace crowded with Glock G19 clones and wannabes. This company's reputation for quality components and innovative design is well represented in this pistol. Lone Wolf carefully preserves the best-liked design aspects of the Gen3 model that many fans prefer—such as the familiar control configuration, a familiar trigger and compatibility with Gen3 drop-in parts. The company's modifications to the platform are welcome ones, including the reduced-mass slide, an all-steel recoil assembly and a more natural, hand-friendly grip shape. Its unique appearance, reliable operation and plethora of compatible holsters to choose from makes this semi-automatic well worth considering for concealed carry or home defense.