Leupold introduced its DeltaPoint Micro as an alternative option for those who might want to explore having a red-dot sight mounted on their handgun without having to either purchase an optics-ready slide for their existing handgun, mill out their current slide or even purchase an entirely new handgun capable of accepting micro red-dot sights. Currently, the company offers DeltaPoint Micro optics to fit Glock- and Smith & Wesson M&P-pattern rear-sight dovetails.
"Now, the unique element of the DeltaPoint Micro is that it uses an enclosed aperture, so all that's required in order to mount this is removing the rear sight on a compatible handgun and then fitting this into the rear dovetail and then tightening down the two mounting screws on either side of the unit,"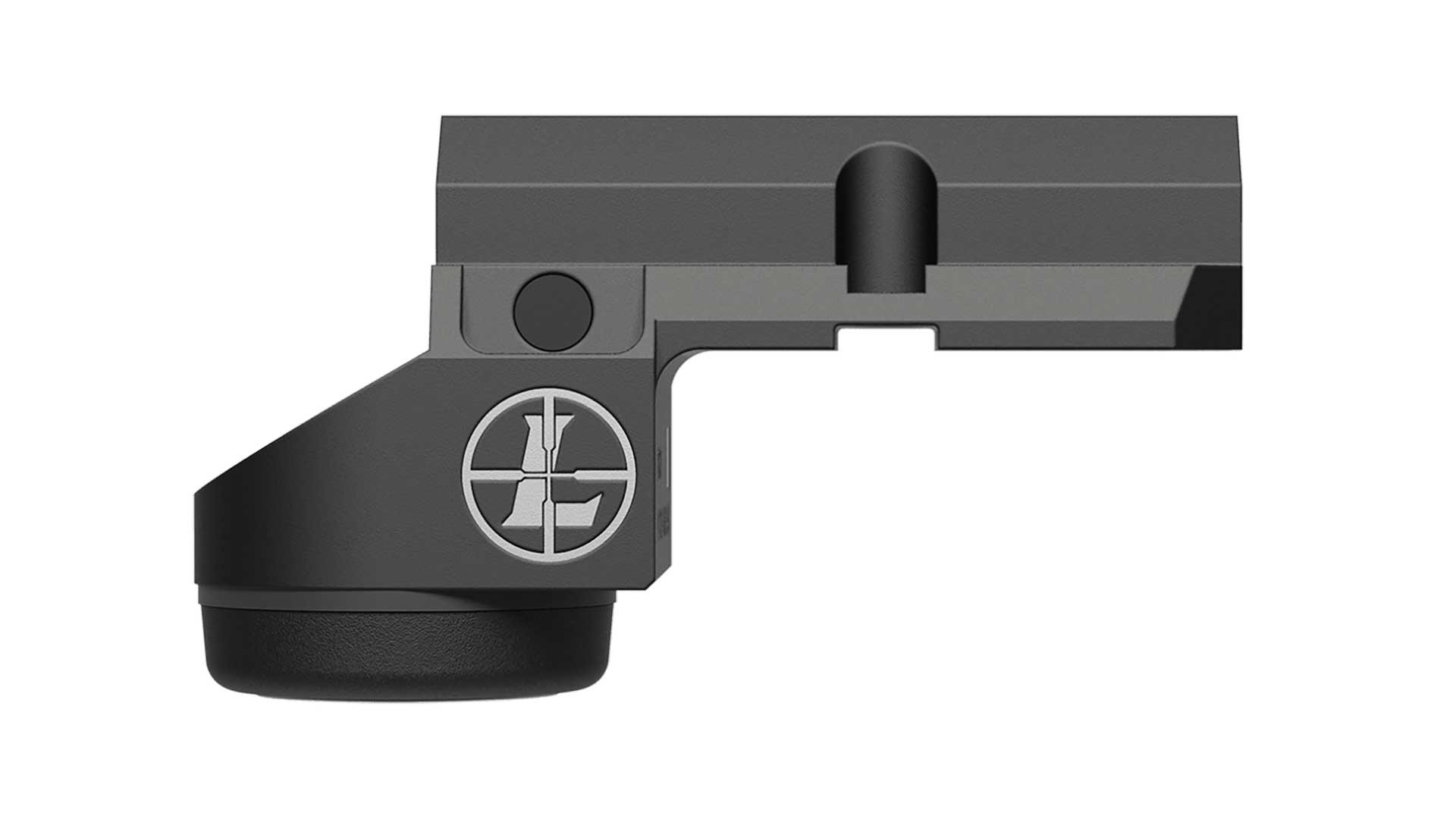 Due to the small, enclosed aperture, the sight window only measures 9 mm across, which is far smaller than a traditional red-dot sight window and smaller than other enclosed red-dot optics on the market. However, its small size can be a boon for users who are just getting introduced into the world of using red-dot sights.
"One of the nice things about the DeltaPoint Micro is that this is actually a really great way to introduce yourself to the world of red-dot shooting, because you still want to maintain that traditional front-sight focus, that traditional presentation," Brune said. "Having an aperture as small as the one on the DeltaPoint Micro forces you to maintain that kind of presentation, which will ease your transition into red-dot shooting, should you decided to get a larger, more-traditional red-dot sight down the road."
One of the noticeable elements of the Leupold DeltaPoint Micro is the unique way it sits atop a compatible handgun slide. The sight sits much farther to the rear than most red-dot optics seen today, and there's a reason for that unique arrangement.
"With the DeltaPoint Micro, the way it sits back here on this back face of the slide, it's not going to interfere with the mouth of a lot of the holsters out there on the market, so you don't have to look for dot-specific holsters when you've got the DeltaPoint Micro," Brune said.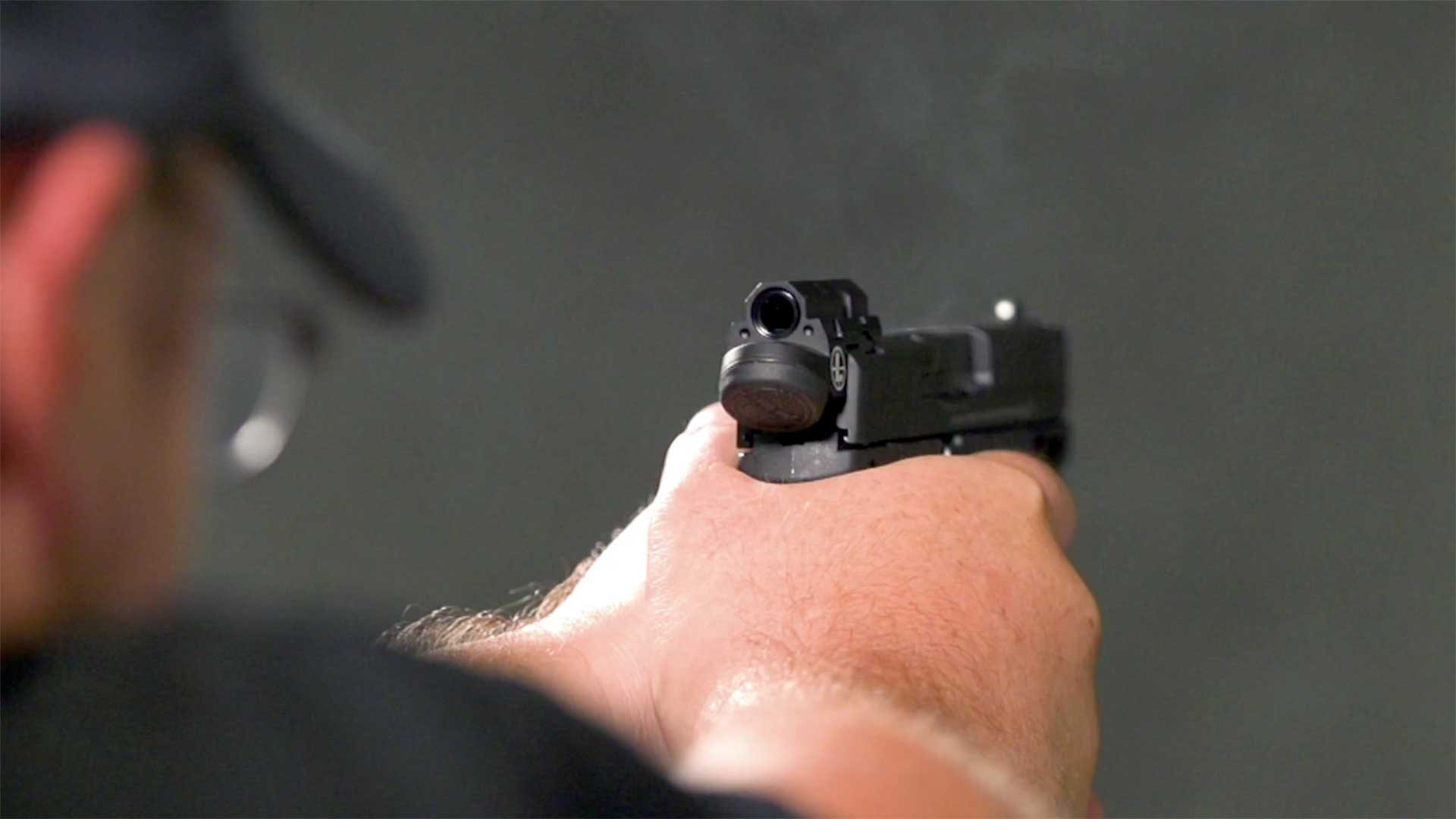 Because of the sight's position on the slide and its mounting in the rear sight dovetail, the optic has a unique, L-shaped arrangement that wraps around the back end of the slide. One element of this arrangement that's worth noting is that users will have to unscrew the battery-compartment cover in order to field-strip their pistol, because the rubber cover prevents the slide from traveling forward off the frame.
"If you are looking to get into shooting a red-dot pistol, if you want to see if red dots help your shooting at all or if you just want to see about how this particular sighting system could maybe enhancing your shooting skills, it's a great thing to try," Brune said. "And it's actually going to be a little bit more affordable than investing in a total red-dot sighting system and compatible handgun."
Leupold DeltaPoint Micro Specifications
Manufacturer: Leupold & Stevens, Inc.
Magnification: 1X
Objective Lens Diameter: 9 mm
Reticle: 3-m.o.a. red dot
Eye Relief: unlimited
Battery: one CR1632
Adjustment Range: 100-m.o.a. elevation; 180-m.o.a. windage
Click Value: 18-m.o.a. elevation; 36-m.o.a. windage
Length: 2.25″
Height: 2.125″
Width: 0.75″
Weight: 1.1 ozs.
Accessories: owner's manual, battery, adjustment wrenches
MSRP: $399