Flashlight IP Rating & Performance: What Does It Mean For You?
Flashlight IP Rating & Performance: What Does It Mean For You?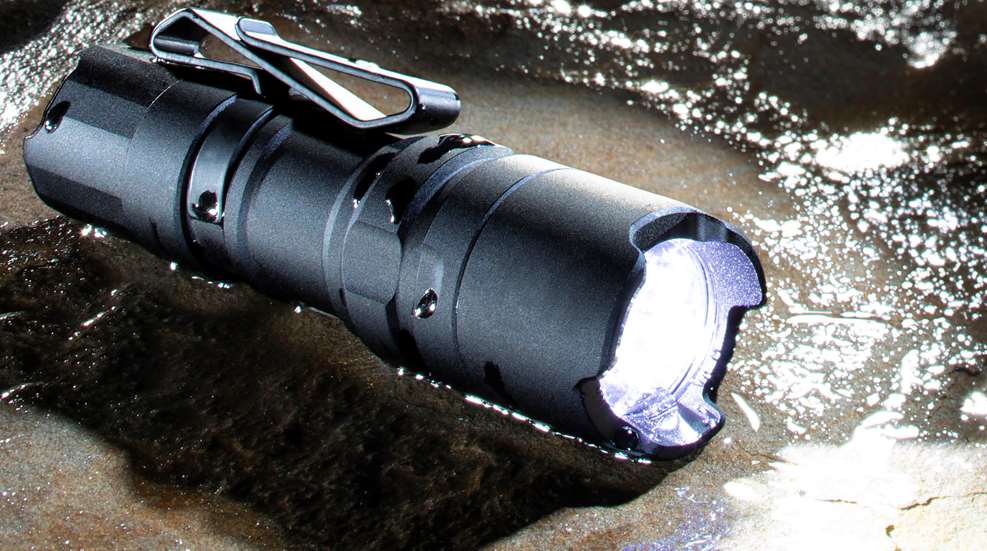 The southwest's flooding, power outages and tragedies are painful reminders that Mother Nature can unleash her fury at any moment. The hurricane season is napping, although the notice will be short when it awakens, If your gear isn't rated to weather that storm, there's more trouble on the horizon.
A fully charged flashlight in your vehicle and several at home are solid first steps in preparing for the unthinkable, and selecting versions capable of surviving has never been easier. Manufacturers and a variety of industry organizations have worked hard to create a system to help you make the right choice, the first time. Unfortunately, a lot of confusion surrounds flashlight IP codes and performance.
IP Translation
IP is industry shorthand for Ingress Protection. The number directly behind the letters is a relative measure of a unit's ability to prevent solids—like dust and grime—from entering and disabling the interior electronics. The second number reflects performance against water.
It's important to note the rating is not affected by amount of moisture that enters during testing. It is based entirely on the light's ability to function after the prescribed test, whether it's wet inside or not.
When the letter X appears, it indicates testing has not been conducted for that specific criteria. An IPX6 flashlight, for example, has earned a rating of 6 against the effects of water, but the ability of dry particles to stop its functioning has not been rated.
The baselines for water protection are relatively simple, although the test procedures are anything but straightforward. Assuming no results are available for dry particles, they are as follows.
IPX0—no water protection.
IPX1—when held upright survives 10 minutes of rainfall dripping vertically at a rate of .12 inch per minute. To give you an idea how strict test conditions are, it must also be riding a turntable rotated at 1 rpm during the procedure.
IPX2—works after exposure to the same rate of dripping water, at four different 15-degree angles from the upright position.
IPX3—functions after being sprayed by water.
IPX4—operates after being splashed.
IPX5—doesn't succumb to the effects of low-pressure water jets (15 psi).
IPX6—survives more powerful jets (150 psi).
IPX7—fully immersible for 30 minutes at a depth of 1 meter.
IPX8—can survive depths greater than 1 meter, with time and depth usually indicated by the manufacturer.
IPX9K—operates after exposure to extremely high-pressure jets, steam cleaning, etc., at different angles.
The standards provide a solid baseline for flashlights, although things get more stringent for items that carry potentially deadly voltages around home and work.
Lab Testing?
The Portable Lights American Trade Organization (PLATO) was established in 2013 to "serve the interests of companies that manufacture and sell flashlights, lanterns, headlamps and other portable lighting tools." Members include some of the firearm industry's foremost, including SureFire, Streamlight, Armament Systems and Procedures and many others. It has developed a series of easy to interpret icons its members now routinely use on marketing materials and packaging.
We asked PLATO Executive Director Andy Skoogman how and where the highly technical testing is conducted. "Some of our members do their own in-house testing—some of them are now starting the process to have their labs certified by UL under our new certification program," he explained. "At this point in time, most manufacturers send their lights out to be tested by UL or another certified lab."
Product wearing PLATO icons often have additional hurdles to overcome. A good example is the organization's FL7 rating. Those that qualify are fully submersible in water at the listed depth for 30 minutes, however, "If this test is performed, it must be done after impact resistance testing is completed to ensure water tightness under real-life conditions."
That's a pretty good yardstick for the bumps and bruises of a storm, or during the stress of a home invasion. But what about those late-night informercials that claim their lights are not only bright enough to signal Pluto, but remain "waterproof" despite the galactic heat?
Skoogman respectfully declined to name companies that routinely inflate performance of their products, but admitted, "… I will say there remains false claims across the board from deceitful manufacturers. That's one reason PLATO exists—we are battling for the integrity of all of the honest manufacturers in this industry."
55 Years And Counting
The ANSI/PLATO FL 1 2019 Standard, which also covers lumen output, beam distance and more, is relatively new, but IP ratings for flashlights and electrical components were originally launched in 1967 by the International Electromechanical Commission. It has undergone modification since then, but its mission of combating inflated marketing claims like "waterproof" and/or "dustproof" is unchanged.
Think twice before purchasing a weaponlight, flashlight or tactical light without any sort of waterproof rating. The widely accepted standards should be stated on the website, included in marketing materials or appear on the box—although placement there is often impossible due to limited space.
Bear in mind, too, there are variables that can blur the seemingly scientific ratings, even those determined by reputable manufacturers and verified by an independent lab. Two dominant smartphone manufacturers, for example, received large fines from regulatory agencies in Italy and Australia a few years ago. Those seals don't always react the same to saltwater or drops from height.
Don't Let The Parasites Bite
Old-school tungsten flashlights were grossly inefficient compared to today's LED versions. They did, however, come with one decided advantage. The circuitry was cave man simple—turn off the switch and the batteries disconnect completely.
It's more complicated to activate an LED. Energy flows through nearly all of today's versions—even when off and stored—in what the industry labels "parasitic drain."
The remedies include loosening the tailcap, removing the batteries or going old school and placing a piece of paper between contacts. None are ideal for home defense, and the problem is significant enough that Coleman has introduced a new BatteryGuard line that completely shields batteries from the drain.
Until that technology makes its way into the gun industry's offerings, check your batteries early and often, and replace as necessary. It won't prevent the clouds on the horizon from gathering, but if they become a storm, at least you and the family have back-up lighting.