Easy-Packin' Powerhouses: The Taurus Defender 605 & Model 327
Easy-Packin' Powerhouses: The Taurus Defender 605 & Model 327
This latest pair of double-action revolvers from Taurus, descendants of its Model 856, represent an effective blend of quality and value from a maker with deepening roots in American manufacturing technology.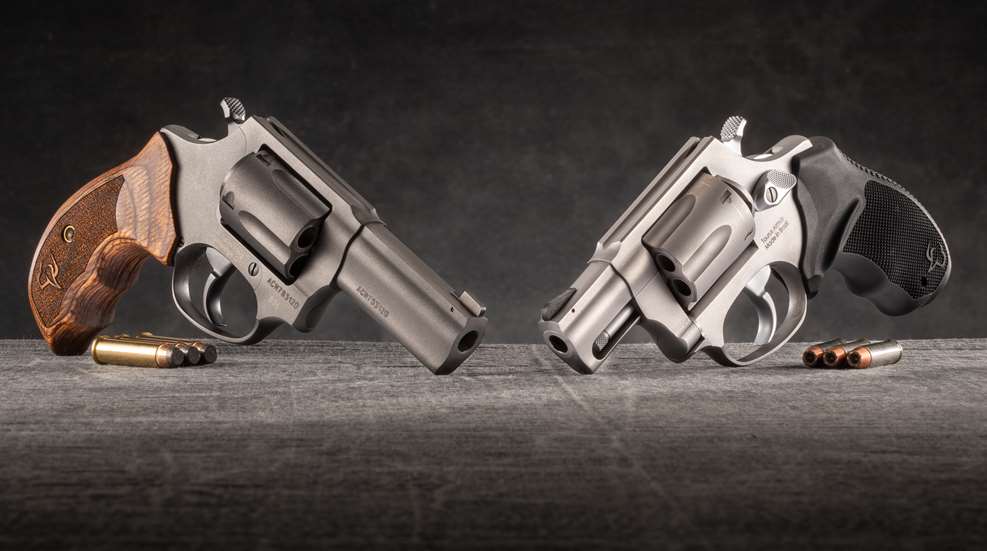 Taurus Intl. Mfg. Inc. has a long and storied history of producing double-action revolvers. Its roots go back to 1924 when a small tool-and-die-forging plant, called Forjas Taurus (the name would later be changed to Taurus Armas), was established in Porto Alegre, Brazil. By 1941, the first Model 38101SO revolver was in production. It blended features from popular American- and Spanish-made wheelguns. By the late 1960s, Taurus products were making their way into the U.S. via American distributors.
During the 1970s, the Bangor Punta Corp. conglomerate, which also owned Smith & Wesson at that time, held a controlling interest in Taurus. Until the company was re-acquired by its principals in 1977, Taurus and Smith & Wesson operated as sister companies that shared design and manufacturing information. During the 1980s, Taurus Armas set up manufacturing facilities in Miami, Fla., and established its Taurus USA subsidiary. During the next several years, Taurus would launch a variety of innovative (and sometimes controversial) double-action revolvers, including the Total Titanium series, the dual-cartridge Judge chambered to fire .45 Colt and .410-bore shotgun shells, and the award-winning Raging Hunter. In 2019, Taurus USA's manufacturing facilities were moved from Miami, Fla., to Bainbridge, Ga.
Taurus continues to expand its popular small-frame defensive revolver lineup with the new-for-2022 Defender 605 series chambered in .357 Mag. The company has also added the aptly named Model 327 chambered for the .327 Fed. Mag.
Shared Features
This pair of Taurus double-action revolvers represents different product lines, but both of them are based on the Model 856, a six-shot version of the small-frame Model 85. This compact revolver takes design cues from the S&W J-frame. The Model 85 cannot really be called a clone of the S&W, but the influence is clearly present. In the past, Taurus revolvers incorporated a controversial, Clinton-era-inspired safety system that employs a pop-up, key-operated button below the hammer spur that can be engaged to block the hammer and prevent the revolver from firing. This security system is no longer incorporated into Taurus wheelguns.
Because of their shared ancestry, the Defender 605 and Model 327 hold several features in common. The rifled barrels are constructed from high-strength 17-4 PH stainless steel. Although the 856 is available with reduced-weight aluminum frames, these two guns feature all-steel construction to manage the increased levels of pressure produced by magnum revolver cartridges. The barrel sleeves and frames are formed from 416 stainless steel in most configurations; the 327 is also available in a blued version made of SAE 1145 carbon steel.
The frames feature a traditional rounded trigger guard, a compact round-butt grip frame and a grooved topstrap that ends in a square rear sight notch. The front sights are pinned to the barrel and vary by model. The barrel sleeve's full underlug shrouds the knurled ejector rod, and the cylinder yoke is secured by a frame screw, S&W style. The cylinder, which swings out to the left side of the frame for reloading, rotates counterclockwise during operation—a useful fact to keep in mind when loading the cylinder to less than its full capacity.
The checkered, wedge-shaped cylinder release is located on the left side of the frame. It, too, is an S&W-style control that is pressed forward by the shooting-hand thumb. The traditional trigger is smooth-faced and deeply curved. The hammer is powered by a pin-supported coiled mainspring. A shortened, checkered hammer spur from the 856 series neatly splits the difference between a full-size spur and rounding off the spur completely. It has a lower profile to reduce snagging but still provides plenty of surface purchase for manually cocking the revolver for single-action fire.
When I first began learning about and handling Taurus revolvers in the late 1990s, I was not terribly impressed with the feel of the factory triggers. The trigger pull of centerfire models was relatively coarse and heavy compared to other popular manufacturers. And the company was not ringing the bell in the quality-control department either. One of my pet peeves with Taurus at that time was the fact that factory-fresh guns would arrive at dealers with dings and scratches in the finish that should be left to the owner to add in the field.
But that was 25 years ago, and things have changed since then. Since 2019, the quality control of the Taurus guns I've had the opportunity to work with has been consistent and up-to-par. The double-action revolver triggers have improved to the point that they can go toe-to-toe with more expensive competitors. Both of the guns tested for this review exhibited a smooth, clean trigger pull right out of the box without the need for lubrication or a break-in period. The fit and finish of both guns was clean and properly executed throughout. The guns I received—like other Taurus models I've worked with over the last few years—arrived blemish-free, just as they should.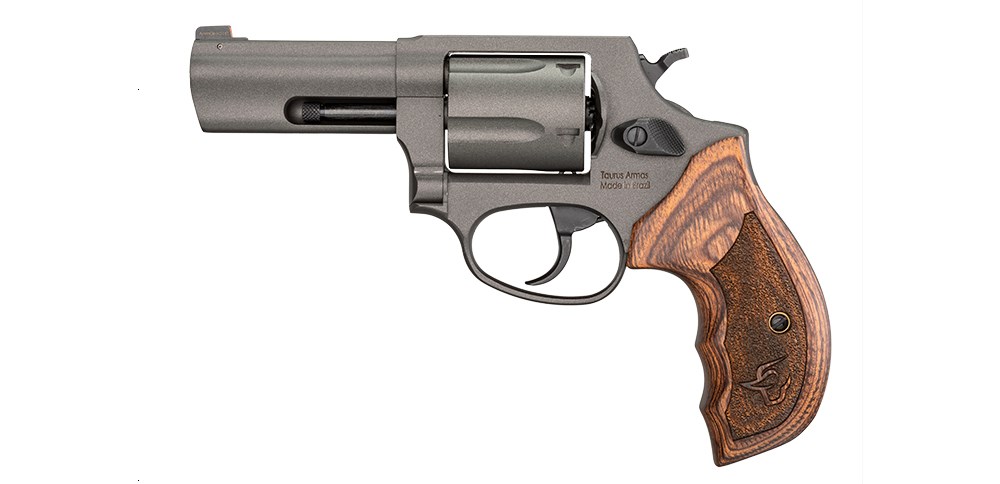 The Defender 605 
The Defender 605 lifts most of its features directly from the Defender 856 series. This includes its 3″ barrel, an AmeriGlo front sight with a tritium lamp and orange outline, and four different finish options. These include a matte-black finish with a rubber grip, a matte-stainless finish with a rubber grip (the version used on the range), a two-tone finish with VZ Grips' textured G10 stock panels and a Tungsten Cerakote finish with an Altamont textured-hardwood grip (the version shown here).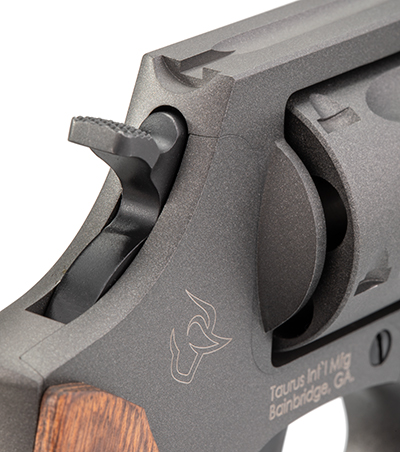 The most notable change is that the 605's cylinder capacity has been reduced to five rounds in order to safely manage the increased pressure levels generated by .357 Mag. ammunition. This gun is listed as having a cylinder diameter of 1.41″, like the 856 series, but the gun I worked with measured 1.36″, which is closer to that of the original five-shot Model 85. The barrel's six-groove rifling is cut at a 1:16.5″ twist rate. The clean double-action trigger pull weighed in at a substantial 13 lbs., 10 ozs., on a manual trigger pull gauge. The single-action trigger was fairly heavy as well, with an average pull weight of 8 lbs., 1 oz. Unloaded, the 605 tipped the scales at 23.6 ozs. according to a digital postal scale.
With small, magnum-powered revolvers, the grip configuration can make all the difference when it comes to recoil management. The Defender 605 that I worked with was outfitted with a Hogue one-piece, pebble-textured soft rubber grip secured by a single screw at the base. It has finger grooves along the frontstrap with just enough material to form a full three-finger grip. The grip frame's rounded steel backstrap is left exposed. This configuration allows for a high, secure grip that keeps the gun firmly in hand while allowing it to roll back a bit to help mitigate the felt recoil.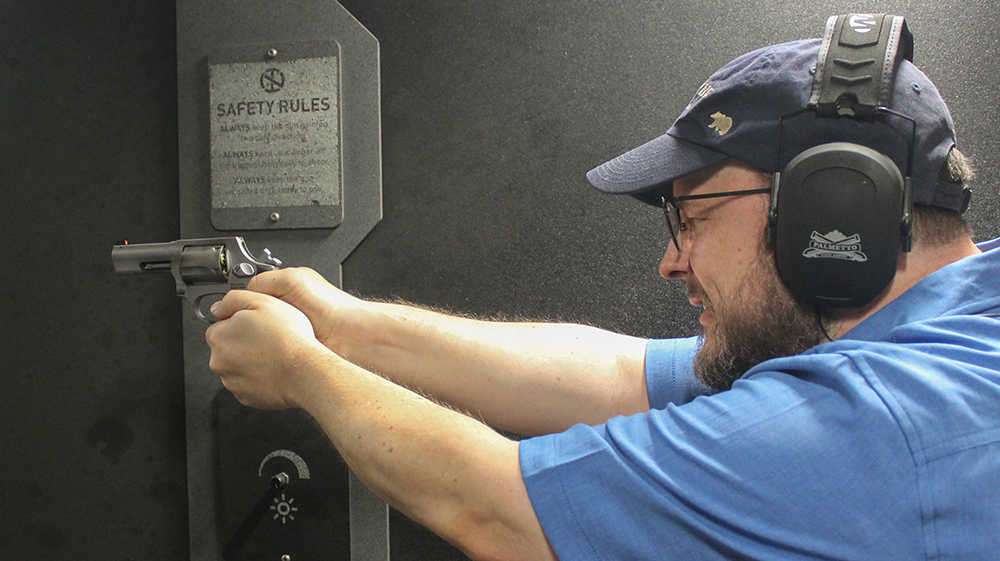 When I tested the AmeriGlo sight on the Defender 856, the tritium lamp was centered in the orange field so as to be couched within the rear-sight notch. But the sight shipped with the Defender 605 has the lamp resting closer to the barrel. Whether this is a purposeful modification to the sight configuration or a fluke of production, it's not the best fit for this gun. At this lower position, the lamp is partially obscured by the rear-sight notch. It's not a deal breaker, but it is less than ideal.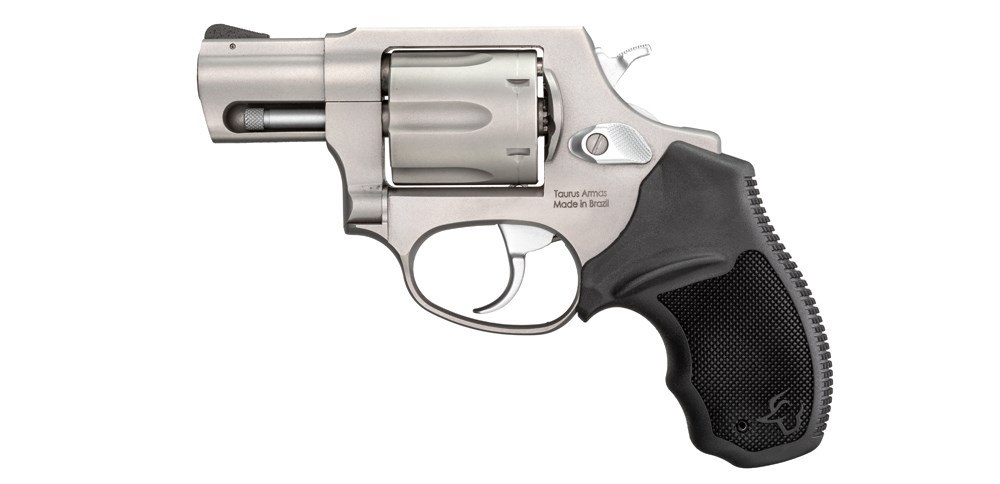 The Model 327
The feature set of the Model 327 is lifted directly from the .38 Spl.-chambered Model 865. This includes the same compact rubber grip, a serrated ramp front sight, a 2″ barrel and a six-shot cylinder. The barrel's six-groove rifling is cut at a 1:18.75″ twist rate. The trigger proved to be lighter than that of the Defender 605, with a double-action pull of 11 lbs., 7 ozs., and the pull weight dropping to 6 lbs., 2 ozs., with the hammer cocked for single-action fire.
Although the .327 Fed. Mag. operates at higher pressures than the .38 Spl., its smaller diameter leaves enough metal in the 1.41″-diameter cylinder's chamber walls to maintain the six-round capacity. The Model 327 is currently available in stainless steel or blued carbon steel, both of which ship with an in-house textured hard-rubber grip. This gun weighed in at 22.7 ozs., unloaded.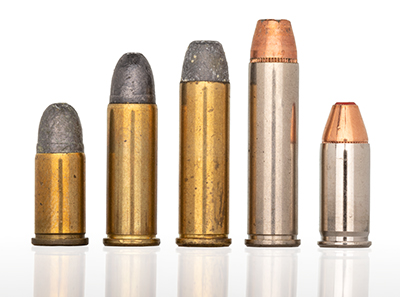 The textured rubber grip is the same one installed on Taurus' compact 856 models. Secured by a single roll pin at the base, it provides two-finger purchase with a touch point for the third finger, if you have medium or smaller hands. The frontstrap has finger grooves, both sides are checkered with thumb rest ridges and the backstrap has a deeply cut square-block texturing. This grip provides a welcome 0.3″-thick rubber cushion between the web of the shooting-hand thumb and the steel grip frame. It provides plenty of purchase for a secure, comfortable feel.
I'm an unabashed fan of the .327 Fed. Mag., which was launched by Federal Premium in 2008; it deserves more attention than it gets, so I'm glad that Taurus has made a place for it in the company's carry-revolver catalog. Taking advantage of the full range of .327 Fed. Mag. and .32 H&R Mag. loads can yield performance results in the same ranges as .357 Mag. and .38 Spl. while also making room for an extra round in the cylinder, in addition to reduced levels of felt recoil. Revolvers in this cartridge can also chamber .32 S&W and .32 S&W Long cartridges (if you can find them), along with .32 ACP semi-rimmed pistol ammunition. It should be noted that firing .32 ACP ammunition from a short-barrel revolver like this one will produce spotty accuracy results at best.
At The Range
The Defender 605 and Model 327 passed their pre-range bench checks with flying colors and proceeded to operate smoothly and properly throughout the evaluation. They fed, fired and ejected all of the ammunition tested, which included practice-grade and premium defensive hollow-point loads. The Defender 605 was tested with both .357 Mag. and .38 Spl. ammunition, and the rounds used with the Model 327 included both .327 Fed. Mag. and .32 H&R Mag. loads.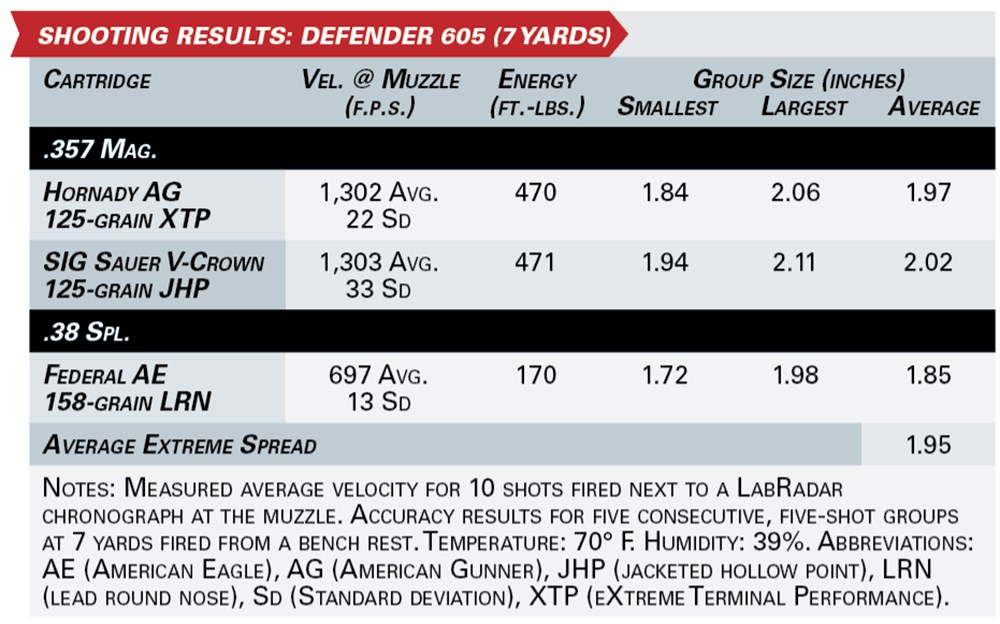 With an unloaded weight of 23.6 ozs., the Defender 605 is relatively lightweight for a .357 Mag. There's really nowhere to hide from the levels of felt recoil that this revolver generates when stoked with full-throttle ammunition. It's not uncommon for folks to practice with softer-shooting, standard-pressure .38 Spl. rounds to fine-tune their trigger control and then switch over to the hot stuff for a few cylinders in order to practice recoil management. Others settle on a more moderate .38 Spl. +P load for general use that offers a middle ground of power and recoil.
I've heard some reviewers of snubby .327 Fed. Mag. revolvers say that the recoil is comparable to that of a similarly sized gun chambered in .357 Mag. when the .327 is charged up with full-power ammunition—but I have to respectfully disagree. The performance of the smaller .327 cartridge approaches that of the .357 because it operates at pressure levels up to 45,000 p.s.i., while the .357 Mag. tops out at 35,000 p.s.i. However, the .327 fires smaller diameter, and slightly lighter, bullets than the .357, which, in turn, reduces felt recoil. Don't get me wrong, the Model 327 was still a handful with more potent loads, but shooting these similar revolvers side by side, the Model 327 did not reach the same wrist-bending levels of kick as the Defender 605 when firing defense-grade .357 Mag.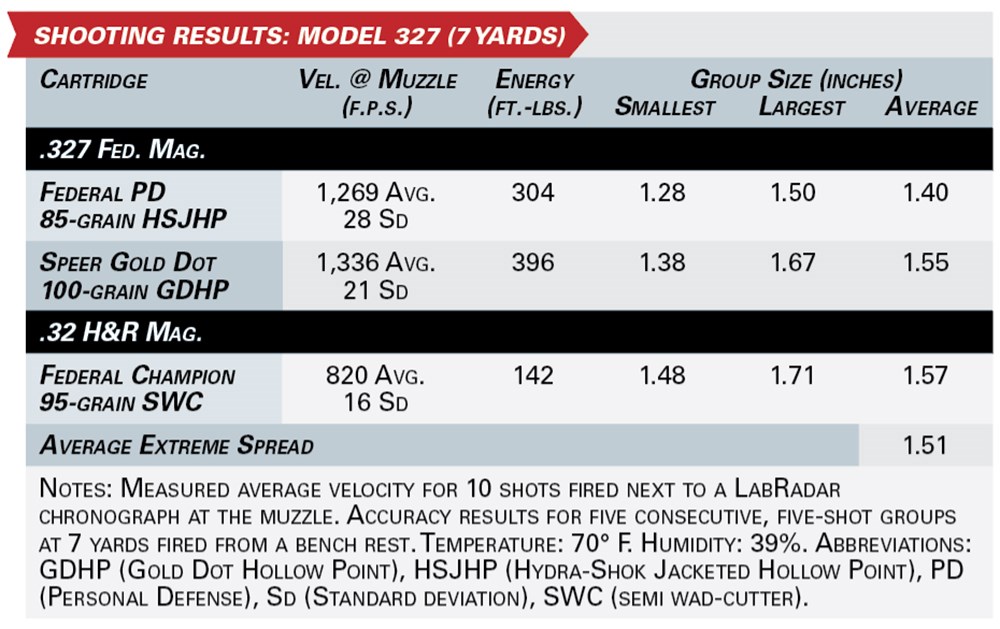 Just as the .327 Fed. Mag. kicks less than the .357 Mag., .32 H&R Mag. defensive hollow points can provide performance levels comparable to standard-pressure .38 Spl. loads, but do so with notably reduced levels of felt recoil. The Model 327 was quite tame and manageable when fired with practice-grade .32 H&R Mag. In short, the Model 327 can be considered a reduced-recoil defensive option when paired with the right ammunition.
Parting Thoughts
In this day and age of polymer-frame 9 mm Luger carry pistols dominating the concealed-carry market, we are once again hearing whispers that the small-frame defensive revolvers are something of an endangered species. One of the reasons that this conversation is gaining steam once again is due to the quickly growing and diversifying class of eminently packable micro-compact semi-automatic pistols. These small, lightweight, double-stack pistols provide impressive 10- to 13-round magazine capacities in remarkably handy packages.
Despite this latest self-defense trend, announcing the passing of the snub-nose revolver into the annals of gun history is a bit premature. Consider the fact that the sales of compact concealed-carry revolvers have yet to falter much since the launch of the S&W Chiefs Special just more than 70 years ago. Would manufacturers as diverse as Charter Arms, Colt, Kimber, Ruger, Smith & Wesson and Taurus offer as many snub guns as they do if there were no market for them?
Short-barreled wheelguns simply have too much going for them to fade away in the face of this latest trend. Yes, they can be a handful to shoot in more potent chamberings and the triggers are quite different from those of striker-fired pistols, but carry revolvers are simple to understand, easy to operate and quite reliable. They offer a diverse selection of grip shapes, sizes and materials that is simply not available with semi-automatic grip frames. And, as is the case with the Taurus Defender 605 and Model 327, snub guns can be chambered in cartridges that provide a decisive bump up in performance potential that's not available with similarly sized 9 mm semi-automatics.
These wheelguns exemplify the flexibility of short-barrel defensive revolvers that keeps them in production. And they do so with more palatable suggested retail prices that budget-conscious shooting sports enthusiasts can work with. There was a time when buying a Taurus revolver felt like settling for less. But thanks to up-to-date quality control, smooth triggers and useful features, Taurus is now offering revolvers that are enjoyable to use while costing less than the competition.
Semi-automatic pistols have their advantages, but small wheelguns like these are going to keep on quietly rolling along for some time to come.