CZ Re-Invents Its Approach To The Bolt-Action Rifle
CZ Re-Invents Its Approach To The Bolt-Action Rifle
Long revered for its somewhat Euro-centric bolt-gun designs, CZ has revamped its line, now offering American shooters models that compete directly with the most modern examples on the market.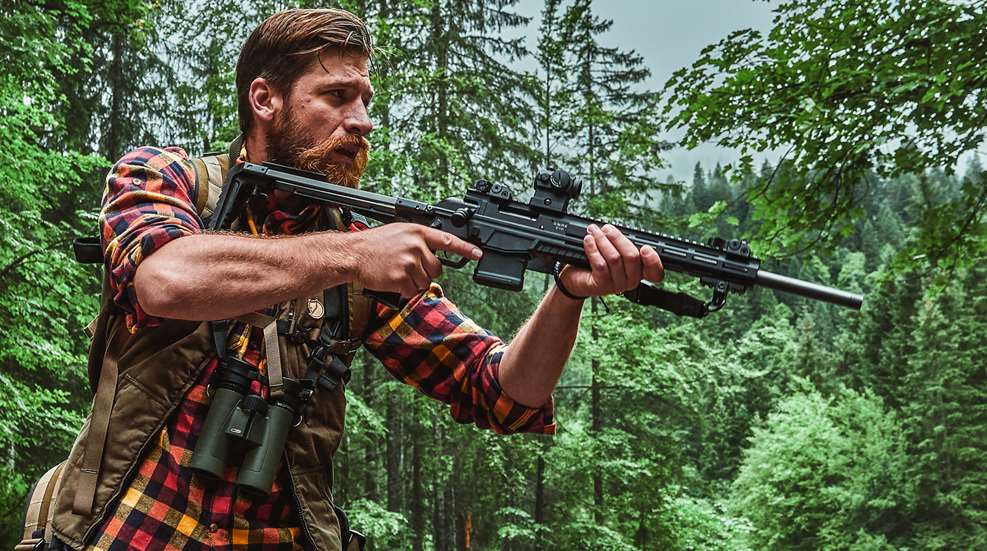 There are rifles and then there are rifles. Back in 1999, I visited Jim Carmichel, the long-time shooting editor for Outdoor Life magazine, in Tennessee to help test the latest rifles, and he asked if I'd like to see the perfect bolt-action rifle.
"Of course," I answered. "Who wouldn't?"
Out of a collage of guns in his basement vault, Jim picked up a pre-'64 Model 70 Winchester—the "rifleman's rifle"—opened its bolt and handed it to me.
"This is nearly perfect," he said in that rolling Tennessee manner of his. I turned the bolt-action rifle over in my hands. It was chambered in .30-'06 Sprg., and its wood had so much natural character that it was almost gaudy. Its fit and finish were seamless. It made me nervous to hold this masterpiece of steel and wood. If I scratched its finish, I think it would have physically wounded Jim. I could never take that rifle hunting.
I carefully handed it back to him and kept it to myself that I thought the rifle was stunning to see in a collection, but that I preferred rifles that I could shoot, that have ergonomics that make them extensions of a marksman and that can take being dropped onto frozen ground. Further, I like rifles with smart engineering that works, those that will perform despite wet and freezing November weather and those that, after all the aforementioned criteria are met, also have a pleasing aesthetic.
That's a different ideal, of course, but it is one that the new line of bolt-action rifles from CZ—the Model 600 series—fills beautifully.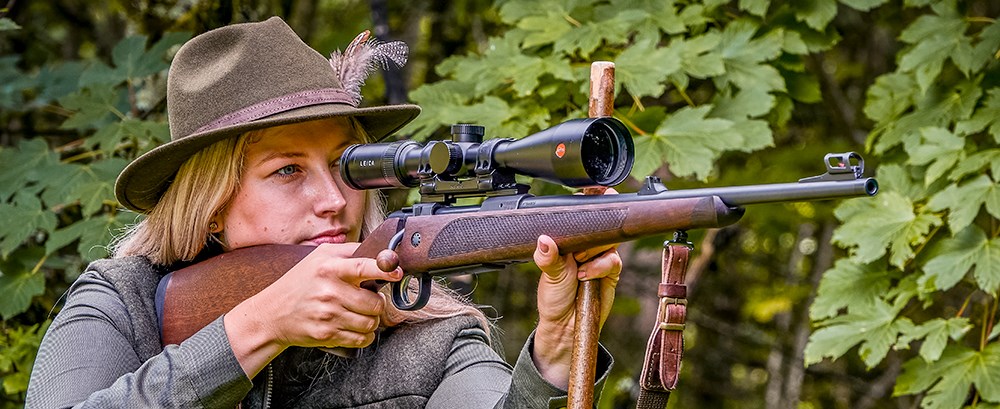 Meet The CZ 600
This new CZ 600 family of bolt-action rifles is worth meeting. There is the tradesman (Alpha), the handsome son (Lux), the smart one (Range) and the cool kid (Trail), and there are others on the way.
This rifle line has a background, a lineage and an established family name. It comes from a factory in the town of Uherský Brod in the rolling hills of the Czech Republic in eastern Europe; it's a factory that, once upon a time, was purposely made to look like an actual village from the air to fool bombing crews during World War II. It stretches for nearly a mile down streets connecting hundreds of acres of buildings. Firearms have been made at this location since before World War II. It was briefly used by occupying Nazis, but then it found itself behind the Iron Curtain and was nationalized. Many firearms and other products came from this factory. When it transitioned back into private ownership in 1992, not long after the fall of the U.S.S.R., Ceská zbrojovka had already made a name for itself. Known as CZ for short, the company would go on to establish CZ-USA in Kansas City, Kan., in 1998. Its corporate parent, Ceská Zbrojovka Group (CZG) purchased Dan Wesson Firearms in 2005 and, last year, acquired perhaps one of the most famous brands in American guns: Colt.

Not long ago, CZ realized that its older bolt-actions were behind the times, and the company decided that it needed a new workhorse—a new bolt-action rifle design on which to build an entirely new line. CZ also decided to stop making established-if-outdated models, such the CZ 527, CZ 557 and CZ 550 Safari rifles with their somewhat heavy, machined-steel, flat-bottom receivers with integral bases for proprietary rings. But at what price point should the new 600 series fill? With what engineering? How might they make a splash in a very mature category, yet create a solid platform that would last, even earn a solid reputation?
CZ began with the ambition to create a platform that could cut your local gunsmith out of nearly everything. With this goal in mind, it developed a rifle with a trigger pull setting that can easily be changed with an Allen wrench and a bolt-release button that allows the chamber to be unloaded without switching off the safety. And it promised the platform would be accurate out of the box—one minute of angle or less at 100 meters with "match-grade factory ammunition," depending on the model. The company opted to treat the new models with its new BobOx nitriding treatment, giving them a hard, durable finish that resists corrosion. And it did all this at reasonable price points: $749 for the Alpha; $849 for the Lux; $1,199 for the Range; and $1,155 for the Trail.
This isn't to say that all of the CZ 600's engineering is revolutionary; the CZ 600 owes plenty to those that came before it. Indeed, after nearly two centuries of research and development, there is not much new that any engineer can do to the bolt-action rifle that hasn't been tried. But then, every design is influenced by others; any design is also a series of compromises predicated on its price point in the marketplace, the uses it is designed for, the competition's products and the many engineering decisions that must be made. All that said, CZ has made some savvy and interesting choices with this new line of rifles.
I'd been shown the innovations in a presentation and saw these rifles being manufactured in CZ's Uherský Brod factory in the Czech Republic, but it was picking them up, working their actions and shooting these rifles that made me stop and appreciate them. And my reaction to this bolt-action rifle line wasn't just an American one. At the range near the CZ factory, British, French, German, Polish and other writers expressed the same appreciation for a rifle that feels and shoots like a smart inclusion in a very mature category.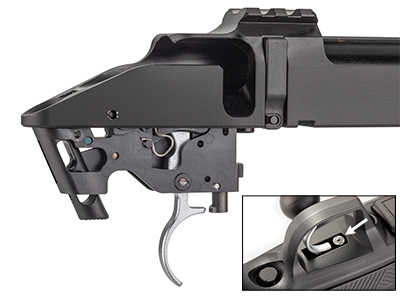 Design Features
CZ clearly wanted the 600 to have a modular receiver that could be used for both light and magnum-chambered rifles. The flat-bottomed receiver is split at its front and the barrel clamped in place by way of machine screws. The bolt's locking lugs don't engage with the receiver at all. Instead, they lock into reciprocal recesses machined into the barrel. Anyone familiar with AR-type rifles will appreciate how such a design offers several advantages. First, it allows the barrel to be inserted into the receiver in a way that provides for the eventual possibility of changing out barrels, although that has been decided against for the time being. Also, it allows the 600's receiver to be made of either steel or aluminum. Finally, the new design incorporates nearly universal Picatinny/Weaver style bases—and, on some models, is available drilled and tapped for other mounts and rings.
Basically, these CZ 600 rifles are being built on one of three receiver sizes: "Mini" for .223 Rem.-size cartridges; "Medium" for .308 Win.-size cartridges; and "Long" for the .30-'06 Sprg. and .300 Win. Mag. cartridges.
The CZ 600's barrel is cold-hammer-forged with a threaded muzzle for attachments. It comes in different weights and lengths, depending on the model. It is secured to the receiver at the factory by sliding it in rather than threading it on, as there are no external threads. Indexing is by way of a slot in the receiver. The barrel is secured into place by way of three Torx fasteners that pass through the lower portion of the receiver.
All 600 models use an oversized bolt knob to help with control. The bolt itself employs six locking lugs—except for the "Mini" action, which uses three—allowing them to have a short, 60-degree throw for engagement. A lot of engineering work clearly went into the bolt design. CZ ditched the classic Mauser-style claw extractor of its earlier designs—something they shared with Carmichel's pre-'64 Model 70—but retained controlled-round feed functionality. The 600 series also features controlled ejection by way of a plunger-style ejector that engages with a stop as the bolt is run rearward. The harder you work the bolt, the farther the brass will fly; I worked it slowly at the range and had brass stay in the action, and I worked it quickly and sent them flying 10 feet.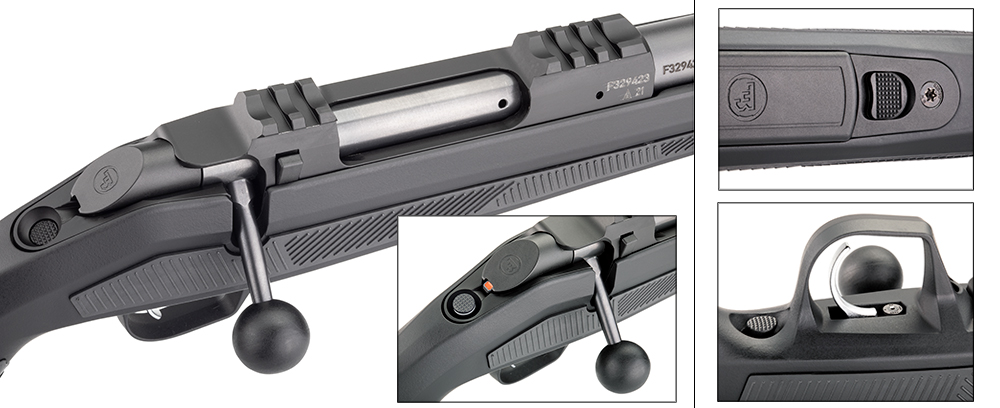 A bolt-release button is conveniently located just above where the bolt knob rests when the bolt is closed. When I hunted with this rifle, I used this every time I wanted to unload the rifle before we climbed out of the stand or entered a vehicle. It works easily.
The trigger on the CZ 600 is user-adjustable and has four pre-set positions. These are set for trigger-pull weights between about 1 lb., 13 ozs., and 3 lbs. An Allen wrench is all that is needed to change the trigger's pull weight. The 600's adjustable trigger has four positive, defined settings, and you can see, hear and feel each one as they are selected. This was fun and easy to adjust at the range.
The 600 has a tang-mounted safety plunger that moves up and down through the rifle stock. It feels smooth, and, though it is different, I found it to be very intuitive. So intuitive that when a European mouflon I had shot and was approaching suddenly got back on its feet and began to run, I dropped to one knee, swung the rifle and disengaged the safety in one motion (even though, before shooting this rifle just a few days before, I'd never used this safety design) and put the goat down for good.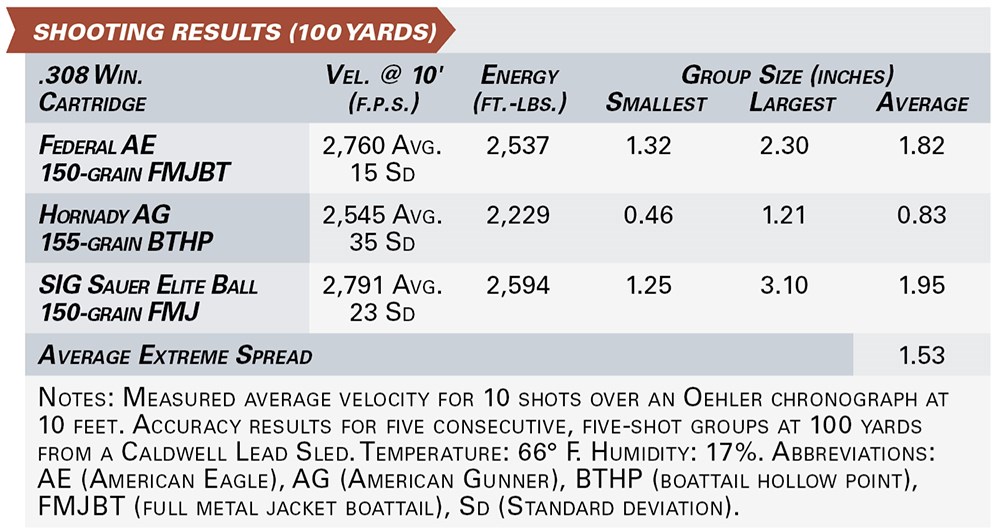 Basically, the safety consists of a button that's located at the top tang position. You push it down to disengage the safety. You push it back up from the bottom of the stock—just behind the trigger guard—to re-engage it. In the "safe" position, the bolt is locked in place. This is good, as it keeps the bolt closed when carried in the field, but again, there is a bolt-lock-override button that allows you to open it without touching the trigger. This button also allows you to remove the bolt with the safety engaged.
The CZ 600 has a locking, detachable box magazine. Just insert it like you would any other detachable box magazine, and then slide the release button forward to lock it in place. The detachable box magazine can also be topped off just as a conventional top-loading bolt-action can be. These magazines are made from polymer, and they click into position positively.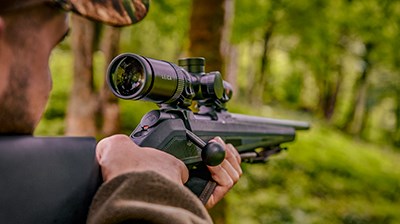 Performance & Final Thoughts
The CZ 600 rifles are smooth, have positive and satisfying mechanics and are well-thought-out. The CZ 600 Alpha chambered in .308 Win. tested for this review loaded smoothly from its magazine. A few times, it took a little pressure on the back of the bolt head to push the round smoothly into the chamber, but, as this rifle was right out of the box, this wasn't surprising.
Changing its trigger pull weight was as easy as using an Allen wrench. At each setting, I didn't feel any creep. It has a smooth, predictable trigger pull. I kept it on its lowest setting while shooting from a bench at the range. I would increase its weight for an Eastern deer hunt where game tends to be close and is often walking. In bigger landscapes in the West, however, I might put it on its lowest setting if I could shoot without gloves. This .308 rifle liked Hornady's 155-grain American Gunner BTHP ammunition. My smallest five-shot group at 100 yards with this ammo measured 0.46″.
In sum, this isn't just a great rifle at these price points—although it is that—it is simply a great rifle. I like the CZ 600's safety and the trigger system, and I appreciate its modular design and that its engineering cuts gunsmiths out of much of the work. This is a rifle worth considering for hunters and target shooters. Whether you think it aesthetically pleasing or not is a matter of taste, but it suits me.

---
The 600 Models
Four models are now available in the U.S.—the Alpha, Lux, Range and Trail. I shot all these models on a CZ range day in Olomouc, Czech Republic. All were chambered in .308 Win. except for the Trail model, which was chambered in .223 Rem. An Alpha model chambered in .308 Win. was tested for the accompanying review.


CZ 600 Alpha
The Alpha comes with a synthetic stock with a flat bottom and is made for hunters. It has an aluminum receiver with integral Picatinny bases. A semi-heavy-profile barrel boasts a 1-m.o.a. guarantee with "match-grade factory ammunition." Its available chamberings include .223 Rem., .224 Valkyrie, 6 mm Creedmoor, 6.5 mm Creedmoor, .308 Win., .30-'06 Sprg. and .300 Win. Mag.
---


CZ 600 Lux
The Lux is a classic-looking hunting rifle with a European-style walnut stock with a hogsback comb. It has a sporter-weight barrel. The rifle comes with open sights and a threaded muzzle. It has a steel receiver that's drilled and tapped for Remington 700-pattern bases. The Lux also has a 1-m.o.a. guarantee at 100 meters with "match-grade factory ammunition." Its available chamberings include .223 Rem., .308 Win., .30-'06 Sprg. and .300 Win. Mag.
---


CZ 600 Range
The Range is designed for the long-range hunter or precision rifle shooter. It has a laminate stock with an adjustable cheekpiece, integral push-button sling swivel cups and dual swivel studs on the fore-end. Its heavy target barrel comes with a 3/4-m.o.a. accuracy guarantee at 100 meters with five-shot groups of "match-grade factory ammunition." Its available chamberings are 6 mm Creedmoor and .308 Win.
---


CZ 600 Trail
The Trail is quite different from the other models. The .223 Rem.-chambered version has AR-magazine compatibility; the 7.62×39 mm rifle uses CZ Bren 2 magazines. The Trail features bilateral magazine-release buttons and safety levers. Its PDW-style telescoping stock allows the Trail to collapse easily, making it a great pack or truck gun, and its top-mounted Picatinny rail makes for easy optic installation. The Trail has a 2-m.o.a. accuracy guarantee.