Bushnell RXC-200 Compact Reflex
As optic-cut pistols have become increasingly popular, the market of optics that fit them has exploded out in every direction. Many of these options are built with durability at the forefront of their design, while others are crafted with the sole aspect of value in mind. Bushnell has often been able to strike an effective balance between these two priorities, and, for 2022, the Kansas-based company has released a pistol-compatible micro red-dot called the RXC-200 Compact that provides cost-conscious concealed carriers with the features they desire at a price they should find to be quite appealing.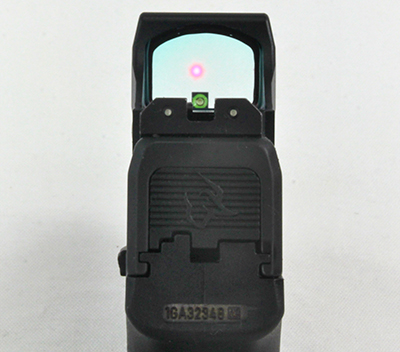 The RXC-200 Compact is an LED-illuminated reflex sight designed to mount to any optics-ready firearm compatible with the common Shield footprint. Its robust body is milled from billet 7075-T6 aluminum and serves as a home for the 20×15 mm lens and a host of intelligent electronics. The glass lens is treated with Bushnell's EXO Barrier coating to repel any moisture or dust that might otherwise accumulate on it during use.
The electronic features of the RXC-200 are most impressive, as they rival optics that cost two or even three times as much. This optic will run for approximately 50,000 hours off of a single CR2032 battery. For that reason, it remains perpetually illuminated, alleviating complicated auto-on/auto-off circuitry and its associated expense. Bushnell's new optic does include a bit of automation in the form of brightness selection. Using an onboard sensor, the RXC-200 detects the amount of ambient light in its environment and compensates by either brightening or dimming its 6-m.o.a. solid-dot reticle. In short, there is nary a button to speak of, making this optic one of the easiest on the market to learn. Additionally, it remains in a status of constant readiness—which is critical for defensive use.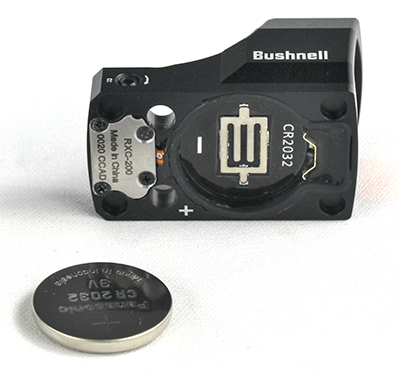 We mounted our sample atop a Taurus GX4 T.O.R.O. using the included hardware and were at the range just a few minutes later. To get our shots on paper at 7 yards, we co-witnessed the RXC-200 Compact with the test gun's R3D night sights from XS Sights and fired our first shots. As the windage- and elevation-adjustment knobs are unmarked, we had to fire and correct using 1/2- and 1/4-turn increments. Bushnell states that a complete revolution equals 55 m.o.a. of adjustment, and during our zeroing procedure, we were able to confirm that claim. As the screws are not held in place by a detent and spring, there aren't any clicks to speak of, which made it impossible to perform an objective box test. However, we did crank both dials two full turns and then back to where we left off, and the dot returned to zero each time.
As reflex optics are not designed to be adjusted after their initial zero, we next turned our attention to its ability to hold zero. We stressed the optic by firing more than 100 rounds of +P ammunition through the small gun and then checked to confirm that our point of impact hadn't shifted; it passed. Additionally, the optic did not impede the pistol's function in the slightest, mainly because of its feathery weight of only 0.7 ozs. We ended the test by moving from a shaded shooting pit out into the bright sunlight to observe the brightness shift. All testers remarked on how gradual the occurrence was, which was gentle on the eyes.
Although the optic alone is enough to validate its $199 MSRP, Bushnell also includes a variety of mounting screws (with hex key) to accommodate numerous popular firearms, a Spuds lens cloth and a protective rubber cap. As a result, most mounting jobs don't require a gunsmith and can even be performed right at the range. In short, if you are looking for an inexpensive, trouble-free micro red-dot for use with your optics-ready pistol, we can easily recommend the Bushnell RXC-200 Compact.